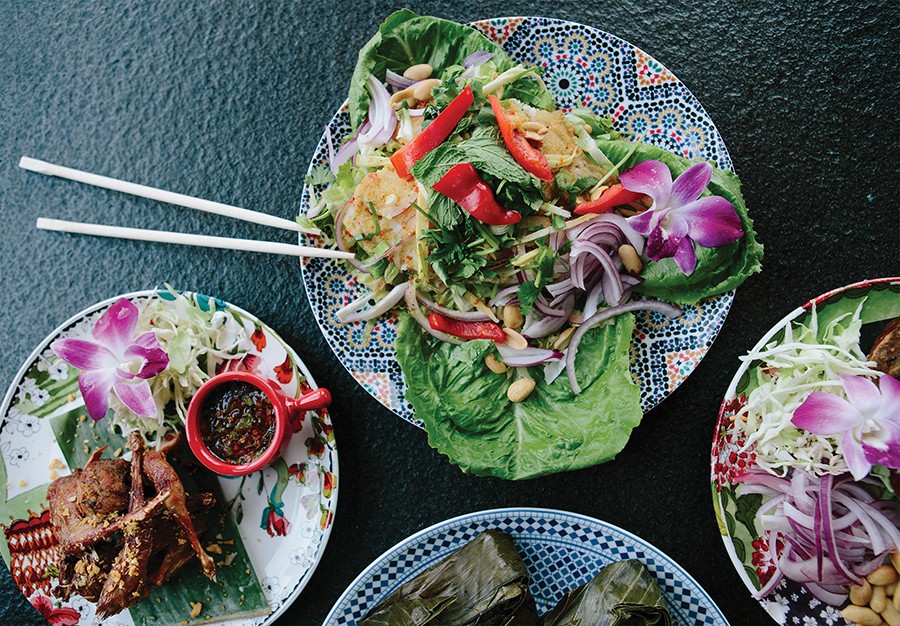 Shortly after it opened in September, Chai Thai Bar went dark for one week.
Thomas Manyvong realized he miscalculated. The name alluded to the beloved Chai Thai Noodles restaurants in Oakland and Hayward that Manyvong's family owns. Accordingly, diners expected Chai Thai Noodles' sprawling Thai and Lao menu. But Manyvong's new operation — a shiny, bar-centric space located on Piedmont Avenue where Adesso used to be — isn't equipped to handle that kind of volume. The kitchen's size and setup lend itself better to small plates.
So, Manyvong rebranded and Chai Thai Bar became The Saap Avenue. ("Saap" means "delicious" in Lao.) The result is a restaurant that manages to function both as a hip option for a date night, with attentive service and an impressive whiskey selection, and a family-friendly destination for traditional Lao eats.
With its Edison lightbulbs, LED-lit bar, and "Hella Saap" mural that just begs to be Instagrammed, The Saap Avenue feels more like a space you'd imagine restaurant groups and consultants teaming up on than a humble family-run establishment. In fact, it's very much the latter. Manyvong, who also owns the Hayward location of Chai Thai Noodles, runs the place with his executive chef and mom, Julie. They both hail from Laos. Julie's Thai husband, Vatanachai Sangchai, founded the original Chai Thai, which is why it has long carried a mix of Thai and Lao dishes.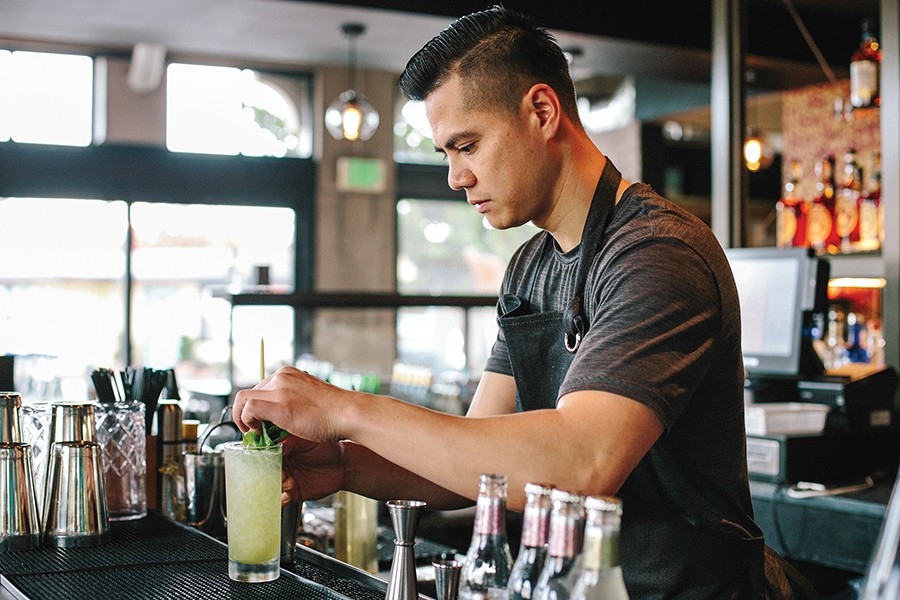 For his new restaurant, Manyvong said he really wanted to showcase Lao food exclusively. The menu gives you plenty of options without being overwhelming: small plates, salads, noodles, and mains, with no more than eight options in each section.
That said, many of the dishes will be familiar to Chai Thai fans. You can order the same versions of kamoo, the sultry, slow-braised pork stew; kao nam tod, the herbaceous, crispy-rice ball salad; ka poon, the popular coconut curry noodle soup; and so forth — albeit, at slightly higher price points and in slightly smaller portion sizes. Given the atmosphere and location, surrounded by far more upscale eateries and bars, it doesn't feel inappropriate. Along the same lines, the food is prepared with far gentler spice levels.
For me, the constant presence of heat — even just a subtle tingle in the background — feels essential to Lao food. So, I was somewhat disappointed with my first meal at The Saap Avenue, where I thought every dish needed a chili-assisted lift. The default is very mild. The next time, I requested my meal as spicy as the restaurant would make it — "Lao spicy" — and that did the trick. Every bite was a joyous symphony with a slow-burning wrath.
I tried every dish that you can find at The Saap Avenue but not Chai Thai Noodles. Among them, the spicy fish salad was the one that most brought me back to Laos. It's a triumphant spread of pan-fried tilapia and romaine bathed in lime, ginger, slivered red onion, and peanuts — full of bright tang and heat. I ate it lettuce-wrap style with my hands and regretted nothing.
On the milder end of the spectrum is ho mok pla, chunks of catfish steamed in banana leaf packets. Flavored with lemongrass, kaffir lime leaves, holy basil, and fish sauce, the fish becomes soft and slightly custardy, with a subtly funky finish. For the most possible funk, try The Saap Avenue's Lao-style papaya salad — the only dish with padaek, the Lao fermented fish sauce that's thicker, chunkier, and more intense than other Southeast Asian versions.
The restaurant's crispy chicken wings arrive juicy enough to please anyone guzzling down a few Beerlaos, but they're nothing special on their own. The entrée's highlight is the dipping sauce, jeow, which is made in-house. It's an effortlessly tasty, tomato-based sauce with a kaffir lime leaf-induced brightness. The menu describes jeow as spicy. Fair warning: it's not, but it's still worth experiencing.
Springy, herb-flecked fish cakes and deep-fried quail are the two appetizers you won't find at Chai Thai Noodles. The restaurant doesn't make its own fish cakes, and, as such, they don't feel special enough to warrant an order. That said, they're a test-run of sorts. Manyvong said he'd like to offer a house-made crab version if there's enough demand. The quail, meanwhile, was moist and flavorful, especially with its accompanying scallion-soy dipping sauce. It's ideal gnawing-over-drinks food.
Indeed, it's the bar that most sets The Saap Avenue apart from all of Oakland's other Lao restaurants. The bar itself, horseshoe-shaped with burgundy stools, is as inviting as its cocktail ingredients, which include lime, lychee, coconut milk, and pineapple juice. I loved the Saap Saap Tea, an adults-only, not-too-sweet Thai iced tea made frothy with egg white and smoky with Laphroaig 10-year Scotch Whiskey. There is also a nice selection of California wines as well as local and imported beers.
In the future, Manyvong said he's looking to add more noodle options — right now, there are just three noodle soups on the menu — specifically with Sunday brunch in mind. He expects to change the cocktail and food menus every couple of months as well. That makes it not only a place to visit for solid food, drinks, and atmosphere but to continually learn more about traditional Lao fare.

The Saap Avenue
4395 Piedmont Ave., Oakland
510-285-6092
TheSaapAvenue.com
Hours: Tue.–Thu. 5–11:30 p.m., Fri.–Sat. 5 p.m.–1 a.m., Sun. 5 p.m.–9:30 p.m.
Cash, all major credit cards

Sample Menu
Spicy fish salad … $16
Fried quail … $12
Ho mok pla … $18
Saap Saap Tea … $11