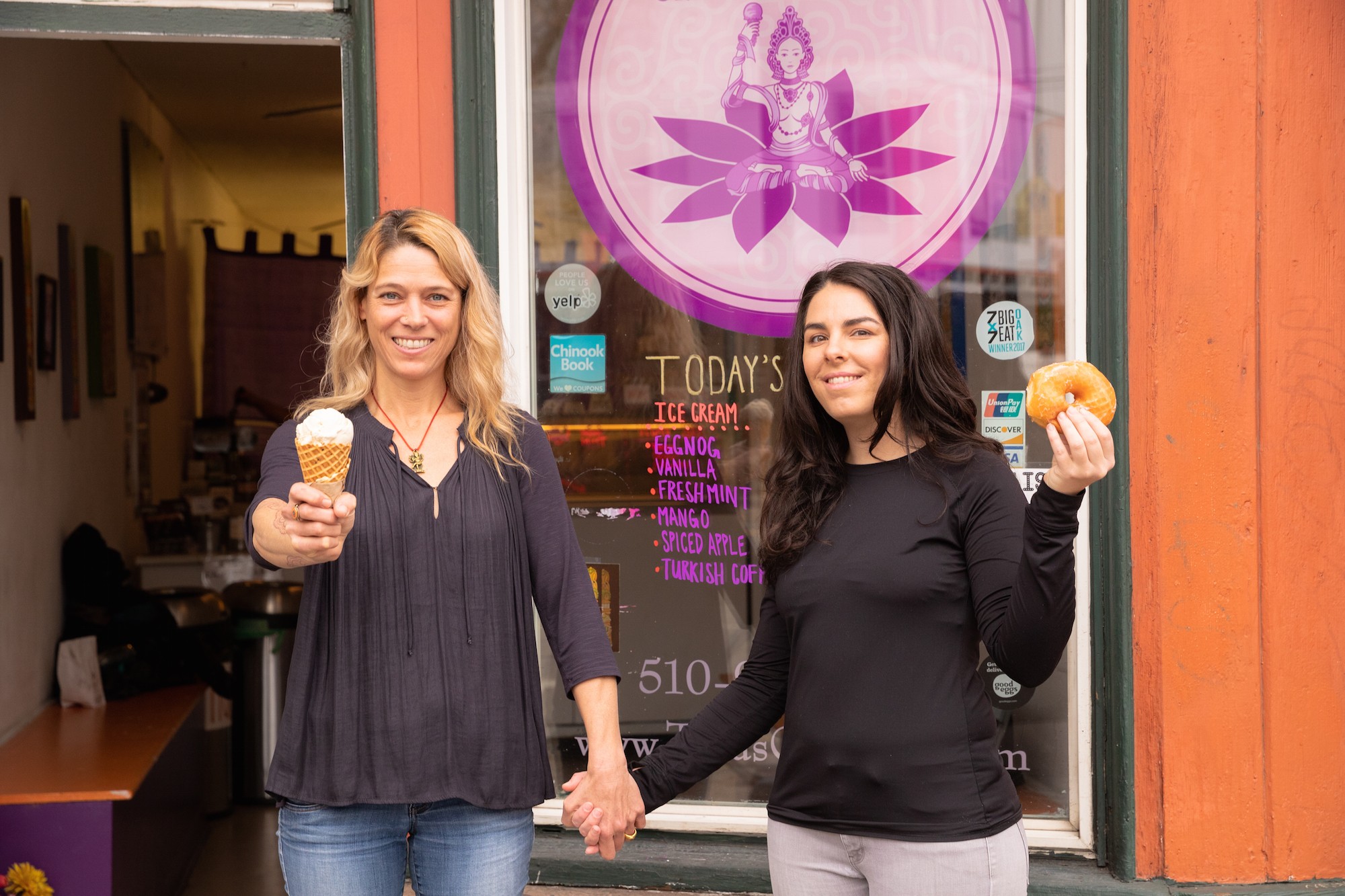 For Oakland ice cream lovers, changes are coming to Temescal. Tara's Organic Ice Cream's Temescal location (4731 Telegraph Ave., Oakland) is closing on Dec. 30, 2018 at 9 p.m., and will reopen sometime during January 2019 as I Scream Donuts.
Tara's Organic Ice Cream owner Tara Esperanza decided to close her Oakland location in order to make more time for her art and to pursue her goal of showcasing her paintings in local galleries. (The Berkeley location at 3173 College Ave. will remain open.) Meanwhile, I Scream Donuts' owner Katie Wages wanted to bring her favorite Sacramento treat, ice cream donuts, to the East Bay.
"I am really excited to bring one of my favorite desserts from Sacramento to the Bay Area! As a Bay Area native that was half raised in Sacramento, my heart naturally lies in both places. I noticed that ice cream donuts hadn't made their way to the East Bay, so I thought it would be a great addition," Wages said in a press release.
Tara's Organic Ice Cream was originally established in Santa Fe, New Mexico in 2005. The Berkeley shop opened in 2008, and the second location in Temescal opened in 2010. The shop makes ice cream with high-quality, organic ingredients in a unique array of flavors including Bay laurel Chinese five spice, Darjeeling tea, saffron, and ylang ylang — earning the shop an
Express
Best of the East Bay award in 2009 for Best Ice Cream Flavors.
Coincidentally, Tara's Organic Ice Cream is also Wages' favorite ice cream shop, so at I Scream Donuts, you'll be able to get Tara's ice cream and vegan sorbets served inside a warm donut, or in a cup or cone. And Wages also plans to continue hosting monthly art shows — a tradition that started at Tara's.
The transition to I Scream Donuts is not only a win-win for both parties, but has also resulted in a connection and friendship between Esperanza and Wages. "When we first met, the energy was right. I knew she was the right person to take over the space, and it's been amazing to make a friend in the process," Esperanza said. "It's a joy to have another woman in business here in Temescal. And I think she has the next food trend, here in the Bay Area. I Scream Donuts is going to be amazing."