San Jose is again mulling a total ban on the eighty or so medical marijuana collectives renting retail storefronts in the city. This evening the San Jose City Council will look at a number of medical marijuana options. Staff recommends the city council:
[jump]
– prohibit dispensaries within 1,000 feet of public and private schools, child daycare centers, churches with child daycare centers, community/recreation centers, parks, libraries and other Medical Marijuana establishments
– prohibit them within 500 feet from substance abuse rehabilitation centers;
– prohibit them within 150 feet from residential uses; 

And then either:
– (1) Return within 90 days with a complete Medical Marijuana regulatory program; or
– (2) Return in 30 days with a ban prohibiting the operation of Medical Marijuana establishments in San Jose.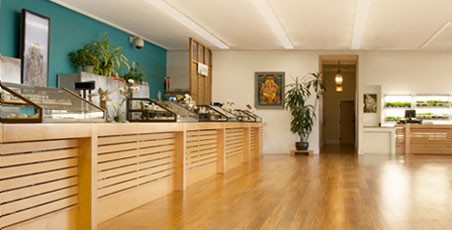 HHC
The city of San Jose is again mulling a ban in dispensaries. Here, the interior of Harborside Health Center – San Jose.
Some council members support a ban, the
Mercury News
reports
. And the new regulations would be a de facto ban.
"The regulations recommended by City Hall would limit the locations in which the dispensaries could operate to less than 1 percent of all parcels in San Jose," the Merc states.
Dispensaries remain in legal limbo in SanJo. Voters there approved medical pot sales taxes in 2010, and dispensaries pay $5.4 million in sales taxes per year, reports state.
San Jose last tried a de facto ban in 2011, but voters overturned the Council's ordinance with a petition. Activists promise another referendum if needed to preserve access to the pain and nausea botanical.
San Jose dispensary operator Dave Hodges wrote in an email that industry group "Silicon Valley Cannabis Coalition" suggests alternate regulations, which include buffer zones and 50-club cap for San Jose. He urged people to show up to the hearing at 8 p.m. tonight.