Bay Area skiers and riders are loading up on online ticket deals and waxing their gear right now after a series of cold, snowy storms turned Lake Tahoe white before Thanksgiving and laid the base for an epic and much-needed 2015­–2016 snow season.
As this issue went to press "a powerful and extremely slow-moving" storm was expected to creep over the Bay Area, bringing an estimated twelve inches or more of new powder to Sierra ridges.
Resorts opened one week early this year, after a series of Arctic systems moved through Northern California and got people excited for a big El Niño year. Storm totals for mid November were: 56 inches at Kirkwood; 41 inches at Sierra-at-Tahoe; 36 inches at Sugar Bowl; and 11 inches at Northstar.
Bryan Allegretto, forecaster for OpenSnow.com, said ski resorts are running about 4 to 5 percent ahead of their normal pace for snow accumulation this year — after several years of drought. "The snow pack isn't as great. It's below-average for snow pack, but snowfall at the top is ahead [of average]," he said.
California is in for what meteorologists have dubbed a "Godzilla" El Niño. "It's not a scientific term," said Allegretto, but he added that ocean temperatures are a record 3 degrees Celsius higher in the parts of the Pacific Ocean that are responsible for El Niño's potentially torrential rains. "That makes it the strongest ever recorded in [the] region used to track El Niño strength," he said.
Lake Tahoe resort operators aren't dancing in the streets — yet. "They're very, very leery. They know all El Niños don't [always] mean snow. They've heard it one hundred times," he said. "They need to realize how strong this one is — [it] greatly, greatly increases the precipitation, and this is the strongest ever.
"The last four years have been so bad, they're so weary, they're cautiously optimistic," he continued. "They're hoping."
Indeed, the April 1, 2015 snowpack — a standard benchmark for annual snowfall in the Sierra Nevada — was at only 5 percent of average, making it the lowest reading on record for the date — disastrously far below the prior record.
A September paper published in the journal Nature Climate Change used tree ring data to conclude that Sierra snow levels in 2015 were the lowest they've been in five hundred years.
So November's strong opening is a much-needed shot in the arm, and it's resulted in most resorts opening way ahead of Thanksgiving. Lake Tahoe resorts have $100 million in capital improvements just waiting for throngs of skiers, riders, kids, and less adventurous family and friends.
Tahoe has fully diversified itself for every demographic — from the Star Wars-themed kids area at Sierra-at-Tahoe, to the backwoods avalanche survival courses of Kirkwood. Resorts are creating ever more expensive VIP mountain guide packages for the high rollers, while ski-and-stay deals in Reno are as low as $84 per night with lift ticket.
"The magical word is more. More chairlifts, terrain, more resorts open, and more snow on the way," said Daniel Pistoresi, for Ski Lake Tahoe. Here's a little bit of what's out there.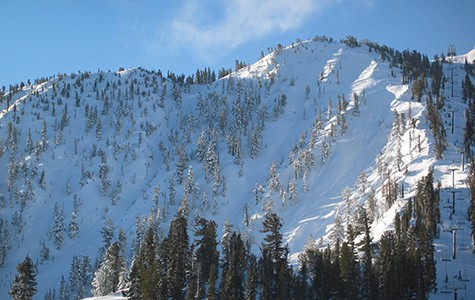 Sugar Bowl Ski Resort
Super close to the Bay Area, Sugar Bowl is touting a new partnership with nearby Woodward Tahoe for a combo season pass that adds world-class indoor training facilities, including skateboard ramps, foam pits, and trampolines. Sugar Bowl has $20 million in upgrades that it's dying to show off, including its new Crow's Nest chairlift, Sporthaus aquatic center, and the new Sugar Bowl Academy campus. A new terrain park is open for the experts, while a new Village Station caters to more staid skiers wanting the 200 kilometers of groomed cross-country trails at Royal Gorge (now with snow biking and snow kiting).
Mt. Rose Ski Tahoe
We had our best bluebird day of last year for just $35 using a Two for Tuesday ticket at Mt. Rose after a huge storm. Mt. Rose is the highest-situated and folksiest resort, and it opened on November 4 this year with a new chairlift. When warm, wet, slushy El Niño hits in December, Mt. Rose will be a keg of dry powder. Boom-shakalaka! Mt. Rose Ski Tahoe spent almost $1.2 million in on-mountain improvements — like more snowmaking and a new Enchanted Forest Family Zone. The newly christened Wizard Chairlift takes beginners to four new trails.
Homewood Mountain Resort
Homewood has opened 750 acres of glade powder reserves and close to 2,000 vertical feet of runs, along with lake views for VIP snowcat groups of ten. Powder fiends can also buy the First Tracks Breakfast program, which combines food and early access to the uncut powder. This year, Homewood also offers drone filming packages which is "literally like having your own R2-D2 flying around behind you filming your day on the slops," said Pistoresi.
Squaw Valley and Alpine Meadows
One ticket gets you access to both resorts, which opened on November 12 and 14 — among the earliest openings in resort history. If the duo's combined 6,000 skiing acres seems overwhelming, just hire a new, VIP mountain guide to take you to all the powder stashes. The upgraded Siberia Express chairlift is a high-speed six-seater that rockets powder-hunters to the open bowls of the upper mountain. Want to just chill? The Burton Relax and Ride is a two-hour group lesson on Burton demo equipment, plus lunch and an afternoon spa treatment.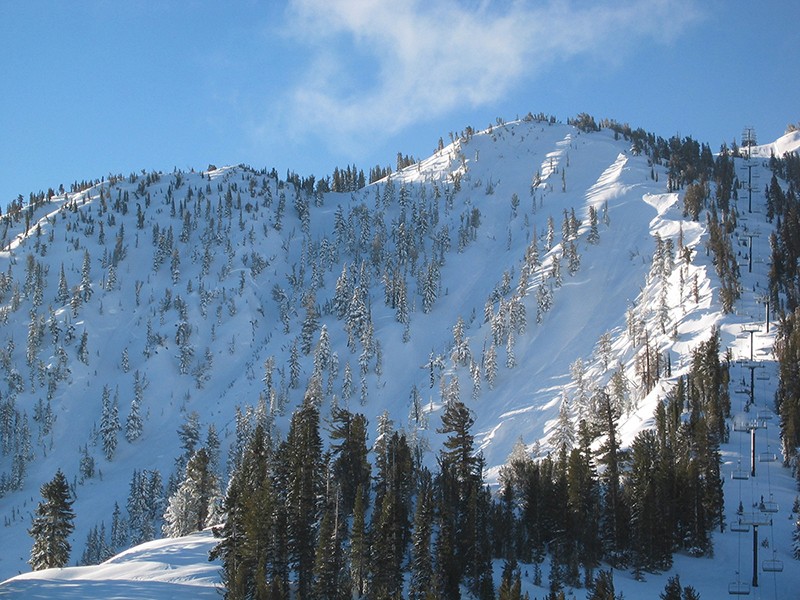 Northstar California Resort
Real estate windfall? Stay at the mid-mountain Ritz-Carlton, Lake Tahoe, and take some Primo Private Lessons with carte blanche access to the mountain, including expedited lift access, "guided tours, private lessons, lunch/dinner reservations, spa treatments, childcare and beyond." The Mountain Table culinary experience in the breathtaking Zephyr Lodge is all locally sourced, farm-to-mountaintop — naturally.
Heavenly Mountain Resort
For the place to ski and gamble, Heavenly bottoms out at the new Hard Rock Casino, which is open for its first full ski-year this year. The opening has prompted all the other nearby casinos to refresh their look. Tens of thousands of new square-feet of retail and breweries along the South Shore make it a happening spot. Basecamp is the new hipster motel with Xboxes in every room, indoor glamping, and a beer garden with an airstream trailer.
Kirkwood Mountain Resort
When the storm is measured in feet, not inches, Kirkwood will be ready to turn on the chairlifts at dawn. This year, the program Expedition: Kirkwood has a new intermediate "Discovery Series," and for solo explorers, the EpicMix Guide app will draw you 350 unique itineraries to optimize your time on the mountain.
Sierra-at-Tahoe Resort
Shred the award-winning terrain parks and half-pipes with Olympic pros. For the kids, the Burton Star Wars Echo Base and Yoda's Riglet Park is bound to have a banner year of film tie-ins. The resort and Burton have also enhanced their Learn to Ride program with vintage Eighties snowboards that teach balance, movement, and control on both dry land and in beginner settings. Free yoga sessions each day as well.