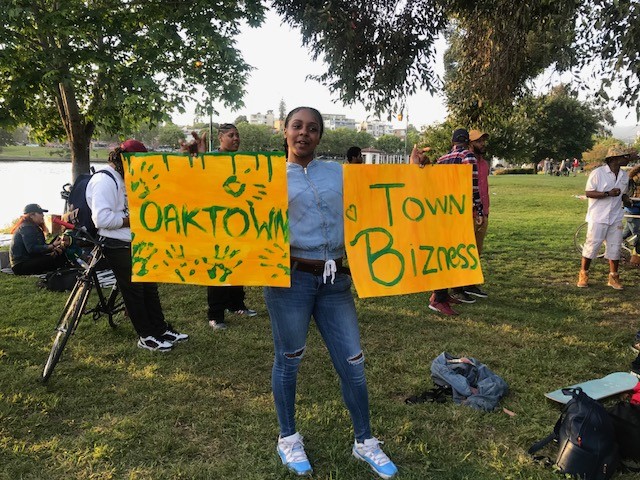 Recently, a
video
where a woman called the police on a Black family who was barbecuing at Lake Merritt went viral, and several local and national outlets published pieces on the outraging incident. While it is important to call awareness on such harassment of Oakland natives, it is even more crucial to highlight the ways in which longtime Oakland residents celebrate their time in The Town — barbecuing, listening to music, playing drums, riding bikes, and continuing the mundane activities they grew up with, long before newcomers were able to pinpoint Oakland on a map.
The banning of recreational activities around the lake is nothing new. Oakland natives have dealt with this for decades. In the past few years, it has gone from clashes with the police to the uncomfortable angry looks from new residents around the area who are oblivious to the #TownBiz culture that has prevailed despite confrontations with the law and the rapid wave of gentrification sweeping through Oakland. Now, instead of just dealing with the cops, Oakland natives are faced with angry confrontations at the hands of those disturbed and annoyed at what goes on at the lake on a sunny day.
[embed-1]
#510Day is the one day of the year where Oakland natives reclaim the lake for a day of music, laugher, unity, and good times.
The
Express
was there to witness the hugs, handshakes, dancing, chatting, babies playing — while others basked in the sunny and breezy weather, ate good food, and sang along to classic tracks like Mistah Fab's  "New Oakland" and Keak Da Sneak's "Super Hyphy."
[slideshow-1]