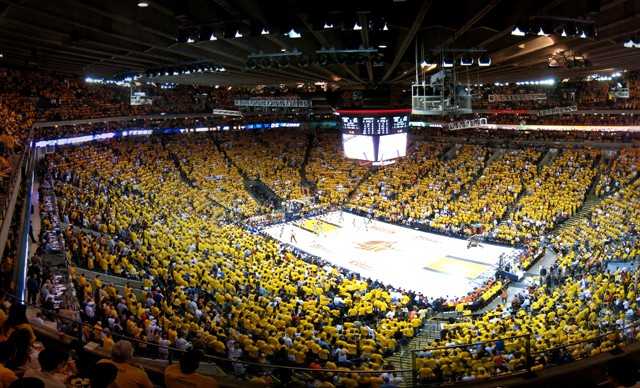 When it comes
to cities with deep basketball roots, from pro arenas to the playgrounds, most people think of New York, Chicago, Boston, and Los Angeles. And with good reason. But if we're judging solely by history and merit, each of those hotbeds of hoops must step aside for what is truly America's best basketball city: Oakland.
Yes, Oakland. Long before Oakland's Warriors staked their claim as the NBA's greatest team ever, the East Bay was churning out hardwood stars like the assembly lines at an old East Oakland factory.
The city's storied basketball lore goes back to at least the 1940s, when Oakland native Don Barksdale starred for Oakland minor-league teams before becoming an American sports pioneer. Barksdale became the first Black player to appear in an NBA All-Star game, as a member of the Baltimore Bullets in 1953.
He was followed by Bill Russell, a star at McClymonds High in Oakland, who won two NCAA titles with USF in the mid '50s. Russell went on to win 11 NBA titles in 13 seasons for the Boston Celtics and became the league's first Black head coach. Russell is so synonymous with NBA glory the league has named its Finals Most Valuable Player award after him.
Barksdale and Russell paved the way for succeeding waves of East Bay talent, feeding the NBA for decades with future stars such as: Paul Silas, Brian Shaw, Gary Payton, J.R. Rider, Greg Foster, Antonio Davis, Jason Kidd, Leon Powe, and Damian Lillard. Several other past NBA players — including Paul Pierce and Cliff Robinson — were born in Oakland but grew up elsewhere. And don't sleep on El Cerrito's Drew Gooden, Berkeley's Phil Chenier, and Danville's Mark Madsen.
That the world's best team plays in the heart of East Oakland is no anomaly but, rather, the logical culmination of this city's insanely rich basketball history.
This Monday, the Warriors travel to Houston to battle the Rockets, possessors of the NBA's best record this season. And when the series comes to Oracle Arena on May 20, all eyes will be on this high-stakes marquee matchup. Win or lose, it will continue a grand Oakland tradition of being the center of the basketball universe. …
In other Warriors news
… Hats off to Bob Myers, the franchise's relentlessly excellent general manager. Myers just keeps finding unheralded, under-the-radar talent, whether it's guard Patrick McCaw or forwards Kevon Looney and Jordan Bell. Even when he has the rare swing-and-miss, such as signing Nick "Swaggy P" Young for $5.2 million last offseason, you can count on Myers to quickly make up for it. He did just that by snatching point guard Quinn Cook from the scrap heap during the season. Cook bounced around the league last year, playing just 14 games with two teams. But he's been invaluable for the Dubs this spring, stepping up when Steph Curry injured his knee in March. Warriors stars like Curry, Kevin Durant, and Klay Thompson understandably grab the spotlight. But Myers' ability to always find diamonds in the rough like Cook is just as important to the Dubs' ongoing championship reign. …
In Alameda
, in contrast, Jon Gruden's recent additions to the Raiders' roster offers more head-scratchers than solid prospects. The Silver and Black's head coach now has more authority than general manager Reggie McKenzie, and the change has been conspicuous. Whereas McKenzie favored "high-character" choir boys, Gruden has developed a distinctly Al Davis-like appreciation for talented rogues and high-risk players. First, he traded for receiver Martavis Bryant, who's just a year removed from a drug-related suspension. Gruden also signed cornerback Daryl Worley after he was arrested on suspicion of driving under the influence, disorderly conduct, and weapons charges. And Gruden spent the recent draft like a drunk gambler, rolling the dice on several players with "off-field problems," such as edge rusher Arden Key and linebacker Azeem Victor. Maybe it'll all work out. But it seems like a really bad idea to add players like these to a franchise so often mired in dysfunction. …
The NFL
is getting increasingly hard to defend. For one, it's 2018 and the league still allows a team to call itself the "Redskins." As if that weren't bad enough, that same franchise's cheerleaders last week accused team officials of "pimping them out" during a calendar photo shoot in 2013. The club required that the cheerleaders pose topless in the presence of suite holders and sponsors and escort some of them to nightclubs, according to
The New York Times
. A week later, there's no indication the NFL will punish or even criticize the Washington front office for exploiting their female employees. The question bears repeating: These are the people who believe they have the moral authority to judge Colin Kaepernick and Eric Reid? …
The Port of Oakland commissioners
have approved a 12-month exclusive negotiating agreement (ENA) with the A's as they consider Howard Terminal for a new ballpark. The unanimous April 26 decision paves the way for the A's to simultaneously explore building on the waterfront near Jack London Square or at the Coliseum in East Oakland. …
The Coliseum ENA
, meanwhile, is set for Oakland City Council approval on Tuesday, May 15. May the best site win. [Cough, cough, Howard Terminal, cough, cough.] …
I'm perplexed
at why federal or state revenue can't be used one day to build a BART station near the Howard Terminal site, between the West Oakland and City Center stations. If BART can garner a $730 million state grant for the impending downtown San Jose station, certainly the same could be done for a station near Jack London Square. Would such a project be a challenge? Yes. But solving difficult issues for the community is why the 2016 salary and benefits of BART General Manager Grace Crunican totaled nearly $500,000, according to Transparent California. Big performance expectations should come with wages that high. If Oakland is going to keep the A's in town with a privately financed ballpark, then at a bare minimum we're going to need our local leaders to, you know, lead. I urge BART officials to do just that. …
The A's
, meanwhile, continue to do their part by reaching out to the Oakland community and making positive headlines. The team's previous front office acted as if a giant wall prevented them from visiting Oakland, but team President Dave Kaval has changed that. Here's an example: The team is holding their "Oakland A's Game Night" in the heart of the city on May 24, when fans age 21 or older can hang out with A's players at Plank in Jack London Square. Admission isn't cheap — $100 per person — but it'll get you unlimited games, food, and drink. And it all goes to charity, by way of the Oakland A's Community Fund. For an extra donation, fans can bowl or play bocce ball with an A's player. Go to Athletics.com for more info. …
Also
, the team recently unveiled 50 colorful statues of Stomper, the team mascot, all over town. It's part of the A's' season-long celebration of their 50 years in Oakland. For a map of each "Stomper in the Town" statue location, go online at athletics.com/sitt. …
Check out ESPN's The Undefeated
, which had a nice profile on A's official Taj Tashombe, an Oakland native and a key member of the franchise's effort to build a new Oakland ballpark. Public relations steps like these may seem small or trivial to some, but they're exactly what is required to re-establish the community connection that previous A's officials severed in Oakland. …
Lastly
, my thoughts and best wishes go out to A's outfielder Stephen Piscotty and his family over the passing of his mother, Gretchen Piscotty. The A's acquired Piscotty this past offseason, in part so he could live close to his mother's Pleasanton home as she battled ALS — also known as Lou Gehrig's disease. Piscotty grew up rooting for the A's at the Oakland Coliseum, where local fans gave him a long ovation before his first at-bat Tuesday night — his first game after his mother's death. Houston players and coaches showed a lot of class during the emotional moment; they applauded Piscotty as pitcher Lance McCullers Jr. stepped off the mound, allowing the grieving A's player some time to acknowledge the Coliseum fans. Piscotty then knocked a single to right. I know lots of Oakland fans who view the Coliseum as their second home and consider the people they sit next to as family. After watching this emotional moment unfold Tuesday night, it was easy to see their point.
RIP, Gretchen Piscotty.
Chris De Benedetti, a co-founding member of Baseball Oakland, writes a regular sports column for the
Express.