SF Beer Week kicks off tomorrow and will include a wide variety of events offering — but not strictly limited to — delicious beer. From February 7-16, local breweries, tap rooms, and restaurants will offer both classic and little-known brews from all over California, as well as the opportunity to explore food and beer pairings and meet expert brewers.
There are so many events in the East Bay that choosing which ones to attend is no easy task. It really depends on what kind of beer enthusiast you are. But whether you love beer and food, beer and bikes, beer and music, or just beer and more beer, there's something for you. Here are our top picks: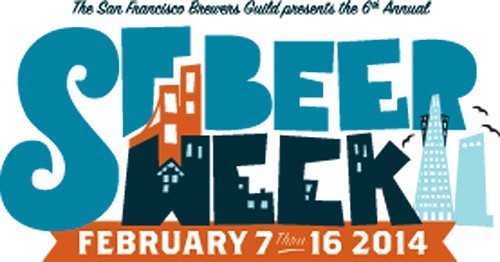 [jump]
1. Tour de Biere: East Bay Brewery Bike Crawl
The Grand Cru is hosting the 2014 Tour de Biere, a two-part bicycle pub crawl.
Part one, a short seven-mile ride, begins on Saturday, February 8 at 10 a.m. Rubber hits the road at Trumer Brauerei (1404 Fourth St., Berkeley) and will stop by The Rare Barrel (940 Parker St., Berkeley) and Linden Street Brewery (95 Linden St., Oakland).
Admission: $20
Part two is a 29-mile ride on Sunday, February 16. It begins at Pyramid Ale House (901 Gilman St., Berkeley) and stops at Sierra Nevada's Torpedo Room (2031 Fourth St., Berkeley), Faction Brewing (2501 Monarch St., Alameda), and Drake's Brewing Company (1933 Davis St., San Leandro.
Admission: $30
2. Double IPA Festival
The Bistro (1001 B St., Hayward) will be hosting its 13th Annual Double IPA Festival, offering fifty double IPAs and thirty triple IPAs, as well as live music, cheese pairings, and a barbecue. The Double IPA Festival is an extra special event, as it's the original kickoff to Beer Week.
Admission: $50 (at the door only)
Saturday, February 8, 11 a.m.-5 p.m.
3. Sierra Nevada Tap Takeover at Beer Revolution
Beer Revolution (464 3rd St., Oakland) will offer more than 58 specialty Sierra Nevada brews, including rare "one offs" for the day.
Admission: free
Saturday, February 8, noon-8 p.m.
4. Locals Only
All Beer Week long, the HopYard American Ale House & Grill (3015 HopYard Rd., Ste. H, Pleasanton) will serve only locally brewed beer. This is great opportunity for both brewers and beer drinkers to support their local beer.
Admission: free
February 8-16, noon-midnight
5. Figueroa Mountain Beer Release and Showcase
Figueroa Mountain Brewing will feature its award-winning brews, as well as its new, never-been-tasted double IPA. Attendees will also get a chance to meet Figueroa's brewers. At Harry's Hofbrau (14900 E 14th St. San Leandro).
Admission: free
Saturday, February 8, 5-11 p.m.
6. CaliCraft: Meet the Brewer
Meet the head brewer from CaliCraft brewery and taste CaliCraft's rare barrel-aged beers. At ØL Beercafe and Bottle Shop (1541 Giammona Dr., Walnut Creek).
Admission: free
Saturday, February 8, 6-11 p.m.
7. An Evening of Barrel-Aged Beers
Sample the unique barrel-aged beers of The Trappist (460 8th St., Oakland): 50/50, Drake's, Crooked Stave, The Rare Barrel, Cascade Brewing, and Tahoe Mountain Brewing Co.
Admission: Free
Saturday, February 8, 6:30 p.m.-1:30 a.m.
8. Bluegrass & Brews
Nothing beats a good brew and live music. Enjoy a selection of 32 craft beers and more than 200 craft bottles while listening to a live set of bluegrass from Canyon Johnson. At Albany Taproom (475 San Pablo Ave, Albany).
Admission: free
Thursday, February 13, 8-10 p.m.
9. Beer & Chocolate Pairing
Love chocolate? Love love? Celebrate Valentine's Day with locally made chocolate paired with the house beers from Pacific Coast Brewing Co. (906 Washington St., Oakland).
Admission: free
Friday, February 14, 4 p.m.-midnight
10. 26th Celebrator Anniversary Party
This is one of Beer Week's most anticipated closing parties. Attendees will get the chance to meet Celebrator Beer News writers and pioneers of the craft beer movement, as well as a chance to sample the finest beers from more than thirty breweries. At Trumer Brauerei (1404 Fourth St., Berkeley).
Sunday, February 16, 4-8 p.m.
Admission: $60
Of course, we couldn't include every great event, so check out the full Beer Week schedule.