Welcome to the Mid-Week Menu, our roundup of East Bay food news.

1) It seems like every week marks the launch of a new Off the Grid outpost. According to Berkeleyside Nosh, the food-truck-gathering empire's latest move marks a return to North Berkeley, after the Gourmet Ghetto market location was closed down (in part because of complaints from nearby brick-and-mortar shops). Hopefully, that won't be an issue OtG's new spot, in the North Berkeley BART parking lot, which is pretty far removed from the city's main retail and dining districts. The new, ten-truck North Berkeley Off the Grid market will take place every Sunday from 5-8 p.m., starting this Sunday, February 9.

[jump]
2) As noted earlier today, Hawker Fare has launched a new dinner menu, eschewing rice bowls (still available for lunch) for a family-style approach that puts sticky rice front and center. See my story for all the details. Syhabout also told me that construction has just started on his other big project, The Dock at Linden Street (95 Linden St.), a collaboration with Adam Lamoreaux of Linden Street Brewery. Syhabout said the restaurant and beer garden is on track to open by June or July.


excellent rotis and other Trinidadian specialties
at Daniel's Caribbean Kitchen, a little trailer parked in the Jered's Pottery lot (2720 San Pablo Ave., at Pardee St.) in West Berkeley — unfortunately, the food stand found itself shut down by the city of Berkeley within weeks of my initial post.
Great news just in
: Having obtained the necessary permits, the eponymous Daniel is back at his old spot, Wednesday through Friday from 11 a.m. to 5:30 p.m., with extended evening hours once the summer starts.
4) The Piedmont Avenue
salumi
specialist Adesso (4395 Piedmont Ave., Oakland) has launched coffee-and-pastry service in the mornings, Monday through Saturday from 8 to 11:30 a.m.
What the Fork
previewed Adesso's new morning program late last year in a story about the increasing number of East Bay restaurants that are doubling as coffee shops during their off hours.
5) In other coffee-related news,
Tablehopper
reports that the super-sized Blue Bottle location at 4296 Broadway in Oakland (the old W.C. Morse building) is opening this
Thursday, February 6
. Meanwhile, the other highly anticipated opening in that neighborhood, of the new Trueburger outpost, probably won't happen until at least the spring, according to
Diablo Dish
.
6)
Diablo Dish
has one other Oakland tidbit, thanks to some ABC application sleuthing: Apparently, the former Disco Volante space in downtown Oakland (347 14th St.) is going to reborn under new ownership. Based on the names on the l
iquor license application
, Dish speculates that tiki drinks might feature prominently.
7) In East Oakland, Lena's Soul Food Cafe (1462 High St.) will begin serving breakfast, from 7-10:30 a.m. daily, starting next Tuesday, February 11. I've written before about the
awesome 99-cent menu
at Lena's. For breakfast, it looks like the star players will be things like chicken and waffles ($6-$9) and biscuits and gravy ($3.50).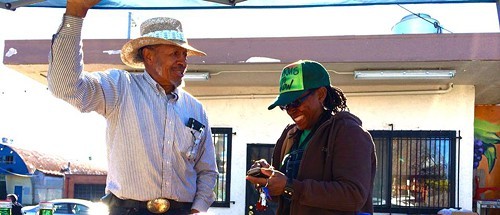 8)
Last week
we reported that the Phat Beets Produce food justice organization's North Oakland farmers' market had left its spot at 942 Stanford Avenue and returned to its original location at the Arlington Medical Center. Now, filling that void, the
Freedom Farmers Market
has started setting up shop in that spot (in the parking lot of the Grease Box gluten-free restaurant), also from 10 a.m. to 3 p.m. every Saturday, starting this past weekend. According to
a post
on the market's Facebook page, the owner of Brothers Kitchen, the restaurant that had previously hosted the market, recently lost his lease, necessitating the move.
9)
Berkeleyside Nosh
has an update on the Berkeley Unified School District's beleaguered school cooking and gardening programs, which have grappled with the threat of crippling budget cuts for much of the past year. According to the Nosh report, the latest proposal under consideration would eliminate the program's cooking component at the elementary school level, and would gut the middle school and high school gardening programs entirely.
10) Today's offbeat food news snippet:
Kotaku
passes along a group of Japanese researchers' findings on the most scientifically sound method for holding a hamburger. And suddenly, wouldn't you know it, I'm in the mood for a burger.
11) Finally, ICYMI, I previewed
Kitchener Oakland's innovative takeout window project
, which is the focus of a current
Kickstarter campaign
.
Got tips or suggestions? Email me at Luke (dot) Tsai (at) EastBayExpress (dot) com. Otherwise, keep in touch by following me on Twitter @theluketsai, or simply by posting a comment. I'll read 'em all.