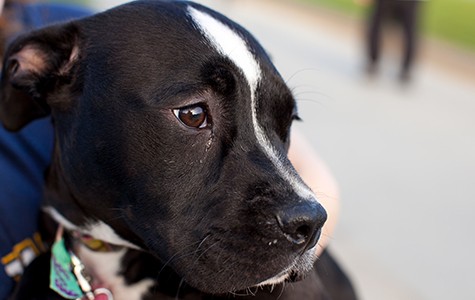 Oakland Animal Services (OAS), the city-run shelter, finally has a new permanent director — a year-and-a-half after the longtime former director resigned. The city announced this afternoon that it has hired Rebecca Katz, a former director of animal care and control for the City and County of San Francisco, to run the Oakland shelter, which has been plagued for months by controversy and understaffing. As I
covered in print earlier this month
, a group of shelter volunteers and animal advocates have recently uncovered evidence that they say illustrates the shelter's repeated pattern of putting down adoptable dogs — even ones that outside rescue groups have already agreed to save. This euthanasia controversy has erupted as the city prepares to move the shelter out of the Oakland Police Department, transitioning it into a standalone city department. 
After OAS Director
Megan Webb
 left the shelter in 2013 for a job in Virginia, the city launched a nearly yearlong search for her replacement, ultimately hiring Gary Hendel, a former municipal shelter director from Texas. But the city put Hendel on administrative leave in March, soon after he stepped up to the job, due to an internal investigation. The city has not disclosed details of that investigation and Karen Boyd, assistant to the city administrator (who is overseeing the OAS transition out of the police department), declined to give me any details on Hendel for my recent story. 
[jump] Katz will take over the shelter on November 17. She headed the San Francisco animal care and control department for six years, where she oversaw the creation of the agency's first satellite adoption center, according to an announcement of her hiring. In 2012, she also helped launch a pilot project called 
Wonderful Opportunities for Occupants and Fidos (WOOF
), which paired San Francisco residents in supportive housing with dogs that might otherwise have been euthanized. The program targeted dogs that needed individualized time and attention before they were put up for adoption — connecting the pets to foster parents for up to six weeks of training. Katz's departure from the San Francisco animal control department
in July was apparently controversial
, with news outlets reporting that the city administrator had
asked her to leave
.
Before her animal care and control job, Katz was a deputy city attorney for the city and county of San Francisco where she wrote legislation mandating the sterilization of pit bulls. 
Katz is an East Bay native who grew up in Berkeley. 
Mayor Jean Quan said in a statement this afternoon: "Rebecca Katz is a seasoned and capable leader with experience running a successful municipal animal shelter in the heart of the Bay Area. Oakland's animals will benefit from her innovative approaches to enhancing animal welfare, collaborative efforts to find homes for hard-to-place animals and demonstrated success." 
For more on the challenges Katz is inheriting in Oakland, check out our recent news stories on OAS: "Oakland Is Killing Adoptable Dogs," "Oakland Animal Services to Face Major Reform," and "What's Going on at Oakland Animal Services?"