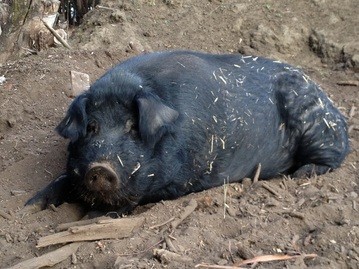 In the world of high-class pork, heritage pigs — which trace their bloodlines back to a handful of distinct breeds that existed before the rise of modern industrial farming — are the cream of the crop. In the Bay Area, you'll find no shortage of upscale restaurants, and even a few everyday ones, that name-drop "Berkshire" or "Duroc" pork on their menus.
Much less common, however, is the Mulefoot hog, an extremely rare breed that the Oakland restaurateur Chris Pastena hopes will catch on among discerning East Bay pork connoisseurs. Currently a fixture on the menu at both
Lungomare
(1 Broadway) and
Chop Bar
(247 4th St., #111), pork from a Mulefoot has a richness that is, in Pastena's words, "unmatched."
[jump] As its name indicates, the Mulefoot hog is characterized by its solid, non-cloven (i.e., single-toed) hooves — similar to what you'd find on a mule. Pastena said these single-toed feet limit the pigs' mobility, helping them to become much more fatty than even other heritage breeds prized for well-marbled meat.
Lev Delany, Pastena's business partner and chef at Chop Bar, explained that this extreme fattiness limits the practicality of Mulefoot pork — a loin chop, for instance, consists of more fat than actual meat. But that high fat content also makes the meat particularly well-suited for charcuterie.
"Cured, the flavor mellows and concentrates to a rich, nutty flavor and a firm but unctuous texture," Delany said.
Chef Craig DiFonzo recently expanded Lungomare's house-made charcuterie program to include a rotating selection of about thirteen different cured meats, several of which are made with Mulefoot pork — including the
nduja
,
finocchionna
(fennel pollen salame), and lardo. By next year, there should be Mulefoot prosciutto, made by salt-curing the pork legs. In addition, a smoked Mulefoot pork chop (served with brandy-soaked sour cherries) and a version of
porchetta
that's made with smoked Mulefoot pork belly both make regular appearances on Lungomare's menu.
According to Pastena, Lungomare's Mulefoot dishes are so popular that the restaurant currently sold out and won't receive another of the pigs — which are sourced from
Grabishfarm
, a small family-run farm in Dixon, California — until this weekend.
But if you'd like the opportunity to feast on Mulefoot pork straight at the source, and to meet some of the portly pigs in their natural environs, Grabishfarm is hosting a special
"farm-to-fork" dinner
cooked by Delany and DiFonzo on Sunday, October 12, from 4 to 7 p.m. The evening's menu will include, among other dishes sourced from the farm premises, a
porchetta
,
chicharrone
s, and a pork terrine — all made with Mulefoot pork.
Field Recordings Wine
will provide wine for the event, and because the
$120 price of admission
includes a shuttle bus ride out to the farm from the East Bay, participants won't have to worry about limiting their alcohol intake in preparation for the long drive home.
Pastena said that Lungomare has been serving Mulefoot pork for well over a year now, but recently he and DiFonzo have made an effort to expand upon, and publicize, those offerings. That's due in part to changes that are afoot in Pastena's Oakland mini-empire — most notably in terms of his partnership with developer Tom Henderson, with whom he co-owns Lungomare and Tribune Tavern.
"We just decided that it's best to go in our own directions," Pastena explained. While the details of that split are still being sorted out (particularly in terms of whether Pastena will retain any role at Tribune Tavern), the upshot is that Pastena is currently putting all of his energy into Lungomare — and, of course, spreading the gospel of the Mulefoot hog.