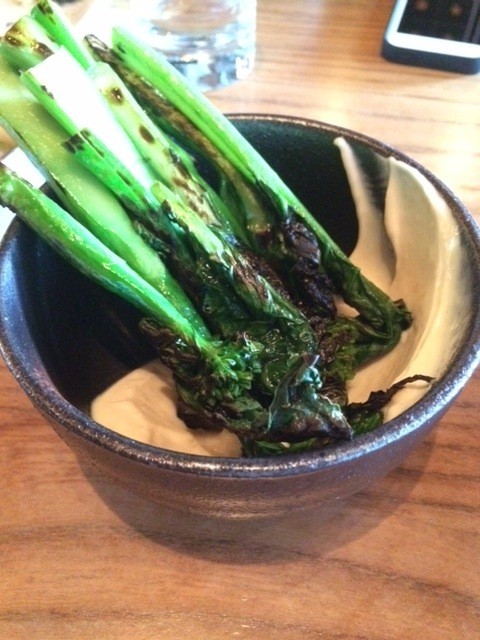 It seems that the only constant for Daniel Patterson's Uptown Oakland restaurant Plum, aka Ume, is change: Less than four months after the restaurant
relaunched
with a menu focused on Japanese-inspired small plates, Ume has closed, the
San Jose Mercury News
reports. The restaurant will be subsumed into
Plum Bar
, the ancillary — but more popular — cocktail bar next door, which will now feature an expanded menu, soft-serve ice cream, punch bowls, and much more seating.
After a quick renovation, Plum Bar + Restaurant (2216 Broadway) will reopen for both lunch and dinner on Wednesday, September 10.
[jump] It is the latest turning point in the tumultuous history of the restaurant formerly — and now once again — known as Plum. A press release sent out by the Daniel Patterson Group yesterday characterized Ume as merely a "pop-up," and a representative of the restaurant group told me that the intention was always to test to see whether the restaurant's Japanese-inspired cuisine and slightly more casual style of service would be a good fit for the neighborhood. That seems like a little bit of revisionist history — I certainly don't recall the word "pop-up" ever being used in the early days of the Ume reboot.
Regardless, the verdict was clear: Despite generally positive reviews (including one from
this critic
), the restaurant often still had trouble filling seats. What people in the neighborhood wanted, Patterson concluded, was something even more casual and inexpensive. In short, what they wanted was more Plum Bar. And now, that's exactly what they're going to get.
Among other benefits, the expansion will allow Plum Bar + Restaurant to accommodate larger parties, which the bar never had room for previously when it was limited to the smaller adjacent space. The restructuring of the bar also coincides with a promotion for Ashley Miller, the opening bar manager at Alta CA (Patterson's newest San Francisco outpost), who has been appointed Bar Director for the entire restaurant group. Miller will use Plum Bar's expanded kitchen as her boozy base of operations.
"We loved Ume, and so did a lot of people, but it wasn't what the neighborhood wants," Patterson said via email. He added that he eventually hopes to open another Ume — or a restaurant with a similar concept, in any case — at a different location. 
According to Patterson, Ume chef de cuisine Dong Choi has moved back to Atlanta for family reasons and, thus, won't be part of the new kitchen regime. That means the newly expanded Plum Bar + Restaurant is
currently hiring
.