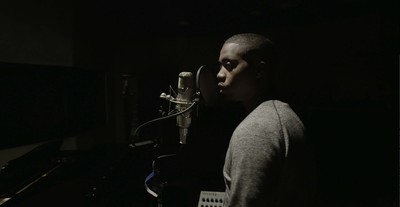 On Tuesday night at The Fox, a sold out crowd was treated to the sights and sounds of Nas' New York. This wasn't just a concert—it was a cinematic invitation into the world that gave birth to a classic.
Illmatic
turned 20 this year, and this was Nas' victory lap.
[jump] The Queensbridge MC has always painted pictures with his words, but this night evoked a specific time and place in ways that lyrics never could.
The show started with a screening of
Nas: Time Is Illmatic
, a documentary that had premiered at Sundance and has kept a steady buzz going ever since. Before showing the film, the director and writer/producer—One9 from D.C. and journalist Eric Parker—teed it up. "Queensbridge could be Oakland, could be Ferguson," said One9.
There was a surreal feeling permeating the Fox as a bunch of hip-hop heads giddily awaited one of the G.O.A.T. to take the stage. The trouble: they had to restrain themselves for 90 minutes and sit still. When you screen a film before a rap show, you better not expect library silence—the thunderous claps and occasional hecklers made it feel like a Midnight Movie.
Taking a deep dive into Nas' family environment,
Time Is Illmatic
featured extensive interviews with his brother Jungle and his pops Olu Dara, giving a nuanced look at a home that was far different than a typical pad in the projects. It was worldly and bohemian. There were books from Sun Tzu, jazz records in constant rotation, and ample love—until his pops left his ma.
[embed-1]By that time, both Jungle and Nas were the men of the house. Olu Dara had unconventionally encouraged them to drop out of a dysfunctional public school system and hone their craft, unwittingly giving rise to a rap genius in the process.
It wasn't all roses. The film vividly portrayed how the crack epidemic influenced his neighborhood, his inner circle, and ultimately his music. "New York State of Mind" gets at this feeling of paranoia and claustrophobia more than any other track. This wasn't Fifth Avenue and Trump Tower. For Nas, New York after dark was about "fiends lurking at night trying to rob you."
The infestation of crack, and the violence that it brought along with it, also led to the death of Willie "Ill Will" Graham, his best childhood friend. It's a loss that haunted him deeply (and still does), and he redirected his rage to the mic.
The film goes track-by-track, talking with producers like Pete Rock, Premier and Large Professor, getting into their inspiration and discussing samples. For example, since Nas was such a fan of MJ, Large Professor sampled "Human Nature" for his first single, "It Ain't Hard To Tell."
Not wasting any time, Nas took the stage in jeans and Timbos and ran through Illmatic in its entirety. Backed by looping visuals of The Bridge, as well as scenes from
King of New York
and
The Warriors
and other shots of the Rotten Apple, it made the Fox feel like a grimy outer borough. You could practically hear screeching subway cars.
Nas was a consummate MC, telling stories in between songs and dropping little nuggets of witty stage banter. "Memories are so divine. They're better than your cell phone pics," he said, before launching into "Memory Lane."
DJ Green Lantern provided way more than backing beats. He would cut out to let Nas spit acapella, add scratches at just the right time, and mash up Nas' verses with other classic instrumentals—he put the third verse of "One Love" over Biggie's "Sky's The Limit," and somehow it felt just right.
The movie and show zoomed in on a specific slice of hip-hop history, but the zealous energy throughout the night showed how much the lens of
Illmatic
has widened over the years. Calling it an album almost does it a disservice—it's a movement that happens to be contained in 10 tracks.
"I didn't know that this meant the world," said Jungle. "I thought it just meant The Bridge."