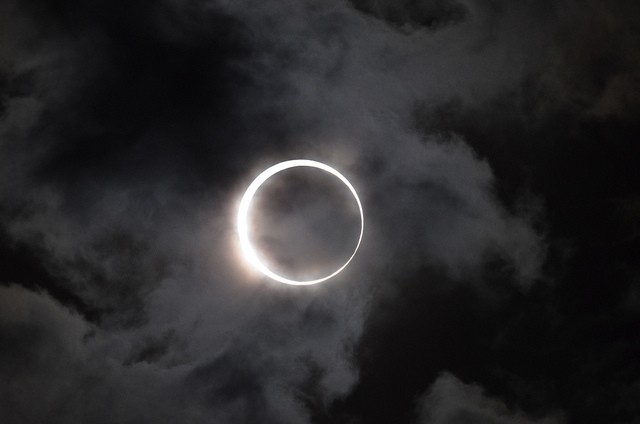 If you don't follow NASA on Twitter or read a lot of witchy, lesbian blogs, you might not know that a bad-ass, partial solar eclipse is headed our way this afternoon!
See Also:
Eclipse Viewing Party
Solar Eclipse Spells Stress
[jump] According to these
 calculations from NASA
, Bay Area residents can expect the eclipse to start at 1:52 p.m., peak at 3:15 p.m., and end around 4:32 p.m. 
The
Lawrence Hall of Science up in Berkeley
is hosting a viewing party from 1:30–4 p.m. today if you'd like to watch the action using UC Berkeley's fancy solar telescopes, and learn all about eclipses. 
If you can't make it to a planetarium or observatory, then, a warning! We know you probably remember this from elementary school, but you should never stare directly at the sun, not even with sunglasses, because doing so may cause permanent damage to your peepers, as well as let in harmful UV and infrared light. 
If you, for some reason, own
eclipse glasses
, those are safe to use, as are
welders goggles
with a rating of fourteen or higher. But if you don't have either of those, you can always enjoy the eclipse by making some poor man's "goggles." To see the projected image of the eclipse, get two pieces of cardboard. Punch a pin-sized hole in one of the pieces. Then place the second piece in front of the first one, which will allow the sunlight to be seen through the hole.
Or, if you're not feeling crafty, you can stay inside and watch the eclipse from the safety of your cubicle thanks to a
webcast from Slooh
. 
[embed-1]

Follow @annapulley on Twitter. She'll tweet you right.