The first-ever marijuana-infused sexual enhancement product designed specifically for women has come to market. Meet: Foria.

The one-ounce, $88 spray bottle of "pre-lube" contains thirty servings of cannabinoid-infused coconut oil. Launching soon, it will only be available to medical cannabis patients in California.
The Southern California makers of Foria, dubbed "Aphrodite Group," note that cannabis is one of the oldest known aphrodisiacs. (Weed's main active ingredient, THC, mimics the neurotransmitter anandamide, which causes euphoria and can facilitate arousal.) The group tested its products on about 100 volunteers in and around the Bay Area.
[jump]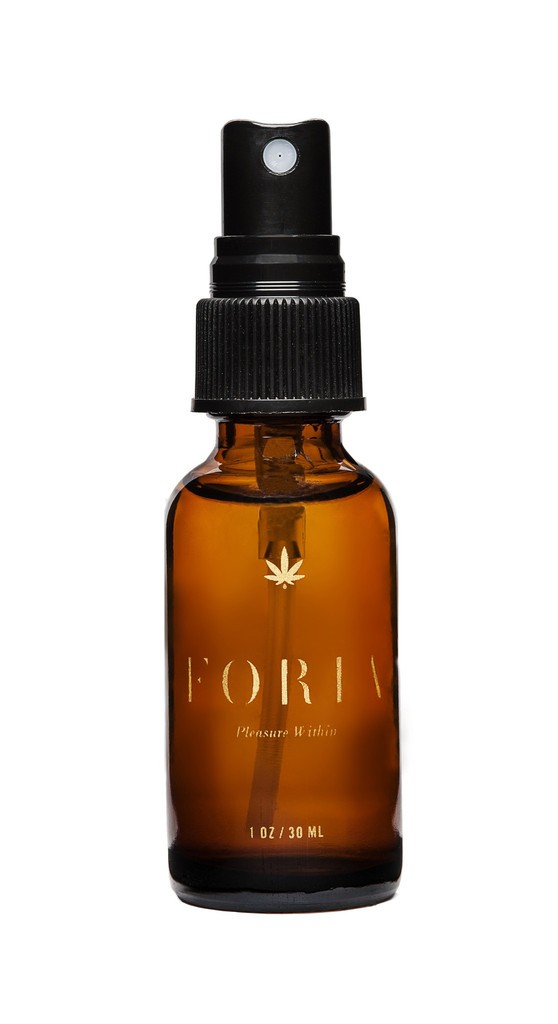 Foria uses 100-percent food-grade coconut oil, which has an ideal viscosity and low pH. "Coconut oil has been studied for its topical antimicrobial effects, including fighting off yeast and bacteria and optimizing the natural harmony and balance of the body," the company states.
Foria's makers say the raw plant matter is concentrated and purified into an extract and is lab-tested by The Werc Shop in SoCal. "Made with love in California, Foria is Vegan, Gluten-free, Sugar-free, Chemical & Pesticide-free, 100% Natural and, of course, edible."
Each bottle contains liquid coconut oil and 360 mg of THC and other cannabinoids. Women are instructed to apply 4-8 sprays directly onto the clitoris, inner and outer labia, and inside the vagina. Each spray contains approximately 2 mg of THC.
[embed-1]
The company states on its website: "Your body and its needs are unique, so it is recommended that you experiment slowly to learn what serving size is best for you. Allow 15-30 minutes to relax and absorb the medicine; a great time for foreplay or self massage. Then enjoy alone or with a partner as desired."
The Cannabist's Ricardo Baca talked to Carol Carlson, a "60-something who lives in Marin County with her husband," about the product:

Carlson had recently asked her OB/GYN, "Is there a prescription out now to help my libido? I don't have that same drive anymore."

Her doctor's response started out: "If I had a dollar for every patient who asked me that question …"

"Later that night," Carlson told us, "I was going to dinner with friends of mine who knew Mat and said, 'Well, I have a sample of something that might help.' I said, 'I'll try it.'

"With no expectations I felt the power of it. I felt relaxed and aroused. I felt every feeling a little more sensitively. When you get older, (sex) becomes uncomfortable. Your body doesn't function like it used to. It's also a great lubricant, and it's not messy like K-Y Jelly. It absorbs into the body, and that's an added plus.

"I'm enjoying sex again, and my husband's thrilled about that.