The controversial Temescal obelisk that the Temescal Telegraph Business Improvement District (TTBID) and a local property owner were planning to install later this month has been halted — for now. In a meeting on Tuesday, the TTBID decided to postpone further work on the project, which called for a 20-foot blue obelisk with the neighborhood and city's name to be placed at 52nd Street and Shattuck Avenue on a private lot.
The TTBID said that it plans to hold a community event in order to discuss the contested obelisk at a date yet to be determined.
[jump]
"Maybe we made a mistake in that we didn't do more community outreach if we had known this would be so controversial," said TTBID Executive Director Darlene Drapkin.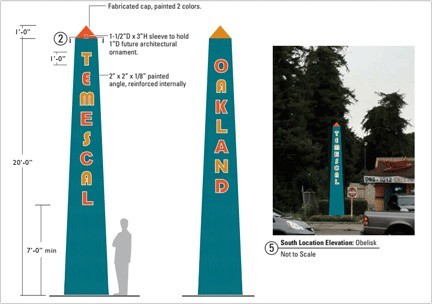 As reported yesterday, the TTBID has been planning to install the blue obelisk at 5225 Shattuck Avenue. Jae Lee, the owner of the Pennzoil shop that sits on the site, received a building permit over a decade ago to build the shop with a condition that a welcome sign be built. The TTBID and Lee planned to share costs of construction. They chose local artist Ellen Kim's design, as it was the only proposal presented that was under budget. The obelisk had been discussed for months at monthly TTBID meetings, but critics mobilized a campaign against the project in the last week when the TTBID announced that the obelisk would be installed later this month.
Drapkin said the obelisk has only been postponed, not canceled outright. But Kim, who designed the structure, said she has removed herself from any involvement in the project following the community outrage. Kim also said that the renderings that were posted on the TTBID website were not accurate representations of how the obelisk would actually look. Kim said that the material that would have been used would have been an expanded mesh that would make the blue not as noticeable, and the typeface would have been changed to a "carnivalesque" layout.
"Frankly, I'm burnt out on this project, and will not be attending any future community meetings to further discuss this issue. I'm no longer a part of the BID, but have every hope that folks can come together to find a solution for moving forward on the project, regardless of what the design ends up being," Kim said." I was disappointed and disheartened to see all the negative comments, and was deeply hurt by the harsh language. To my surprise, I also found myself feeling disrespected. I will get over it and move on, as we all will."