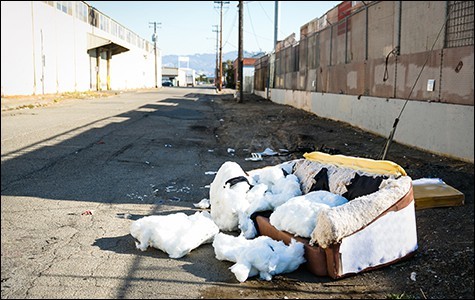 This weekend, Oakland residents can drop off unwanted mattresses and other bulky items for free at Waste Management's Davis Street Transfer Station in San Leandro (2615 Davis Street). On Saturday, November 7 from 10 a.m. to 2 p.m., residents are allowed to dump two pieces of furniture, two large appliances, four mattresses, four passenger auto tires, and unlimited electronics, according to an announcement from Waste Management. Residents should bring proof of residence.
As part of the corporation's new waste contract with the City of Oakland — which went into effect in July and has sparked
widespread backlash
over exorbitant rate increases for
commercial composting
and other services — the company agreed to
add services
aimed at helping the city tackle illegal dumping. 
[jump] As I noted in a
2013 cover story,
 Oakland has long suffered from an illegal dumping epidemic with mattresses, furniture, and other large items frequently piling up on streets throughout the city — contributing to significant blight in pockets of West Oakland and East Oakland in particular. Part of the problem is that many Oakland tenants have not had any affordable and convenient way to get rid of these items when they move. The new contract seeks to address this by offering four free bulky drop-off events a year and allowing residents of single-family homes and apartment buildings to schedule bulky pick-ups once a year. Waste Management also has a crew that cleans and hauls debris from 25 illegal dumpsites per day in Oakland, according to the company's announcement. 
In general, residents can drop off large items at Davis Street any day Monday through Saturday, but typically have to pay a fee for item, which often deters people from taking advantage of this option; 
you can read the specific rates here
. 
Oaklanders in single-family homes who want to schedule a bulky pickup at their home 
can find details here
. And apartment building property managers can find information about
scheduling pickups here
. 
See Also: 
Oakland's Trash Program Promotes Waste
Oakland, Waste Management Propose Cheaper Composting Rates