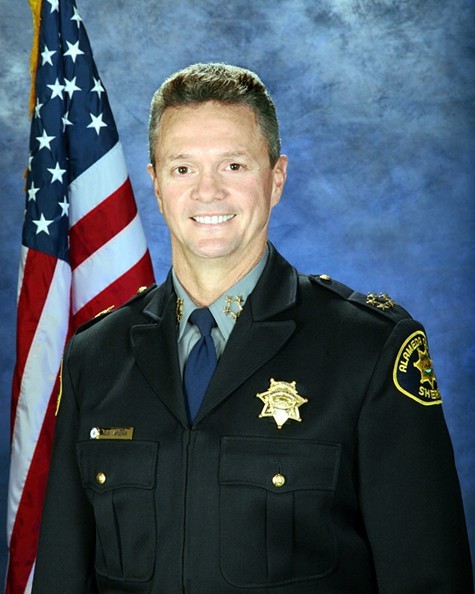 The California Board of State and Community Corrections (BSCC) has recommended that Alameda County receive $54 million for an expansion of Santa Rita Jail — a proposal that local activists say contradicts ongoing efforts to reduce mass incarceration. Yesterday, a 
committee
of the BSCC — a state board that oversees certain state funds available for jails — selected fifteen counties to receive a total of $500 million in jail construction financing. That executive steering committee, which reviewed "Adult Local Criminal Justice Construction" funding proposals from a total of 32 counties, recommended that the Alameda County Sheriff's Office receive the full $54 million it requested for a new "mental health" jail unit. The BSCC will take a final vote on the recommendations at its full board meeting on
November 12
. 
As I
reported in September
, East Bay activists were recently shocked to discover that Alameda County was quietly pursuing state funding for a jail expansion project. The proposal was particularly troubling given that in March, the Alameda County Board of Supervisors
agreed to reduce jail funding and prioritize social services
— a central goal of the "
Jobs Not Jails
" campaign of the
Ella Baker Center for Human Rights
, an Oakland-based nonprofit. Despite that March resolution, the board of supervisors over the summer authorized the Alameda County Sheriff's Office, which oversees Santa Rita Jail in Dublin, to seek up to
$80 million
from the state for jail construction. The board unanimously authorized the sheriff's request as part of an obscure package of budget and contract proposals. The sheriff's office ultimately requested $54.3 million from the BSCC.
[jump] In September, the sheriff's office and the BSCC declined my public records requests (and the requests of activists) to release copies of Alameda County's proposal, which raised further concerns about the lack of transparency surrounding this initiative. The sheriff's office had earlier told the board in a short memo that it wanted to build a new "
Mental Health Program and Services Unit
" in Santa Rita Jail, which would include housing, administrative offices, mental health treatment programs, and reentry services for mentally ill inmates. 
See Also:
When Women Are Sentenced to Male Prisons
FCC Votes to Slash Exorbitant Fees for Jail Phone Calls
Despite the sheriff's plans to focus on mental health services, advocates said that they oppose jail expansion projects that could incentivize the county to fill a new unit and keep offenders locked up longer than they should be. Critics have argued that counties across California should be focused on reducing their inmate populations and increasing investments in community-based mental health programs and other social services. Prisons and jails, which have a poor record of rehabilitating inmates, are not an appropriate setting for the kind of mental health treatment that many inmates require, according to advocates.
In a recently released
report
 scrutinizing jail spending across the state, Californians United for a Responsible Budget (CURB), a coalition that opposes jail expansions, pointed out that many low-income inmates are stuck in jail awaiting trial simply because they can't afford to pay bail. What's more, Proposition 47 — a 2014 voter-approved measure that 
reclassified some minor offenses from felonies to misdemeanors
— has already led many counties to reduce their jail populations. That means it's a critical time for counties to support community-based programs and reentry services, as opposed to jail construction projects, according to CURB. The
coalition attended yesterday's BSCC committee meeting
and is planning on speaking out against the construction funding recommendations at the November 12 meeting.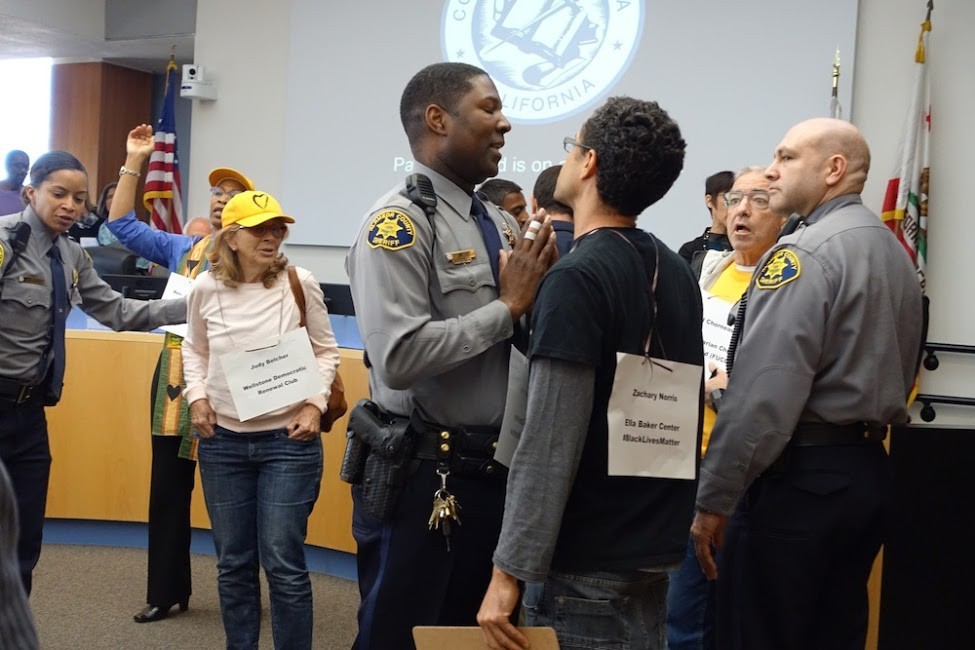 The $500 million available for jail construction financing comes from 
Senate Bill 863
, legislation passed in 2014. The SB 863 projects, according to state guidelines, should be focused on replacing or renovating outdated or unsafe jail facilities or building new units dedicated to rehabilitative services or mental health care. The construction projects should not increase a jail's capacity, unless a county has evidence of a deficiency in its number of beds, according to the state. 
Alameda County today sent me a copy of its 61-page
proposal
, though it redacted roughly ten pages throughout the report. (According to the Office of the County Counsel, the redacted portions contained sensitive information that the county is not obligated to disclose.) In the proposal, the sheriff's office detailed deficiencies in the mental health services that the county currently offers at Santa Rita Jail. The county currently houses an average of 2,410 jail inmates per day — and roughly 20 to 25 percent of them have some kind of documented mental illness, according to the proposal. Due to limited space in Santa Rita Jail, inmates often have counseling appointments in housing units or common areas that lack privacy. "The environment is not appropriate for therapeutic care and is not conducive for the inmate to speak openly with the mental health professional," the sheriff's office wrote. 
The new mental health unit would involve the construction of an approximately 38,000-square-foot, two-story wing that the jail would use for treatment, programs and services, housing, and administrative space.
In addition to Alameda County, the BSCC committee yesterday jail recommended funding for San Francisco, Santa Clara, Ventura, Amador, Colusa, Yuba, Trinity, Humboldt, Butte, Sonoma, Yolo, Merced, Placer, and Napa counties. Today, a board spokesperson sent me this summary of yesterday's recommendations: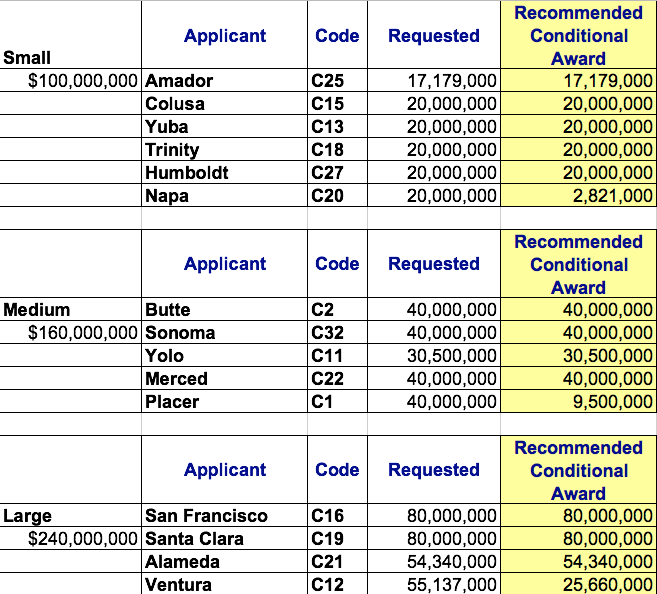 The BSCC spokesperson also sent me a
summary of the 32 counties' original proposals for SB 863 funds
. Notably, Contra Costa County had requested $80 million to "decommission" 420 beds at the Martinez Detention Facility and to construct 420 new beds at a "
West County Reentry, Treatment, and Housing Facility
" that would also provide program and classroom space. The BSCC committee, however, did not recommend that the Contra Costa County Sheriff's Office receive any funding. The American Civil Liberties Union of Northern California has
acquired and published jail expansion proposals from counties across California
. 
You can read the
Alameda County Sheriff's Office 61-page proposal here
.