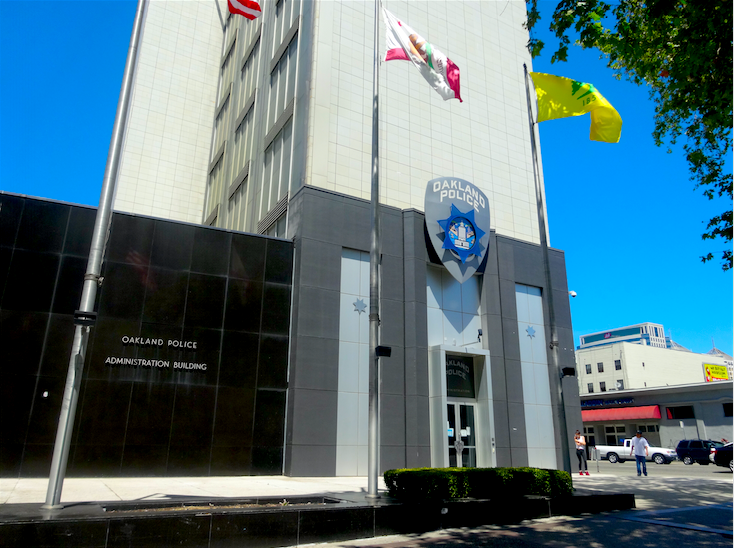 New Police Headquarters?:
if a major earthquake were to hit, Oakland's Police Administration Building (PAB) located at Broadway and 7th Street would be seriously damaged. Same for OPD's Eastmont Substation. And the PAB also needs about $7.5 million just to fix its plumbing, heating, electrical and other systems.
On top of this, OPD's crime lab outgrew its cramped spaces inside the PAB a long time ago. And the department's evidence and property section has exceeded capacity.
As a result, city leaders have been talking for years about tearing down the PAB and constructing a new and state-of-the-art headquarters.
But if OPD were to replace it's headquarters, the price tag will easily jump into the hundreds of millions. It's unclear where the money would come from.
Last November, the city hired an architectural firm and consultant to study the feasibility of replacing the PAB, and possibly also solving safety and space issues at the Eastmont Substation.
At tomorrow's public safety committee meeting the council will hear
an update
on these plans.
OPD Stop Data Research:
For years, the Oakland police have been collecting stop data about the race, gender, age, and other identifying features of people they stop, search, and arrest. The data can reveal subtle biases in how law enforcement interacts with different groups. But it can also be used to improve police practices and reduce racial profiling.
This week the city is considering entering into a data sharing agreement with the California Department of Justice and three academic partners — New York University, UCLA, and John Jay School of Criminal Justice — as part of an effort to study how the data is collected and ways to improve its accuracy and utility.
In 2015, the California legislature approved a bill requiring state law enforcement agencies to collect stop data and submit it to the California Department of Justice as part of an accountability and reform program.
The state DOJ's collaboration with OPD and the three universities is funded by a federal DOJ grant.
However, police transparency and accountability programs like these are now threatened with elimination by the Trump administration and Attorney General Jeff Sessions. Sessions has said that local police agencies don't need to be monitored for racial bias and civil rights violations by the feds. Instead, the Trump administration claims there is a
"dangerous anti-police atmosphere in America," and that they will "end it."