Stories you shouldn't miss:
1. Congress is considering a bipartisan bill that urges the US Postal Service to table its plans to sell Berkeley's historic downtown post office, the Chron reports. The legislation also recommends that the postal service hold off on selling all historic buildings nationwide until the US inspector general completes an investigation into whether the postal service is violating preservation laws. The planned sale of the Berkeley post office has sparked outrage among residents and unanimous condemnation from the city council. The postal service is selling properties to close a budget gap caused by Congress.
[jump]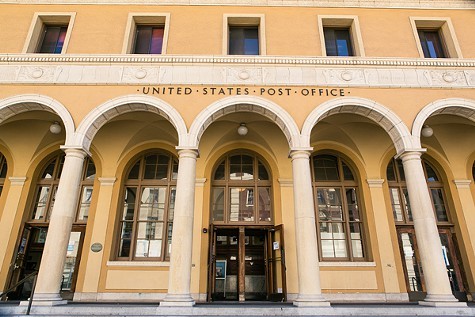 The downtown Berkeley historic post office.
2. The Richmond City Council voted unanimously to move forward with plans to raise the city's minimum wage to up to $15 an hour, the CoCo Times$ reports. The council directed staff to devise three ballot measure proposals for raising the minimum wage to $11, $12.30, or $15 an hour. The council will then decide which proposal to put on the November ballot.
3. More than 120,000 people have signed an online petition in support of a transgender teen from the East Bay town of Hercules who is charged with battery for fighting with youth who had bullied her, the CoCo Times$ reports. The CoCo County DA is now considering dropping charges against sixteen-year-old Jewlyes Gutierrez and requiring that she and her tormentors take part in a restorative justice program.
4. Democratic lawmakers have introduced legislation in Sacramento that would ban the widespread use of antibiotics on factory farm livestock, the SacBee$ reports. The legislators say advisory guidelines issued by the FDA last year on antibiotics are too weak. Over-use of antibiotics by Big Agribusiness has led to the creation of antibiotic-resistant superbugs that kill 23,000 Americans each year.
5. And the Northern California town of Willits has adopted strict water rationing because it only has about one hundred days of water left due to the drought, the LA Times$ reports.
$ = stories that may require payment to read.