No one disputed the federal Chemical Safety Board's two main conclusions about the August 2012 explosion and fire in the Richmond Chevron refinery: that the accident was caused by Chevron management negligence and that the current regulatory system isn't working to prevent such accidents.
But after a long evening of testimony by Chemical Safety Board staff, local office-holders, and community members last night, the board voted 2-1 to wait four months before deciding whether to recommend a complete overhaul of refinery safety regulation.
[jump]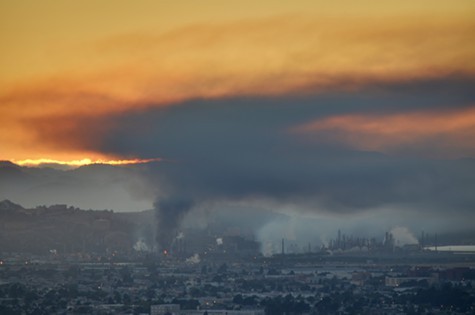 The August 2012 Chevron fire.
Many press reports interpreted this vote as a rejection of the proposed new model for regulating refinery safety, called the "safety case" system. But immediately after the vote, board member Beth Rosenberg explained that the purpose of the postponement was "to make the report stronger." She and fellow board member Mark Griffon, the two who voted to postpone, had previously expressed interest in the safety case system but said simply recommending it was not enough.
The current system sets minimum safety standards and imposes fines if refineries fail to meet them. The safety case system would require refineries to prove that they are continuously improving safety practices as much as possible or risk losing their license to operate. In addition, it would give workers an active role in ensuring safety, through elected representatives to safety committees. The idea is to create a three-part system with "active and equal participation from the regulator, industry, and labor," according to the CSB staff report.
The CSB's final report is only a recommendation. Changing California's system of safety regulation is up to the governor and legislature.
Public officials including Richmond Mayor Gayle McLaughlin, Congressman George Miller, and Contra Costa Supervisor John Gioia enthusiastically supported a switch to the safety case system, along with individual Richmond residents and representatives of the major community organizations that have been battling pollution from the Chevron refinery for years.
Representatives from the oil industry opposed the safety case plan. Ron Chittim of the American Petroleum Institute said current regulations are effective so an overhaul is unwarranted and argued that it would be better to explore possible changes to the current system. He also said there is not enough evidence that a safety case system would work better. Guy Bjerke of the Western States Petroleum Association added that changing the system would create uncertainty and additional burdens on regulatory agencies.
But questions about the safety case solution also came from advocates of stronger regulation. Board member Beth Rosenberg said the three-part system "works if labor, government, and industry all have similar power," and expressed concern that labor and government representatives would not have enough power to stand up to the petroleum industry. "The single most important criterion for a safe workplace is the voice of labor," she said.
Rosenberg also pointed out that setting up a new system would take years and "we need more immediate remedies." She advocated three immediate steps, which were endorsed by many speakers from the community: Provide more resources for regulatory agencies so they can hire more staff, and pay enough to attract regulators who match the professional qualifications of refinery staff. Give inspectors power to enforce safety standards. And require refineries to fix problems the regulators identify — currently they can delay action by appealing regulators' rulings. Rosenberg pointed out that last year California state Senator Loni Hancock and Assemblymember Nancy Skinner introduced a bill to mandate this "timely abatement," but Governor Jderry Brown vetoed it.
Henry Clark of the West County Toxics coalition echoed the concern that setting up a safety case system would take too long, pointing out that Chevron is poised to make major changes to its Richmond refinery this year. Kim Nibarger, health and safety expert for the United Steelworkers, said, "Accidents happen because the companies don't follow the written plans, so what makes you think they would follow the safety case plans?" Gail Bateson, executive director of the nonprofit Worksafe, also called for a list of immediate changes and added, "The system can only work with effective enforcement." Several speakers from the community, including Clark and Richmond City Council candidate Eduardo Martinez, vowed that residents of the community will make sure refineries clean up their act. "Contra Costa County has awakened," Martinez said.
After the public comment period, board member Griffon moved to postpone voting on the staff recommendations for 120 days. His motion asked the CSB staff to report on changes that could be made within the current system and answer detailed questions about how a safety case system would work. The motion passed with only board chair Rafael Moure-Eraso, who favored immediate adoption of staff recommendations, voting no.