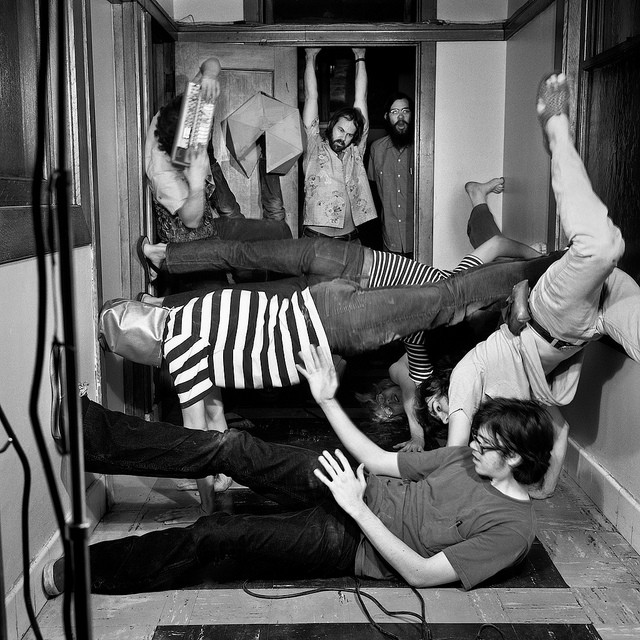 In August, storied San Francisco art and performance space
The Lab
hired former curator at the Berkeley Art Museum Dena Beard as Executive Director – but she isn't precious about the job title. In fact, for a $10,000 contribution to
The Lab's crowd-funding campaign
, you could change the name of Beard's official role to something like Deputy Demigod of Scree and Twee.
[jump] Originally founded in 1984, The Lab's reputation for hosting challenging performances and visual art emerged wholly intact. It has featured the work of maverick artists such as Mike Kelley, Nan Goldin, Jack Smith, Bruce Conner, Survival Research Laboratories, and Karen Finley, among countless others. In 1995, The Lab moved to its current location in the Redstone Building at 16th and Capp St. Previously known as the San Francisco Labor Temple, local artists such as Carolyn Castaño and Barry McGee painted murals on the site in 1996 to reflect the building's legacy of advocacy and organizing in its community.
In recent years, however, mismanagement led to the accrual of staggering debt and programming slowed to occasional performances. The slump in activity, combined with the neighborhood's rapid gentrification, made The Lab's fate appear grim.
Beard's arrival in August signaled a positive change. She took steps to alleviate the debt and announced projects both ambitious and reflective of The Lab's provocative, idiosyncratic approach to fostering the arts. The first phase of her leadership involves stripping the physical space back to its roots as a labor union center – and raising money.
[embed-2]
At the same time, The Lab has been hosting shows, such as the long-running, daytime experimental series known as Godwaffle Noise Pancakes. This Sunday at noon,
The Lab hosts one such event headlined by Dinosaurs with Horns
, an outfit affiliated with the revered LAFMS collective, or Los Angeles Free Music Society. As Beard explained in an email, "I am committed to problematizing capital… but I am also a devout hedonist, so I firmly believe that the process should be fun." An $8 entry fee includes free vegan pancakes.
The Lab's fund-raising video reflects that spirit. In between shots of Beard and other organizers attesting to the space's vital importance, it abruptly cuts to archival video from particularly jarring performances. It's as if Beard and co. couldn't bare the usual niceties of asking for money without revealing the anarchic flare that the funds are meant to underwrite.    
[embed-1]