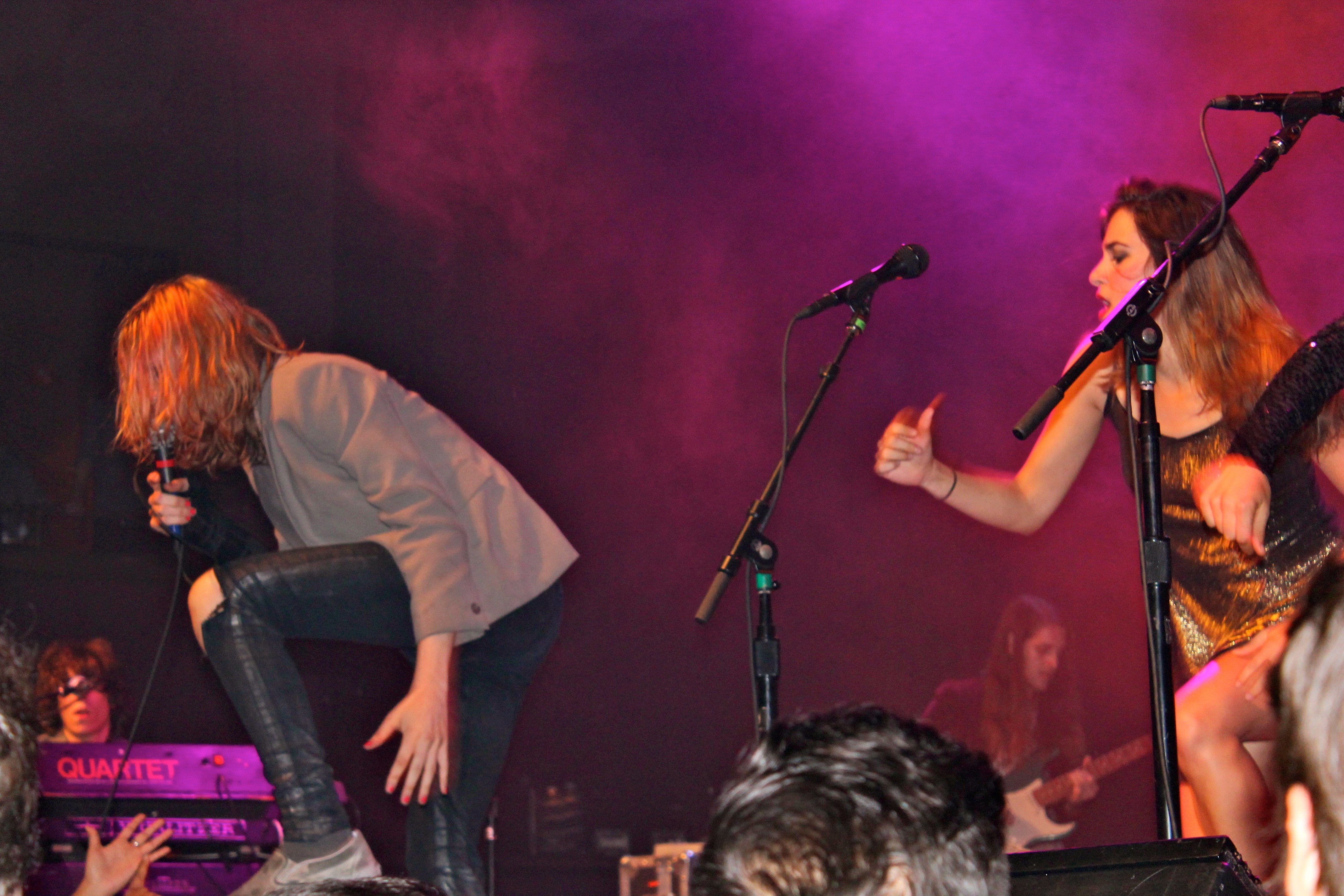 Excess has always been part of Foxygen's charm. Sam France, the mercurial front man, puts that on full display every time the band takes the stage. More like a seventies psych outfit than anything in the demure world of modern day indie rock, France and company come across like a shot in the arm. This is glam rock for the hipster set—raw, weird, and unpredictable.
[jump] France prances, dances, crawls, and provokes. The effect is a combination of David Byrne's spastic moves and Jagger's ability to flip femininity into alpha dog sexy swag. You never quite know if he's toying with you or about to go over the edge.
On Friday, the duo from LA brought their nine-piece live band to the Fillmore in support of
…And Star Power
, their newest record. A sprawling 24-track quasi-concept album, Star Power has four distinct parts to it. It starts with "The Hits," and Friday night kicked off with "How Can You Really," the album's first single. It's upbeat and infectious, a soft rock jam that gave France the opportunity to flail around the stage, climbing speakers and exposing his skinny frame through an open blazer.
While France was the main attraction, the band had a lot going on. The three back-up singers were adorned in eye-catching sequins, and they performed bouncy, synchronized moves throughout the night. And then there was Jonathan Rado, the other Foxygen fixture along with France, who crafted warbling soundscapes on his Wurlitzer and other 60's era keyboards evocative of the Doors. He would hunch over, splaying keys, and crafting jazz tinged pop music.
In a way, Foxygen is kind of a modern day Steely Dan, albeit with better dancing—it's left of center pop, with specific but cryptic lyrics. "Shuggie," a standout from their last record and a highlight of the night, is a perfect example of this gleeful weirdness. Even though France shambled just as much as he shimmied, they were able to pull off a song with tight transitions and tricky start/stop dynamics with ease.
While the beginning and end were solid, the middle sagged a bit, bogged down by darker material that stayed around too long. The best of this more somber section was "Brooklyn Police Station," but there's a rudderless feeling with some songs that could have benefited from a more reigned in approach. Richard Swift's absence is definitely felt throughout the new album, and it comes through during the live show.
Weirdly, the band never played "San Francisco." It was the musical elephant in the room—they tore through "No Destruction" as an encore but skipped out on playing the ode to the city where the "forest meets the bridge."
SF anthem aside, the night did not disappoint. Foxygen, despite their age, is a throwback band, in the best way possible. The vintage keys and the band's soulful swag create the perfect backdrop for their new-school take on a classic psychedelic vision.
And then there's Sam France. Addled or not, he's a force to behold. He preens about, expressing every emotion that comes to him without any filter—the dude may seem like a train wreck, but it's one you don't want to miss.
They closed out with "Teenage Alien Blues," an obscure track from their debut EP Take the Kids Off Broadway. Rather than play the obvious hometown hit, they chose a deep cut.
France isn't a basic singer, and he doesn't want you to think Foxygen is even close to a basic band. This is cool kid music, and meeting expectations isn't in the cards.