Oakland's fifth fourth annual restaurant week kicks off this week, with more than fifty participating restaurants that will offer $20, $30, or $40 prix-fixe menus during the ten-day promotional period, which run from January 17 to 26.
For the restaurants, Oakland Restaurant Week is a chance to lure in new customers who might later become regulars. Diners, for their part, can take the opportunity to try new restaurants that might normally be out of their price range. There are bargains to be had, though it's fair to note that not every prix-fixe is created equally. We figured it would be a public service, then, to scour the list of participants in an effort to identify the best deals.
Here are some of the ones that caught our eye:
[jump]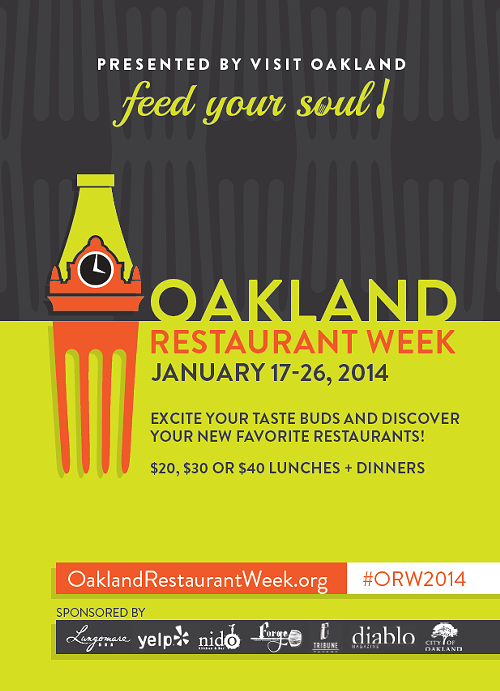 1) B-Side BBQ (3303 San Pablo Ave.) is charging $20 for a full order of either brisket or ribs, plus two side dishes. That's a $26 value for those counting at home. (And the brisket is probably the best in town.)
2) Miss Ollie's (901 Washington St.) prix-fixe is $30 for a three-course dinner and a cocktail. The two entrée options, cassareep oxtails or cou-cou with fish stew, both sound great.
3) At Marzano (4214 Park Blvd.), you can get a three-course dinner for $20. Crispy arancini, oxtail pappardelle, and chocolate budino sounds good to me.
4) The Mexican farm-to-table restaurant Nido (444 Oak St.) is also offering a great dinner deal: $20 for a prix-fixe dinner that includes a draft beer or a glass of wine? Yes, please.
5) Some of the best deals can be found at restaurants that are offering a $20 lunch prix-fixe — noteworthy options include Pican (smoked catfish toast, grilled shrimp, and pineapple almond macaroon tart), The Forge (any pizza on the menu, a salad, and a soft drink), and The Star on Grand (for salad, pizza, and cheesecake — a steal, given that a small deep-dish pizza by itself is normally $19).
You can check out the full list of participating restaurants here.
Meanwhile, Berkeley is holding its own second annual restaurant week, which will actually run for two full weeks (January 17-31), also starting this Friday. Participants will offer prix-fixe menus set at $15/$20 for lunch and $20/$30 for dinner. As of this posting there are twenty-five restaurants taking part in the promotion, and although most have yet to release specific menu details, you can scan the Berkeley Restaurant Week website yourself to find potential bargains.