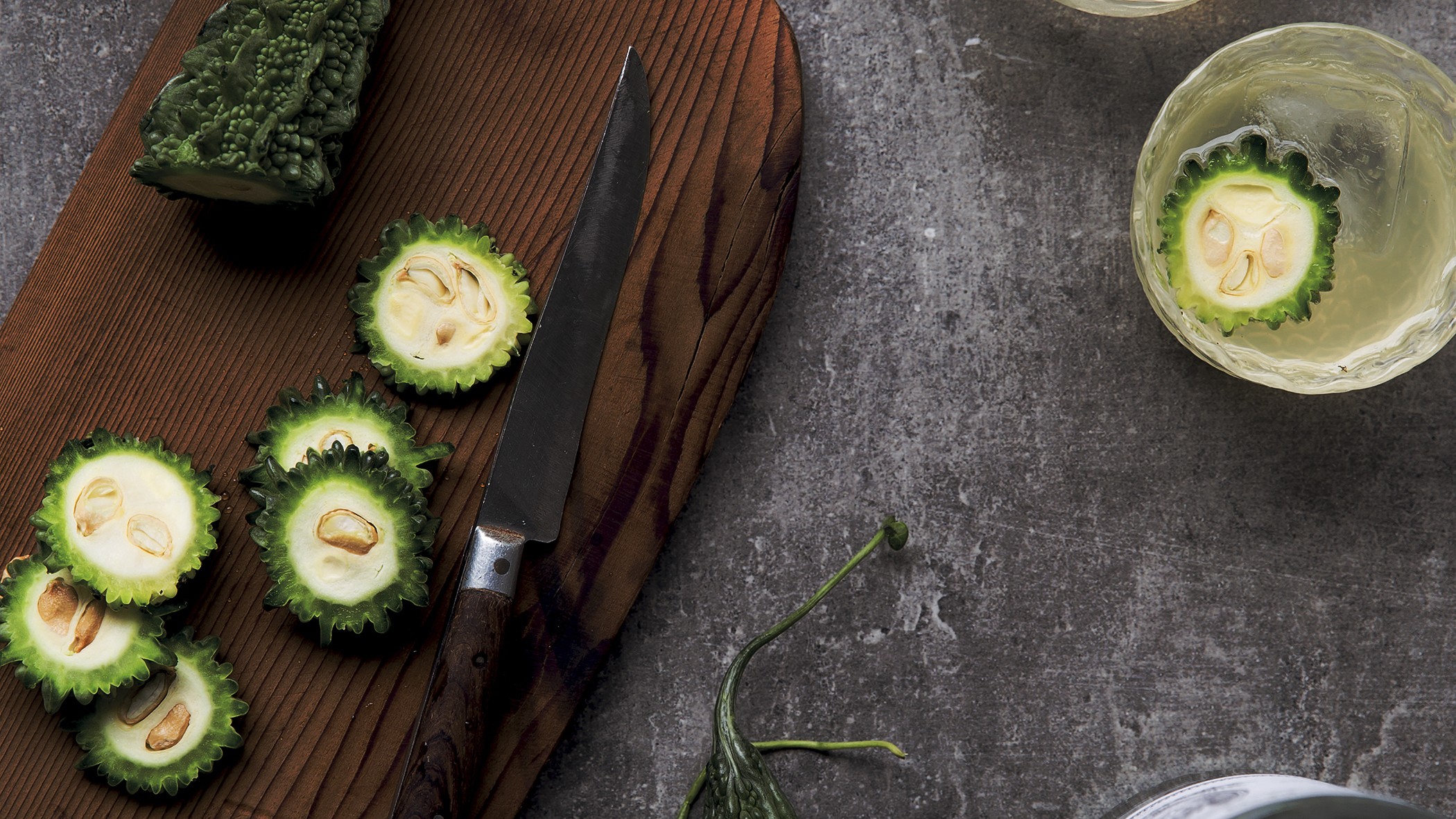 One day, Oakland dietician Laura McLively bought Indian bitter melon at Berkeley Bowl. She'd never heard of Indian bitter melon before, but she loves bitterness in coffee and figured she'd enjoy the savory fruit.
"When I tried it, I was like, 'What on earth am I going to do with this thing?' It's really medicinal," she said. "It kind of tastes like crushed up Aspirin."
At first, she tried hiding it in a spicy curry, but the intense astringency still shone through. "I realized I had to go with the bitterness rather than try to mask it," she said.
She finally found a recipe that worked: tonic. Mixed with grapefruit, lemon, juniper berries, and sugar, the bitter melon becomes bright and bittersweet. It's one of more than 100 vegetarian recipes in her first book,
The Berkeley Bowl Cookbook: Recipes Inspired by the Extraordinary Produce of California's Most Iconic Market
, which comes out April 17 via Parallax Press.
It all started when McLively first moved in the Bay Area in 2002 as a college student. She quickly sought out Berkeley Bowl — a grocery store that's won praise from international culinary stars like Mark Bittman and Yotam Ottolenghi — and has been a loyal shopper ever since. In 2015, she launched what would become a popular food blog, My Berkeley Bowl, which chronicles her attempts at cooking with unusual discoveries at the grocery store, such as burdock root, prickly pear, and mizuna.
"This book is just about having fun. It's about taking away intimidation," McLively said. "You'd think by looking at the crazy fruits and vegetables on the cover, 'Oh, this looks hard and inaccessible.' But they're pretty technically simple. I'm just a home cook."
With her blog, McLively challenged herself to experiment with dozens of ingredients she'd never seen before. She'd try them raw, cook them in different ways, figure out their best properties, and design recipes that highlighted them. Her favorite recipes made their way into
The Berkeley Bowl Cookbook
, complemented by colorful photography by Berkeley's Erin Scott. There's an almond torte made with starfruit, banana blossom salad with glass noodles, and limeade infused with shiso.
The book is a trove of educational information. In the back, there's an invaluable ingredient key, so you can see exactly what these raw goods look like side by side. And each recipe details the ingredient's availability — both based on season and what kind of store might carry it — as well as how to choose and store it. If you really like the sound of the sigua paneer curry but just can't find the young luffa plant, McLively also lists appropriate, easier-to-find substitutions. (In this case, zucchini.)
But part of the joy of
The Berkeley Bowl Cookbook
as a local reader is learning a little bit more about Glenn and Diane Yasuda, the tireless couple who founded Berkeley Bowl in 1977. Not only do the Yasudas and their son, Gen, still run the business today, but Glenn continues to drive across the bridge at 2:30 a.m. every day to sample produce himself.
McLively will sign books and hand out bites at 11 a.m. on Saturday, April 14, at Berkeley Bowl West (920 Heinz Ave.) and 11 a.m. on Sunday, April 15, at Berkeley Bowl (2020 Oregon St.). She'll also speak on a panel at the Bay Area Book Festival on Sunday, April 29, at The Magnes (2121 Allston Way, Berkeley).