West Berkeley's newest lunch option isn't a restaurant or a food truck, but a food delivery service offering "curbside delivery" during lunch hours to customers who use an app to order and pay ahead of time.

Standard Fare, the brainchild of former Chez Panisse chef Kelsie Kerr, is best known for its eco-friendly, ceramic-pot-packaged, bike-powered dinner delivery service, which launched in April. While the company waits for the City of Berkeley to approve its retail permit, Kerr wasn't able to offer anything to potential customers who didn't have the foresight to place an order for dinner pickup or delivery a day in advance.

[jump]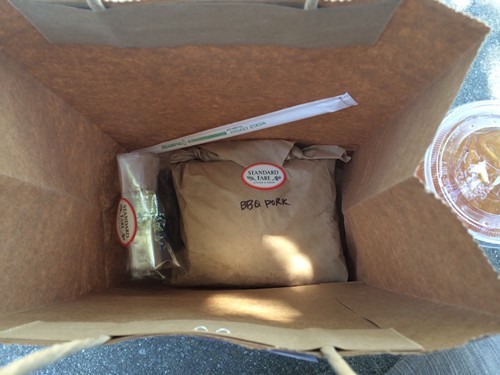 But thanks to
Square Pickup
, a new feature of
Square
(the now-ubiquitous mobile payments processor that allows all kinds of businesses to swipe your credit card using an iPad), Standard Fare customers can now place a lunch order (and pay for it)
online
or via
mobile app
, receive a text notifying them when their food is ready, and then pick it up at the company's commercial kitchen space at 2701 Eighth Street, where an employee will bring the bagged lunch out to the curb. The whole process, from the moment the order is placed to when the food is delivered, takes less than fifteen minutes.
Standard Fare is currently offering
lunch service
Tuesday through Thursday, from 11 a.m. to 2:30 p.m. And while the company's dinner menu features more elaborate entrées, lunches are of the quick, grab-and-go variety — sandwiches, salads, and soups. Prices are $10 for the daily meat-centric sandwich and $9.50 for the vegetarian option — not exactly inexpensive for a picnic-style sandwich that's served at room temperature, but the quality is on par with what you'll find at other Berkeley-based slingers of fancy sandwiches such as Local Butcher Shop or Bartavelle. All of the ingredients are well sourced and mostly organic, and the menu changes every couple of days.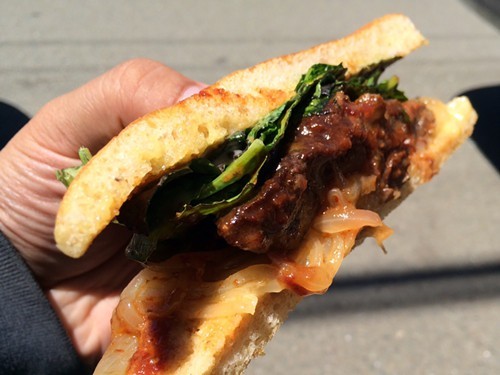 The saucy BBQ pork sandwich I tried was a little sloppy for curbside dining, but featured excellent house-baked focaccia bread, big chunks of Magruder Ranch pork shoulder, a savory barbecue sauce, and a pile of lush caramelized onions. Even better was the Arnold Palmer ($3.50), infused with fragrant Meyer lemon zest, and a bag of small double-chocolate-chip cookies ($3), which were like the best bite-size brownies ever.
The plan for Standard Fare is to eventually offer walk-up retail service for both lunch and dinner at its corner space in the
Berkeley Kitchens
, dispensing with the need for customers to order ahead online. However, the facility's retail permit is currently under appeal due to parking concerns raised by a neighboring developer. Kerr said she hopes the issue will be resolved by September — the online ordering and curbside delivery setup is basically a workaround until that happens.
Because the building is only zoned for "incidental retail," only 10 percent of the space can be allocated for retail business — roughly 80 square feet, or just enough room for a small counter placed in front of a glass-door refrigerator. Humble as the setup will be, Kerr said she can't wait.
"We want to serve the community — to really be part of it," she said.