Oralia's Kitchen — a charming family-owned restaurant offering the rare trifecta of Salvadoran food, Mexican food, and Louisiana Fried Chicken — has moved further up San Pablo Avenue from its original location, a former Louisiana Fried Chicken spot in El Cerrito. The restaurant now shares a kitchen with Angie's Bakery (12889 San Pablo Ave., Richmond), a Guatemalan and Salvadoran bakery with a cavernous seating area that had been mostly unused prior to this collaboration.
[jump]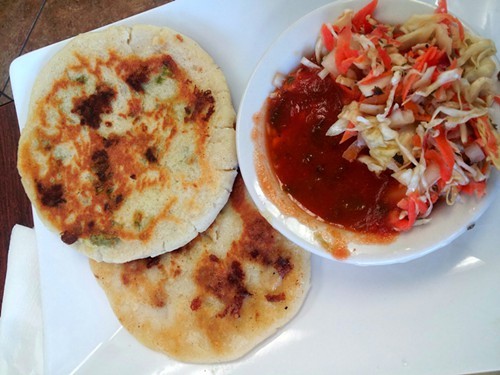 Salvadoran pupusas at Oralia's Kitchen
Co-owner Jose Hernandez told What the Fork that the move was prompted by a rent increase and the business's ongoing inability to secure permission from the city to replace the "Louisiana Fried Chicken" sign outside of the restaurant. The bad news: The owners are still working on securing the necessary permits and equipment needed to cook in the new space, so for now they're only offering a stripped-down deli menu of bagels, sandwiches, tortas, fresh juices, and smoothies.
Within the next few weeks, however, Hernandez said he hopes Oralia's will be able to bring back its full menu — not just the Mexican tacos and Salvadoran pupusas and empanadas, but also the restaurant's greatest fusion creation: the Louisiana Fried Chicken-inspired Fried "Chickurrito."