East Bay soccer fans wanting to take in this summer's World Cup matches at a local watering hole won't need to settle for cheap beer and generic chicken wings. Acclaimed salumeria Adesso (4395 Piedmont Ave., Oakland) recently announced that it will screen all 64 games of the month-long tournament, which kicks off at 1 p.m. next Thursday, June 12, when Brazil takes on Croatia.
[jump]
Manager Chad Downs said the restaurant, which is normally closed for lunch during the week and all day on Sundays, will be open special hours in order to screen the games, whose start times range from 9 a.m. to 3 p.m.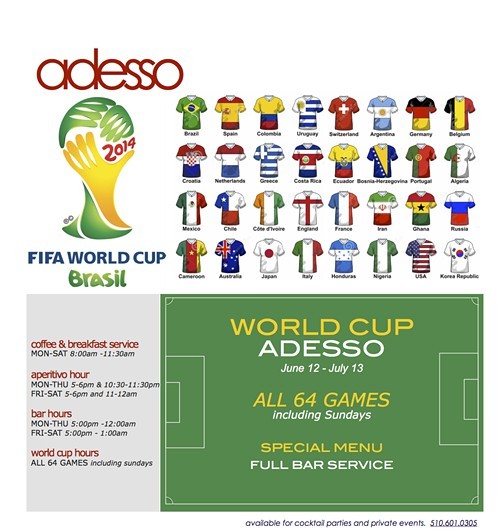 Adesso will feature a special menu for the occasion: two sandwiches (meatball or sausage and a vegetarian option) and a $4 Linden Street Brewery draft beer, plus the restaurant's usual selection of salumi, pâtés, salads, and Roman-style pizzas. There will also be match-specific cocktail specials — so, for instance, when Brazil and Mexico square off, diners can get festive with $7 margaritas and caipirinhas.
The US Men's National Team's opens its campaign against Ghana at 3 p.m. on Monday, June 16. Downs said he's keeping his fingers crossed that the squad will defy all odds and make it out of the so-called "group of death" and into the second round of play — just in time for Adesso's Fourth of July barbecue.
Wouldn't it be neat if Team USA were still alive and kicking, and wound up having a match scheduled that day?