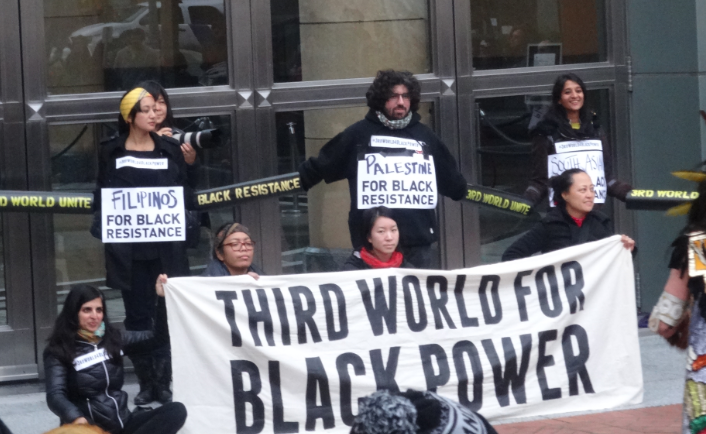 In a sign that disruptive protests will continue to roil the Bay Area, hundreds of activists this morning shut down several BART stations in San Francisco's financial district, and blockaded two entrances to Oakland's federal building. The actions are the start of 96 hours of planned disruptions and marches coinciding with the Martin Luther King, Jr. holiday. Organizers say they're reclaiming King's legacy of nonviolent civil disobedience.
[jump] Protesters gathered in BART's Embarcadero and Montgomery stations in San Francisco early this morning wielding spoons that they used to clang on poles and railings. Amid this clamor, BART announced at 8:13 am that trains would not be stopping in the Montgomery Street Station due to a "civil disturbance." Later, train service to Embarcadero Station was also cancelled, significantly disrupting the morning's commute.
A Facebook page set up by protesters
calls for the disbanding
of BART's police department, ticket discounts for low-income riders, and for charges to be dropped against the fourteen black protesters who were arrested for shutting down the West Oakland BART Station in November. BART has demanded that they pay restitution of $70,000 for causing a major system delay.
Across the Bay at Oakland's Ronald V. Dellums Federal Building, protesters chained themselves together blocking the building's main entrances around 6 am. Many of the protesters wore T-shirts or signs stating their own race or ethnicity in a statement of solidarity with black Americans. The east side of the building was blocked by Asian and Arab protesters donning signs stating, "Pilipinos for Black resistance," and "Palestine for Black Resistance." At the west entrance to the building a group of largely white protesters chained themselves to the doors behind a banner that read "global resistance against police violence."
Oakland's Federal Building is named after Ronald V. Dellums, a former Oakland mayor and Member of the U.S. House of Representatives. As a political leader, Dellums
was arrested for committing acts of nonviolent civil disobedience
, including a 1984 direct action in which he blocked the entrance to the South African Embassy.