One of the toughest things about going vegan is finding ways to replace favorite comfort foods with alternatives that are free of animal-derived ingredients. And while fake meats and savory veggie dishes are plentiful in the East Bay, finding the best go-to spots for vegan sweets that are comparable to their non-vegan counterparts can be challenging.
It takes a savvy chef to replace the crucial building-blocks of desserts — eggs and dairy — with vegan ingredients in a way that allows donuts to retain their fluffiness; ice creams, their creaminess; and cakes, their moisture. Fortunately, we've done the work for you and scouted out the best places for vegans to satisfy their sweet tooths in the East Bay. While some of these restaurants and cafes offer vegan takes on familiar dishes, others specialize in inventive, plant-based creations that will delight those who abstain from meat, eggs, and dairy — as well as their omnivorous friends.
Encuentro
550 2nd St., Oakland, 510-832-9463, EncuentroOakland.com
Encuentro is a special occasion-worthy vegetarian California cuisine restaurant in the Jack London district that specializes in seasonal, organic ingredients. Its rotating dessert menu boasts plenty of decadent, plant-based options, including its rich, moist, layered chocolate cake, which co-owner Linda Braz said is one of Encuentro's most popular dessert items and a permanent menu fixture. The chocolate-dipped, vegan ice cream sandwich — which includes vegan cookies and coconut ice cream — is also a customer favorite.
Some of Encuentro's seasonal, dairy- and egg-free desserts to look forward to this fall include the tofu-based cheesecake, a creamy pumpkin tiramisu, and an ice cream sundae with spiced, fruity flavors that evoke apple pie a la mode — a perfect fall treat that will make you forget that being vegan is technically a dietary restriction.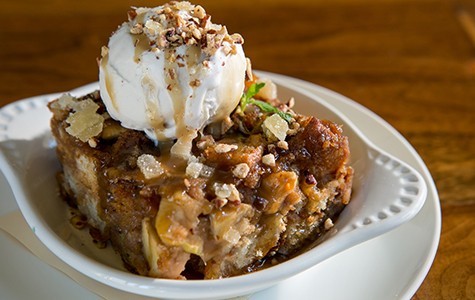 Pepples Donuts
6037 San Pablo Ave., Oakland, 510-338-6319, PepplesDonuts.com
Pepples Donuts — often mistakenly referred to as People's — is the Bay Area's foremost purveyor of vegan donuts, and its plump, round little pastries are also completely organic. Pepples stocks its donuts at a variety of Oakland and Berkeley coffee shops, as well as at its Ferry Building stall in San Francisco. However, for the freshest pastries and largest amount of flavor options, visiting its North Oakland headquarters (also known as the Donut Farm) on San Pablo Avenue is a must. The shop's offerings include more than twenty flavors of donuts, as well as milkshakes and savory brunch items on the weekends — all of which are animal product-free.
Pepples' dense, crumbly cake donuts come in inventive flavors — many of which are seasonal — such as pumpkin spice, curry, matcha green tea, and candy cap mushroom (which has a sweet taste akin to maple). For its light, fluffy raised donuts, make sure to stop by on the weekends, because they are not available during the week.
Cinnaholic
2132 Oxford St., Berkeley, 510-647-8684, Cinnaholic.com
Competition among Berkeley cafes is high, and the area surrounding the Cal campus is saturated with eateries that take inventive approaches to food service. However, Cinnaholic, an entirely vegan bakery, stands out with its creative approach to cinnamon rolls. Batches of the swirly, moist pastries are baked throughout the day, and each roll is guaranteed to have spent no more than twenty minutes outside of the oven before it reaches your mouth.
Cinnaholic's cinnamon rolls are entirely customizable, and the cafe offers a large assortment of frosting flavors and toppings from which to choose. Cream cheese frosting with cookie dough, maple frosting with blueberries, or root beer frosting with marshmallows are just a few examples of the dozens of indulgent varieties available. And for those who find the number of options daunting, Cinnaholic has a display case full of flavor recommendations and updates its Instagram with daily specials — like the Butterfinger roll, the raspberry-pomegranate roll, and the chocolate-banana-almond roll. Yum!
Souley Vegan
301 Broadway, Oakland, 510-922-1615, SouleyVegan.com
Souley Vegan's founder and chef Tamearra Dyson is an Oakland native who invokes her family's Louisiana roots in her approach to plant-based Southern cooking. While many vegan restaurants focus on small portions and light bites, at Souley Vegan, you can eat your fill of cheeseless mac 'n' cheese, meatless chicken and waffles, and fried okra. So it's only fitting that its selection of baked goods — many of which are vegan takes on generations-old family recipes — offers rich cakes, cupcakes, and cookies that are as hearty as its entrees.
As far as the cupcake selection goes, Aquil Rahman — Dyson's son, who also works at the restaurant — said that the sweet potato ginger cupcakes are among the most popular, though customers can expect to find an assortment of other flavors, including pecan praline and peanut butter. The chocolate ganache cake with walnuts is also a bestseller, as well as the chocolate chip cookies — which Rahman's grandmother, Catherine Williams, bakes herself.
Timeless Coffee
4252 Piedmont Ave., Oakland, 510-985-1360, TimelessCoffee.com
Timeless Coffee doesn't explicitly advertise that its fare is entirely vegan, but the third-wave coffee shop has become a destination for local herbivores through word of mouth. Not only are all of its coffee drinks made with either soy or almond milk, but the cafe also offers an enormous selection of vegan treats. Its gourmet-, egg-, and dairy-free takes on frosting-filled pastries, such as Hostess Twinkies and Chocodiles, pair excellently with a strong espresso or pour-over coffee.
In addition to delectable vegan cupcakes, cookies, and cakes — some of which are also gluten-free — Timeless also serves hard-to-find vegan treats, including Danishes with a soy-based cream cheese and seasonal fruit toppings; diary-free soft serve; and an assortment of hand-made chocolates and truffles.