Before opening a new shop, pastry chef Beth Woulfe spent six months testing out her baked goods on the crowds at the Alameda Farmers' Market. The chef, who grew up in the East Bay but had recently been working on the East Coast, wanted to get a sense of the region's tastes — and whether there was a demand for more baked goods here. The positive feedback was clear. "The economy is kind of on the upswing," she said. "And there is a strong desire for a high-end bakery. … Now is a good time to open a small business in the East Bay — if you have the right product."
On July 31, Woulfe opened the doors to Crispian Bakery in Alameda — her first brick-and-mortar business and one of at least six bakeries and pastry shops that have recently opened or are expanding in the East Bay. Throughout the region, chefs and shop owners like Woulfe are gambling that local residents have a strong appetite for homemade pastries and breads. Here are some of the freshest baked goods the East Bay's new leading pastry chefs have to offer.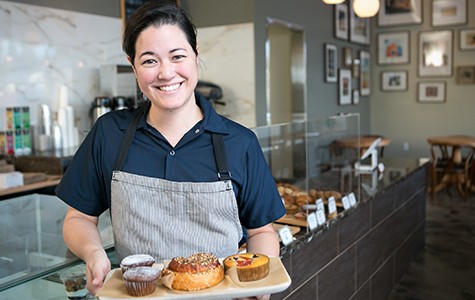 Crispian Bakery
1700 Park St., Alameda, 510-239-4751, CrispianBakery.com
Located just across the bridge from Oakland's Fruitvale district, Crispian Bakery has already attracted a steady stream of customers in its first two months. Woulfe's mouth-watering pastries and Christian Fidelis de Goes' artisanal breads are a welcome addition to the Park Street retail corridor. The shop has a small seating area in front, but Woulfe said she poured the majority of her limited resources into building a high-quality kitchen. It was a worthy investment.
Woulfe's moist olive oil cakes ($5) feature seasonal fruits from the nearby farmers' market or other local vendors — including recent versions with peaches, plums, pluots, and pears. The recipe also includes California olive oil, lemon zest, and juice in the batter, which together make the cakes especially flavorful. Another good pastry option is Woulfe's small, but very tasty wheat-free muffin ($2.50) — a sugary mix of pumpkin, eggs, and tapioca flour that I never would've guessed is gluten-free. On the savory side, the ham and cheese croissant ($4.50) is de Goes' twist on the classic pastry, with everything bagel spices layered on top and ham, Swiss cheese, and mustard rolled into the flaky dough.
Gran Milan
5327 Jacuzzi Street, Richmond, 510-984-0679, GranMilan.com
If you want old-school Italian baked goods and pastries, it's hard to imagine finding a more authentic shop than Gran Milan, which opened its doors in April in a strip mall off of Interstate 80. The co-owners of the bakery and restaurant are Ivo Buratti and Rufo Verga, two longtime chefs who met while working in Varese, a city in northern Italy. Despite their somewhat obscure location, Verga said business has been steady — mostly through word of mouth and social media.
The most authentic treats — though I don't recommend eating them all in one sitting — are Gran Milan's cannolis, apple strudels, tiramisu, and almond cakes. Gran Milan's business is successful enough that Verga told me he is now looking to open a second location.
Nick and Aron's
4316 Telegraph Ave., Oakland, 510-250-9538, NickAndArons.com
When chefs Nick Yapor-Cox and Aron Ford tried to add a bakery component to Nick's Pizza, a small popular joint in North Oakland, there just wasn't enough kitchen space. But they knew North Oakland eaters wanted more freshly baked goods in the area. So in March, they opened Nick and Aron's, a new Temescal cafe and restaurant that serves their signature pizzas and a wide variety of breakfast pastries and artisan breads.
For meat-eaters, Nick and Aron's cheddar bacon scone ($3.25) is a perfect mix of savory and sweet, and tender and crunchy with bacon bits spread throughout. Ford said he's most proud of the new restaurant's croissants ($3.75), which use sourdough and include a mix of different fillings. Another very popular pastry item is Nick and Aron's cinnamon rolls ($3.25), which are made with croissant scraps and sweet icing.
Grease Box
942 Stanford Ave., Oakland, 510-922-1323, GreaseBoxOakland.com
A favorite restaurant for East Bay residents who are gluten-intolerant, Grease Box has expanded its exclusively gluten-free bakery operations over the last year and now offers a diverse and constantly changing menu of freshly baked goods and pastries all week. One of owner Lizzy Boelter's most popular new treats is her gluten-free donuts ($3.50), which she typically offers on the weekends and which can sometimes sell out within hours. Unlike many other gluten-free pastry makers, Boelter said she avoids additives and chemical stabilizers that chefs typically use to mimic gluten and instead uses natural whole grains. As a result, she said, "I would be willing to bet we've got the best gluten-free donut ever." The donuts are deep-fried and are similar to beignets, the popular New Orleans pastries made of fried dough.
Another favorite is Grease Box's huge gluten-free muffins ($4.25), which feature seasonal fruits and are filling enough to function as an entire meal.
Firebrand Artisan Breads
2343 Broadway, Oakland, FirebrandArtisanBreads.com
A West Oakland wholesale bakery known for its wood-fired breads, Firebrand Artisan Breads is expanding into the retail business with a new location in the rapidly growing Uptown complex called the Hive. The new Firebrand site — which is on track to open in November in time for the Thanksgiving rush — will be more than three times the size of its current West Oakland location, said owner Matt Kreutz. The Uptown space will enable the company to launch a new line of pastries, including danishes, croissants, custards, éclairs, donuts, pies, and tarts, he said. Noting that the bakery will be near two new food businesses — the high-end Mexican restaurant Calavera and new beer garden Drake's Dealership — Kreutz said, "We really want this to be a destination spot for Oakland."
Flour and Co
1398 University Ave., Berkeley, FlourAndCo.com
Berkeley is not missing out on the new wave of bakeries on this side of the bay. Scheduled to open next month, Flour and Co (which has a location in Nob Hill in San Francisco) is on track to bake a wide variety of fall treats for East Bay customers. Owner Emily Day said the neighborhood is clearly underserved when it comes to pastries and coffee; her sister lives just a few blocks away from the new location, which previously housed the Bread Workshop, a cafe that shuttered in 2013. "The space was perfect," she said. "I couldn't pass it up,"
In terms of her Berkeley pastries, Day said she plans to offer pumpkin bunt cakes, pumpkin muffins, apple crostatas, specialty "toasty tarts" (Day's version of pop tarts), and many other sweet and savory goodies.