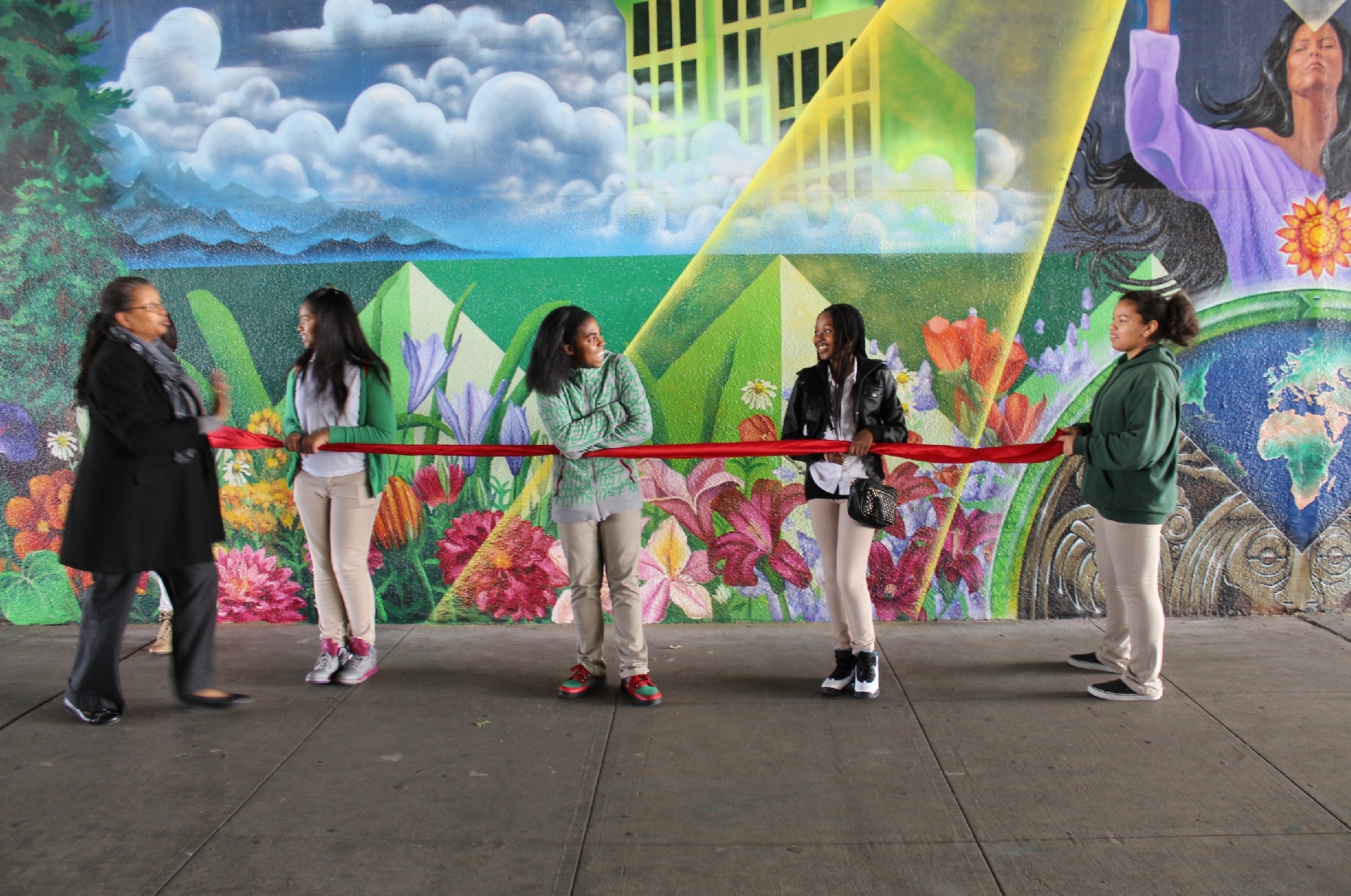 Blight, and now fundraising, are the two villains for the
Oakland Superheroes Mural Projec
t (OSH). The murals are an initiative of the art and literacy program of
Attitudinal Healing Connection
(AHC) in Oakland and ArtEsteem. Emeryville and West Oakland neighborhoods are the canvas areas for the six murals, which are intended to be conceptualized and planned by local middle and high school kids through 2016. A fourth of the way into the project, however, it's unclear whether the murals will be finished. 
[jump] The first mural was finished in 2012, and was planned by an art class at McClymond's High School. Since, one other mural has been completed. Each 4,000 square-foot painting resides under the 580 freeway, with the first at San Pablo between 35th and 36th.
ArtEsteem's curriculum uses "The Self as Super Hero" mantra to encourage self-awareness and confidence for youth and families to become heroes of change in their communities. For every mural, an art class at a local underfunded District 3 school imagines a small league of superheroes as their inspiration. In the first mural, Ja'Khi, "princess of knowledge," teams up with Josiah, a McClymonds High alum, who carries a suitcase that "holds opportunities that could make others successful." Westlake Middle School students created the second round of
heroes
— Bob, Sasha, Paris, and Serenity — for the second mural unveiled in March of this year.
The AHC hires mostly Oakland-based artists to paint, with some big names such as
Aaron de la Cruz
. However, the project has run into funding problems for the third mural planned for this coming spring. Each mural costs $75,000, which include lead artist compensation, coordination with schools, publicity, and supplies such as the 100 gallons of paint needed to complete each mural. Funds have also been used to survey people who live in the surrounding neighborhoods, in order to integrate community input. The project received a fair amount of media attention earlier this year with the unveiling of its second mural, yet the current lack of funding may be an unfortunate sign that the project is too ambitious.
The first two murals were funded successfully, creating 14 and 12 local jobs, respectively, and involving 20 and 16 local students, respectively. The ultimate goal is to engage over 100 students and create over 30 local jobs, with particular attention to keeping collaboration community-based from inception through unveiling. Funding to date amounts to $146,500 and has come from various art grants, foundations, individual donors, and sponsors. 
For more information, or to donate, visit the project's site
here
.