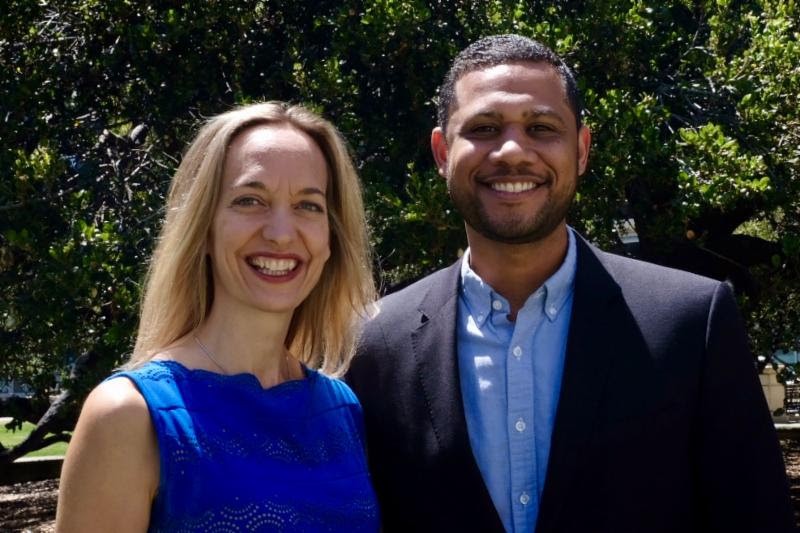 Within two months of Annie Campbell Washington's announcement in April that she won't run for reelection to represent District 4 on the Oakland City Council, nine candidates have already lined up to run. The campaign promises to be one of the mostly hotly contested in years due to the fact that incumbents almost always win re-election. But earlier this week, one of the candidates, Chris Young, got a major boost when Campbell Washington endorsed him.
In an email to voters, Campbell Washington cited Young's "deep experience" working in federal, state, and local government on Barack Obama's presidential campaigns, and later in the Department of Justice under President Obama, as one reason she's backing him. She also wrote that Young is a parent, a perspective that she feels is needed on the city council.
And she pointed to Young's current job as the in-house attorney for the online fundraising website GoFundMe as another reason why voters should support him.
"[A]s General Counsel for GoFundMe, Chris uses his legal training to create good in our world," she wrote. "He will bring this same focus and perspective to the work of City Council."
But Young hasn't been authorized to practice law in California since last September, according to State Bar records. Under state law, it's a misdemeanor for anyone to practice law, or to even hold themselves out as entitled to practice law, without being an active member of the State Bar.
While there isn't a strict legal definition of what it means to "practice law" in the business and professions code, the Black's Law Dictionary, the most widely used law dictionary in the United States, defines general counsel as "a senior partner in a law firm or the firm's full time employee who is a senior lawyer representing a firm." Merriam-Webster defines general counsel as "a lawyer at the head of a legal department (as of a corporation or government agency)."
According to State Bar records, Young was suspended on September 1, 2017 for failing to comply with mandatory continuing legal education requirements and for not paying bar member fees. His current status is "inactive," and he's been suspended by the bar on two previous occasions, once in 2010 for failing to pay bar fees, and again in 2016 for the same reason.
Currently, however, Young describes himself on his campaign website as the "general counsel" for GoFundMe.
Reached by phone last week, Young acknowledged that he failed to comply with the bar's continuing legal education requirements. He said he has been in contact with the bar and hopes to turn in paperwork to reinstate his active status soon.
But Young denied any wrongdoing. He said that as general counsel for GoFundMe, he actually doesn't provide any of the legal services a general counsel usually provides. He said he doesn't represent GoFundMe in any courts or other adjudicative venues, and that he doesn't even review or approve any internal legal documents, including contracts with employees or other companies.
"You don't practice law as general counsel," said Young. "You practice law when you're admitted to practice in court."
Young added that some of his colleagues at other tech companies who serve as general counsel also have an inactive status with the state bar and that this is legal and ethical because they work as executives — not as attorneys.
"That's the reality of my job. I have a legal department. I have attorneys who render advice to executives. I'm one of six executives at the company."
The
Express
could find no other examples of a general counsel for a California-based tech company who has an inactive status with the state bar and who claims to carry out no actual legal work for their employer.
There's also some evidence that Young's job duties at GoFundMe do, in fact, require him to work as an attorney. For example, Young's LinkedIn bio describes his duties at GoFundMe as involving multiple kinds of duties as a practicing attorney.
"Chris heads legal at the venture-backed startup," his LinkedIn profile explains. "As the company's counsel, he is primarily responsible for advising on company policy, negotiating third-party contracts, and rendering advice on a multitude of legal issues."
Other publicly available websites and documents describe Young's work at GoFundMe in similar terms. For example, Ironclad, a legal software company that counts GoFundMe as one of its clients, featured Young on its blog last October, one month after he was suspended by the State Bar. In the blog post, Ironclad called Young the "head of legal" at GoFundMe and described his duties as those of an attorney.
"[E]very employment contract, content agreement, vendor agreement, and any other binding contract has to go through Chris," the blog post explained.
Young also appeared on a speaking panel at the California Association of Black Lawyers Conference in April to discuss what it's like to work as the in-house attorney for a corporation. Also on the panel was the general counsel of Google, and senior counsels for Chevron and Gap. Each of these three other corporate attorneys are currently licensed by the state bar.
GoFundMe concurred with Young's description of his duties at the company, however. Bobby Whithorne, the director of North America communications for GoFundMe, wrote in an email to the
Express
that Young is an "executive" at the company and that "As General Counsel, Chris manages outside counsel. He does not practice law for or on behalf of the company."
Asked about Young's LinkedIn profile and other publicly available descriptions of his work as an attorney for GoFundMe, Whitmore didn't respond.
Zoe Kleinfeld, a representative of Young's campaign, sent the
Express
the same statement as GoFundMe. "Chris Young is an executive at GoFundMe," Kleinfeld wrote in an email on behalf of the campaign. "As General Counsel, Chris manages outside counsel. He does not practice law for or on behalf of the company."
She added that "Chris is committed to solving the real issues facing District 4 and Oakland at-large — homelessness, housing affordability, transparent local government, and infrastructure that works."
Councilmember Campbell Washington didn't respond to a phone call from the
Express
.