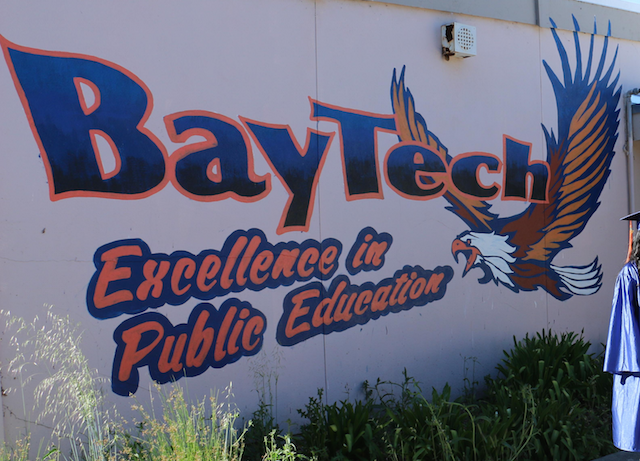 OUSD officials are investigating numerous questionable purchases made using the Bay Area Technology School's credit card, according to a notice of concern sent by the district to the charter school.
The newly revealed allegations are part of a broader investigation by OUSD into financial mismanagement at the school and include accusations by BayTech's three current board members against the school's former principal that he fraudulently altered his employment contract. The former principal, Hayri Hatipoglu, has accused the school's board of defaming him.
The review of the school's credit card spending was revealed in a July 12 notice of concern sent by OUSD's charter schools oversight office to BayTech's leaders. The district also wrote that BayTech has a system of "inadequate financial checks and balances."
OUSD flagged purchases from Netflix, Amazon, and numerous expensive restaurant bills as cause for concern. It's unclear if the purchases had any legitimate educational purpose.
The district also found $6,800 in payments to Commodore Cruises and Events, an Alameda-based cruise ship operator. BayTech's credit card was also used to purchase $2,919 in Disneyland tickets. The school paid for hotels and plane tickets for staff to travel to Southern California, Arizona, Utah, and Texas.
Copies of BayTech's credit card statements from 2016 and 2017 obtained by the
Express
through a California Public Records Act request show that the school paid $2,655 to an upscale Oakland pizzeria over a two-year period. The school's Wells Fargo credit card was also used to pay for six separate meals at Scott's Seafood in Oakland costing a total of $4,453.
Last year, the school's credit card was used to buy $32,698 in Apple electronics. According to former school staff who spoke with the
Express
on the condition of anonymity, some Apple products were given to staff as thank-you gifts and not used for official school purposes.
The district is currently investigating the school for financial mismanagement, and BayTech's board has also hired an independent firm, Oracle Investigations, to review allegations of embezzlement and fraud.
[pdf-1]