Stories you shouldn't miss:
1. Attorneys for Major League Baseball revealed in a court filing Friday that Commissioner Bud Selig sent a letter in June to Oakland A's co-owner Lew Wolff, informing him that he had rejected the team's proposal to move to San Jose, the Mercury News reports. The league sent the rejection letter one day before the City of San Jose sued MLB for effectively blocking the A's from relocating to the South Bay. The league has indicated that the A's can't move to San Jose because the San Francisco Giants hold the territorial rights to the area. In the June 17 letter, the league wrote that "Selig was not satisfied with the club's relocation proposal."
[jump]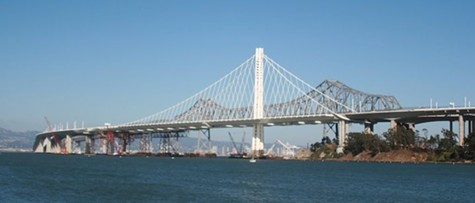 2. Respected engineering experts are raising new doubts about whether the new Bay Bridge is safe and contend that Caltrans' official report on the bridge is riddled with errors, the SacBee$ reports. The experts — Yun Chung, a retired engineer and metallurgist who had worked for Bechtel Corp., and Lisa K. Thomas, a materials engineer at Berkeley Research Company, a consulting and test lab — dispute assurances Caltrans has made about hardened steel rods, following the revelation earlier this year that 32 of them had snapped on the new $6.3 billion eastern span.
3. The City of Oakland needs to spend about $15 million to $20 million to purchase 2,700 new police radios and replace outdated ones that break down often or fail to work properly, the Trib reports, citing a new city-commissioned analysis. Oakland officials also are in negotiations to join a consortium of East Bay cities to operate a joint emergency response system.
4. At least five homeless people have died because of the cold snap in the Bay Area — one in Dublin and four in the South Bay, the Bay Area News Group reports.
5. And the Berkeley City Council voted to outlaw smoking in multi-unit housing complexes, including all apartments and condos, Berkeleyside reports.