Welcome to the Mid-Week Menu, our weekly roundup of East Bay food news.

1) Old Oakland's trendiest wine bar, District (827 Washington St.), is opening up a takeout counter in the space behind the restaurant's kitchen, on 9th Street, according to Inside Scoop. The takeout shop will be called District Carriage House, and it'll be open from 11 a.m. to 1:30 p.m., serving sandwiches and a variety of other takeaway lunch items. No official opening date has been set, but it sounds like it'll be early this year.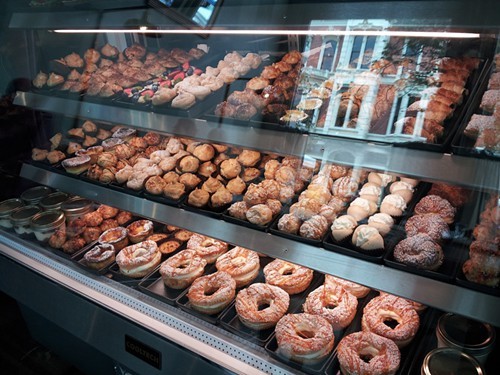 Happier times for the pastry case at Borgo Italia.
2) A reader wrote in with this bit of bad news: For the past several weeks, the
much-ballyhooed pastry case at Borgo Italia
(499 9th St.) has been completely empty. Co-owner Fabio Dalla Vache confirmed that his partner Franco Camboli, Borgo's dessert guru, has had to be away from the restaurant for the time being due to a personal matter. But one way or another, Dalla Vache expects that Borgo Italia will get its dessert program up and running again in about a month or so. Stay tuned.