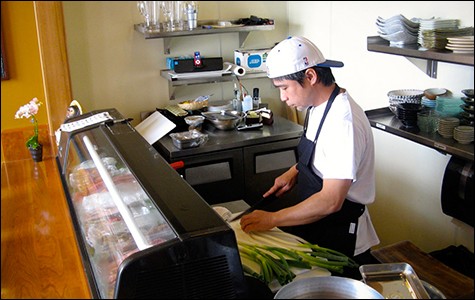 Welcome to the Mid-Week Menu, our roundup of East Bay food news.
1) If you've been grieving over the loss of the Japanese izakaya
B-Dama's
Piedmont Avenue spot, take solace: The restaurant's new location in Swan's Marketplace (907 Washington St.) softly opened last week, as
Berkeleyside Nosh
correctly predicted.
The restaurant has been serving lunch only to start, Monday to Saturday from 11:30 a.m. to 2 p.m. —
mostly rice bowls
, plus
gaburi
sushi (uncut, burrito-like hand rolls). Owner Chikara Ono said he'll roll out dinner service with a limited menu from 5 to 10 p.m., starting this Thursday. According to Ono, the restaurant's official opening date will be Friday, October 10, at which time the dinner menu will expand. Eventually he'll bring back many of the customer favorites from the old B-Dama: charcoal-grilled meats, ramen, and so forth.
[jump] One more thing: Ono said the new spot will be called AS B-Dama — or "As B-Dama" (he hadn't decided yet on the capitalization) — after the first-name initials of his two chefs, Asuka Nadeshiko and Shin Okamoto.
2) Earlier this year
we told you
about the insanely popular Temescal brunch spot
Aunt Mary's Cafe's
impending move to a new location down the street, at 4640 Telegraph Avenue.
Inside Scoop
reports that that move took place this week. The restaurant was initially aiming to open its new digs by today, but based on an update on the restaurant's website, it sounds like the reopening will be pushed by a few days at least.
3)
Berkeleyside Nosh
reports that developers are planning a fairly massive renovation project for Spenger's Fish Grotto (1919 Fourth St., Berkeley). The proposed project includes a beer garden, several new retail shops, and a scaled-down version of the restaurant. According to the developers, the idea is to drive more foot traffic to Spenger's, and to that stretch of Fourth Street in general.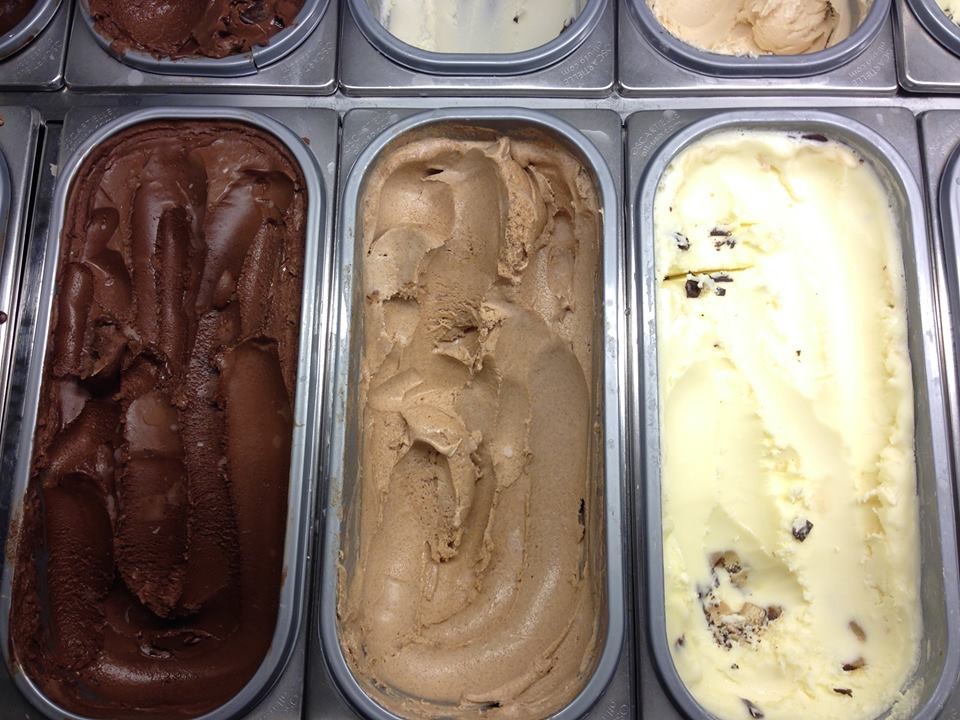 4)
Lush Gelato's
location at 1817 Polk Street in San Francisco softly opens
today
. The new shop is the East Bay favorite son's first westward expansion. Among other features, the Polk Street gelateria will have an open kitchen, where customers will be able to watch owner Federico Murtagh (whom I once dubbed the
"mad scientist of gelato"
) working his magic.
5) Jumping on the Oakland-wide trend of
sit-down restaurants that double as coffee shops
, A16 Rockridge (5356 College Ave.) launched daytime cafe service this week,
Inside Scoop
reports. Daytime offerings will include assorted house-made pastries,
scaccia
(a stuffed flatbread), and a full selection of wood-fired pizzas.
6) Further evidence of the East Bay
kosher food scene's
recent renaissance:
Oakland North
has a great video profile of
Sarah Sunshine
, a newly-launched Oakland-based purveyor of vegan kosher desserts.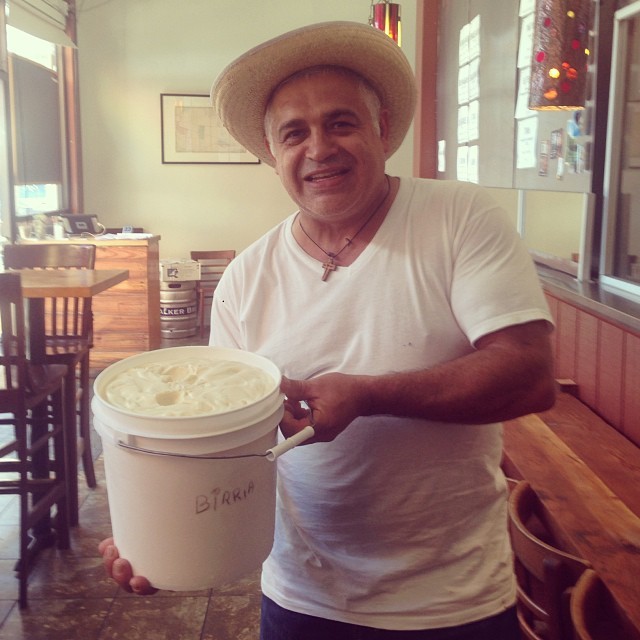 7)
The Half Orange
(3340 E. 12th St., Ste. 11, Oakland) — the sausage-sandwich shop, burger joint, and maker of elaborate
topped fries
— is hosting a
wine party
with
Los Pilares
, a San Diego-based maker of natural wines, on Thursday, October 9, starting at 6 p.m. Also of note (and booze-related): Owner Jay Porter tells me that The Half Orange is serving a
hoppy ice cream
made with Ale Industries' "Uncle Jesse" session ale, courtesy of the great
Nieves Cinco de Mayo
, for at least a few more days.
8) This sounds like a high-quality, family-friendly day trip: Berkeley-based nonprofit SAGE (Sustainable Agriculture Education) is hosting a
harvest festival
and u-pick pumpkin patch on Sunday, October 5, from 10 a.m.-3 p.m., at the
Sunol Water Temple AgPark
(505 Paloma Way, Sunol). Activities include pumpkin decorating; a chicken "meet n greet"; and lots of produce for sale courtesy of the eight small, organic farms that call the AgPark home.
9) As we head toward peak apple season here in the Bay Area, this
Atlantic story
about the awful reign of the Red Delicious apple — arguably the best-looking, but worst-tasting, apple to ever to run rampant in the produce aisles of American grocery stores — is well worth a read.
10) Finally, ICYMI, a
pop-up dinner
brings Spanish slow food values to Berkeley, and Uptown Oakland gets an
offbeat new brewery
.
Plus, don't miss the wealth of food stories in this week's special
Taste issue
of the
Express
:
meat shakes and fried chicken lollipops
, restaurants that offer an
antidote to gentrification
, the return of the
tiki drink
, and much more.
Got tips or suggestions? Email me at Luke (dot) Tsai (at) EastBayExpress (dot) com. Otherwise, keep in touch by following me on Twitter @theluketsai, or simply by posting a comment. I'll read 'em all.