Welcome to the Mid-Week Menu, our roundup of East Bay food news.

1) Berkeley doesn't currently have any parklets, but if all goes well the city will soon have at least two of the curbside mini-parks, both in North Berkeley, Berkeleyside Nosh reports. The first is slated to open outside of the Cheese Board Collective (1520 Shattuck Ave.) sometime this fall and should provide an outdoor-seating alternative for customers who otherwise tend to crowd onto the grassy median on that stretch of North Shattuck. The other parklet will be located outside of Philz Coffee and Guerilla Cafe, at 1600-1620 Shattuck Avenue. The latter project is being organized by the North Shattuck Association, which has launched a $15,000 Kickstarter campaign to help pay for the parklet.

[jump]
2) A new cocktail bar called
Drexl Bar
(382 19th St.) is softly open in Uptown Oakland,
Tablehopper
reports. Notable features include a selection of classic cocktails, and skee ball and Pac-Man in the upstairs mezzanine. The bar might eventually offer some food, too, but no word yet on what that will be on the menu.
3) Bored of wine and cheese? On July 1,
Ozumo Oakland
(2251 Broadway) is launching a new cheese and sake pairing menu: $25 for three Northern Californian cheeses (a goat Gouda, a blue cheese, and a pepato — a sheep cheese with peppercorns) paired with three different sakes. The menu is portioned to be shared between two people.
CupKates
, the gourmet cupcake truck, is
selling Twinkies
this week only. Plan your schedule accordingly.
5)
East Bay Dish
pointed our attention to a fun event: In keeping with the spirit of the World Cup, Vintage Berkeley (2113 Vine St. and 2949 College Ave.) and Albany's Solano Cellars (1580 Solano Ave.) have put together a month-long
"World Cup of Wine"
tournament. Each $7 event will pit two wine-producing countries against each other — five wines from each country, plus a neutral "referee" sparkling wine, for a total of eleven tastes. A
$50 pass
gets you admission to all twelve remaining events. Next up:
Chile vs. Australia
, at 6:30 p.m. on Thursday, June 26, at Vintage Berkeley's College Avenue location — "soccer kit, flags, facepaint and national cheer are all welcome, but vuvuzelas are not!"
6) One more alcohol-centric event: On Saturday, June 28, from 11 a.m. to 5 p.m., the
Montclair Beer and Wine Festival
will feature tastings from over twenty wineries and craft breweries, at 2000 Mountain Boulevard in Oakland. The event, which is part of the Montclair Fine Arts Festival, is free, but a $25 tasting ticket ($30 the day of) will buy you unlimited tastes.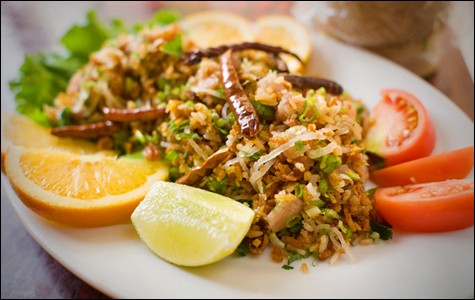 Nam kao at Vientian Cafe is meant to be eaten with your hands.
7)
The Chronicle
has a nice feature about the new (but really very old) trend of restaurants encouraging guests to eat with their hands. East Bay spots that are featured prominently include James Syhabout's Dock at Linden Street and Hawker Fare, whose
recent dinner menu revamp
was designed to let diners get down and dirty with sticky rice, and East Oakland's Vientian Cafe (which happens to be
my favorite Laotian restaurant
).
8) This one goes out to all of my canine (and canine-loving) readers: As part of its launch this Friday, the San Francisco-based
Milo's Kitchen
, which claims to be the Bay Area's first food truck for dogs, is embarking on a nationwide tour that will include at least one East Bay stop — at Richmond's Point Isabel Dog Park (2701 Isabel St.) on Saturday, June 28, starting at 7:30 a.m. The truck, which is affiliated with the Big Heart Pet Brands pet food company, will dish out free tastes of its "100% real" chicken meatballs, grilled burger bites, and other treats. Your move,
Cat Town
.
9) Finally, ICYMI, the Fivetenburger owner's new spot,
Handlebar
, is open in West Berkeley, serving burgers, breakfast corn dogs, and an all-day Monday "industry brunch." Also in Berkeley,
Mission Heirloom
is plotting a gluten-, grain-, and soy-free restaurant, with a little bit of molecular gastronomy mixed in for good measure.
Got tips or suggestions? Email me at Luke (dot) Tsai (at) EastBayExpress (dot) com. Otherwise, keep in touch by following me on Twitter @theluketsai, or simply by posting a comment. I'll read 'em all.