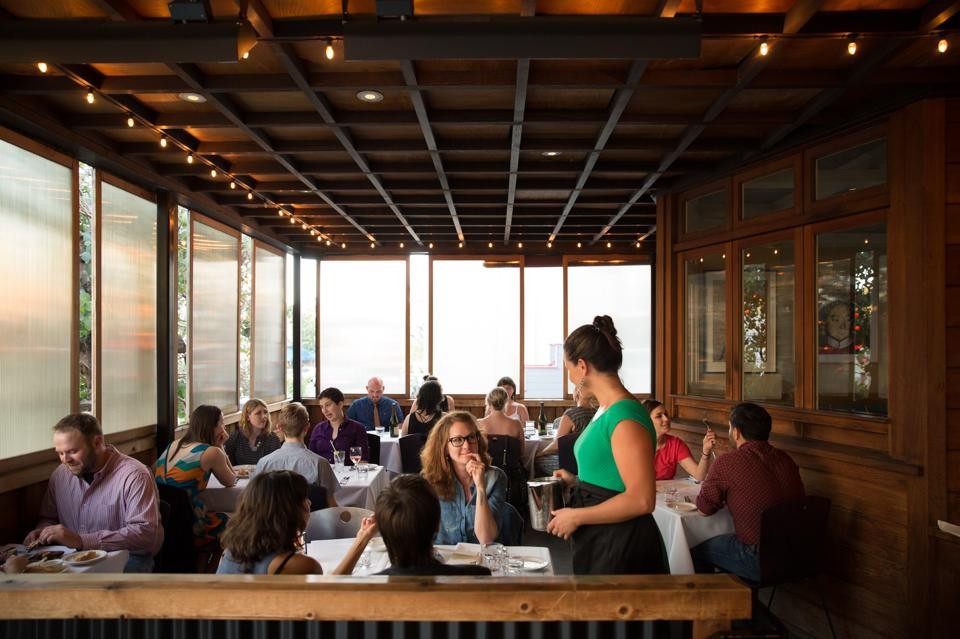 Welcome to the Mid-Week Menu, our roundup of East Bay food news.
1) After forty years in business,
Bay Wolf
(3853 Piedmont Ave., Oakland) announced last week that it would be closing its doors at the end of August,
Inside Scoop
reports. The Piedmont Avenue mainstay was one of the Bay Area's early innovators of French-influenced California cuisine, so it's no surprise that I've already gotten a handful of emails from readers sharing fond recollection of meals they've enjoyed there. Longtime customers still have time to come pay their last respects: Bay Wolf's final dinner service will be on August 30 — the restaurant's fortieth anniversary.
[jump] No news yet on the future of the Craftsman-style property, as owners Michael Wolf and Larry Goldman simply decided to sell it. Stay tuned.
2)
Berkeleyside Nosh
reports that several tenants of The Village (2556 Telegraph Ave., Berkeley) are unhappy with the building owners' plans to demolish the offbeat shopping complex in order to build a new
seven-story mixed-use housing development
. The Village is home to several decades-old restaurants — most notably the home-style Japanese eatery
Norikonoko
and the Swiss restaurant Fondue Fred. The restaurant owners told Berkeleyside that developer Telegraph/Blake LLC had them sign one-year leases that are subsequently renewed on a month-to-month basis — a situation they feel is untenable for small businesses planning ahead for the future.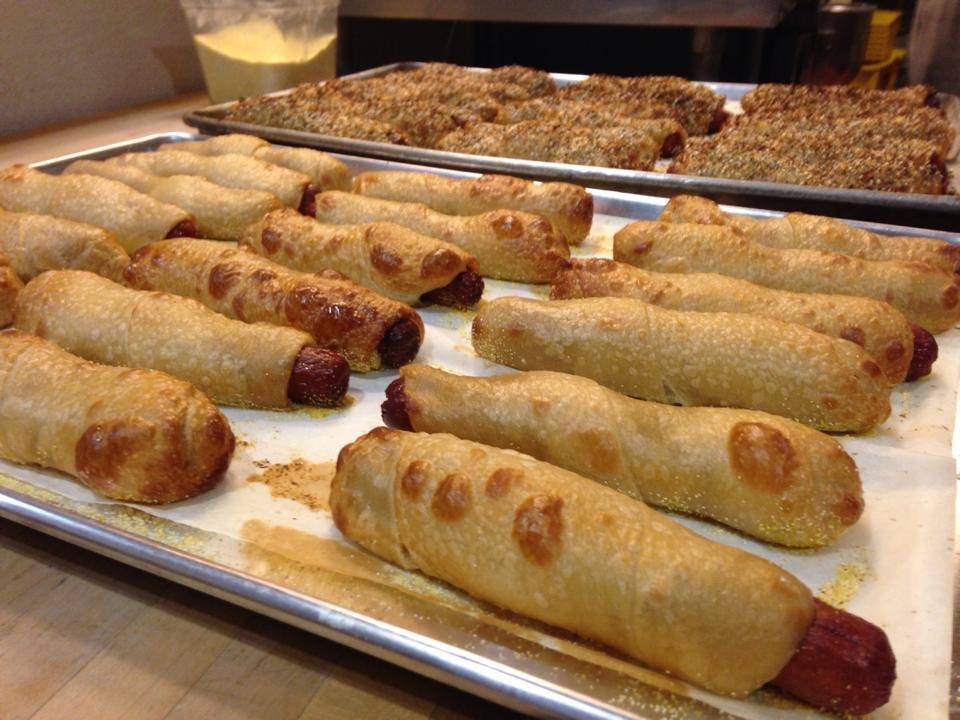 3)
As previously reported
, Oakland's
Authentic Bagel Company
(463 2nd St.) has been hard at work expanding into the space next door to its tiny production facility in Oakland's Jack London district. That expansion is now complete, which means the bagel shop is now is full-fledged cafe — an expanded sandwich selection, fresh-squeezed juice, and, most significantly, seating for customers who'd like to dine in. The cafe will host a grand opening celebration on Saturday, July 11, 9 a.m.–3 p.m..
4) The self-described "vegan butcher shop" Butcher's Son has given up its plans to open in the former La Farine space on Solano Avenue, citing disagreements with the building's owners,
Berkeleyside Nosh
reports. The proprietors of Butcher's Son, who envision their shop to be a
vegan adaptation of the kind of old-fashioned Italian-American deli
that's popular on the East Coast, will now look for a new location. In the meantime, the owners have been doing Monday lunch deliveries, though a recent
Facebook post
indicates that they're currently on hiatus.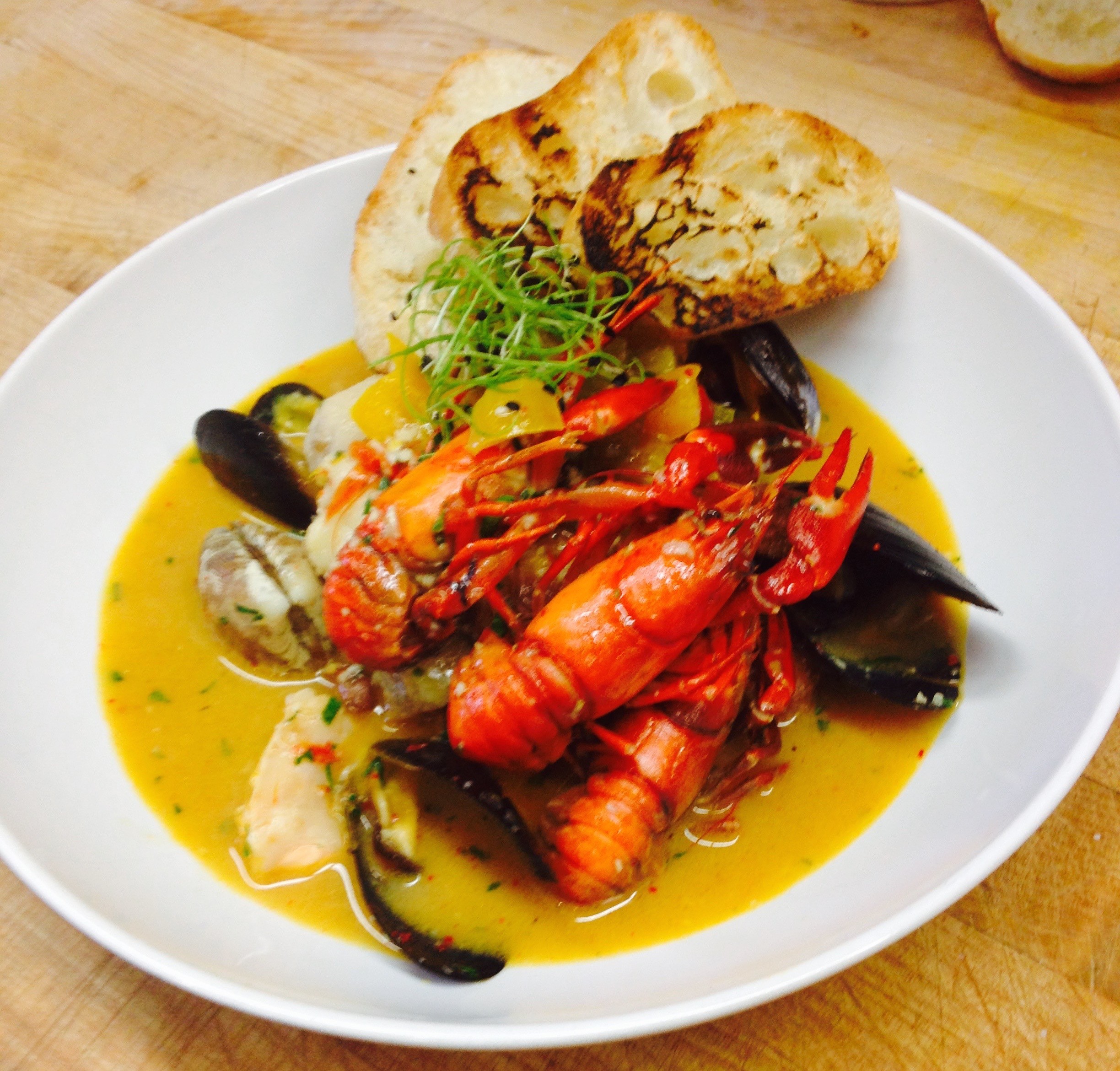 5)
FuseBOX
(2311A Magnolia St.), the forward-thinking Korean restaurant in West Oakland, will expand its hours to include dinner service on Sundays and Mondays, 6–9 p.m., starting on Sunday, July 19. In an email, GM Ellen Sebastian Chang tells me that the restaurant has brought back one of its early chefs, Adam Strahle, who is helping the kitchen to experiment with new flavors, including a summer crayfish stew.
6)
Eater
reports that Drake's Dealership, the new brewpub from San Leandro-based
Drake's Brewing Company
, is aiming for an early August opening date. Located in the Hive complex in Uptown Oakland, the brewpub's notable features include a full-service growler station for customers who want to order their beer to go and a pizza-centric food menu.
7) This weekend, Saul's Restaurant & Deli (1475 Shattuck Ave., Berkeley) will celebrate this year's
"new catch" Dutch herring
— fish that were caught in the North Sea at the peak of their buttery deliciousness, imported to the US by New York City's famed Russ & Daughters specialty market, and then flown in to SFO, where Saul's owner Peter Levitt retrieved this precious cargo. On
Saturday and Sunday, July 11 and 12, 11 a.m.–2 p.m.
, Saul's will serve the herring with egg, onion, and pickle, plus either a shot of gin or vodka or a Trumer Pilsner — all for $20.
8)
Homestead
(4029 Piedmont Ave., Oakland) has started a Wednesday afternoon lemonade stand outside the restaurant. From 2 p.m. to 4 p.m., the stand will sell $2 lemonade and iced tea and $3 strawberry shortcakes, and all of the proceeds will go to a chosen charity of the week. Next Wednesday, July 15, the beneficiary will be Youth Business USA, an organization that helps low-income young adults start their own businesses.
9) Hey, we made it, you guys!
Bon Appetit
recently gave the East Bay its due respect, highlighting "Eleven Reasons to Eat and Drink in Oakland Right Now" — included are several of my personal favorites, including
Tian Jin Dumplings
and
Grocery Cafe
.
10) Finally, ICYMI, a new
North Oakland brewery
explores the intersection between beer and art, and a
Wednesday food truck pod
is returning to Oakland's Snow Park.
Got tips or suggestions? Email me at Luke (dot) Tsai (at) EastBayExpress (dot) com. Otherwise, keep in touch by following me on Twitter @theluketsai, or simply by posting a comment. I'll read 'em all.