A massive wildfire near Yosemite National Park has prompted evacuations at two camps that have long been popular with East Bay residents: Berkeley Tuolumne Family Camp and Camp Tawonga. The director of Berkeley Tuolumne Family Camp, which is run by the City of Berkeley, is bringing home counselors from the camp tonight because the 11,000-acre "rim fire" is closing in on the camp, Berkeleyside reports. And sheriff"s deputies have ordered the evacuation of nearby Camp Tawonga, MyMotherLode.com reports.
[jump]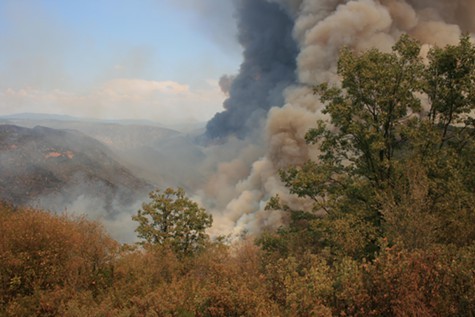 The rim fire started on Saturday and is burning through ultra-dry oak woodlands and pine forests. At this point, firefighters have not been able to contain any portion of the fast-moving blaze. The huge fire also prompted the closure of Highway 120 to and from Yosemite, and has forced evacuations of numerous homes in the area near Groveland.
Camp Tawonga, a camp for Jewish children, was rocked earlier this summer with the death of a counselor who was killed by a fallen tree.