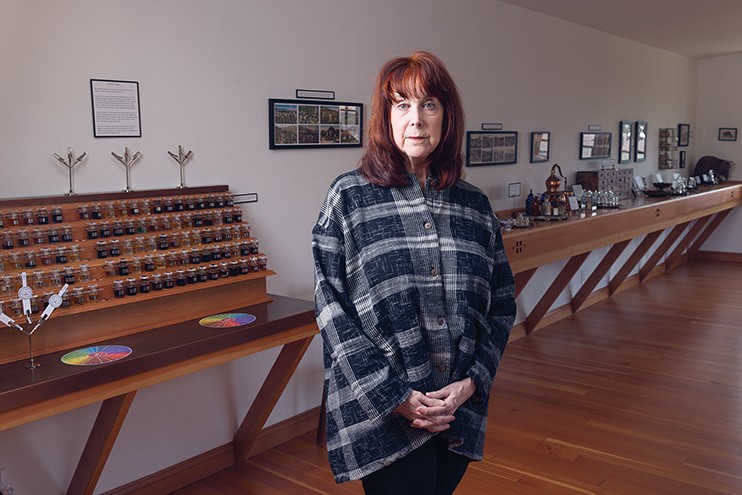 Mandy Aftel has been interested in scents for nearly three decades. But her passion wasn't triggered by a smell. Rather, it began when she started reading old European literature on perfume. "I kind of fell in love with the books first," she said.
Aftel went on to become a perfumer and write several books on fragrance. Now Aftel has created her own museum dedicated to scents. The Aftel Archive of Curious Scents, which opened in June in a small cottage next to her North Berkeley home, is an educational extension of her books, as well as a historical record of fragrance.
Deeply inspired by European perfume-making before the era of synthetic ingredients, the museum is curated through a European romantic lens and organized much like a natural history museum. The first object that greets you is a cabinet of curiosities, also known as wonder rooms, which became popular during the Renaissance era. These rooms were filled with objects such as paintings, foreign items, and flora and fauna, serving as a visual dissertation of natural phenomena through a scientific and mythical lens. The cabinet of curiosities at the Aftel Archive is contained in a modestly sized cabinet, with drawers and shelves displaying antique cards, perfume bottles, and centuries-old European books on alchemy and perfumery. The entire museum itself is a wonder room filled with taxidermy, rare essential oils, and fantastical images that all center on the spectacle of scent.
For a museum dedicated to scents, the Aftel Archive of Curious Scents isn't overwhelming. "It doesn't smell like Macy's in here," said Aftel. "It's not like a perfume counter."
But there are many things to smell. Most of them are stored in glass bottles labeled "Smell Me." One of the rarest items is a 100-year-old essence of ambergris. Musky and slightly sweet, ambergris is an intestinal byproduct of sperm whales that's highly valued by the perfume industry, although banned for trade in the United States. (The actual stone-like ambergris samples are displayed in a glass case and vary in appearance from oily to dusty shades of pumice.) There's also an apothecary chest that allows you to smell and touch botanical aromatics like cedar wood (a familiar woodsy warmth), frankincense (a sharp sweetness and spice), and vetiver (a moist earthiness). But the real highlight of the Aftel Archive is a "perfume organ" featuring 220 scents in glass bottles organized by top, middle, and base notes. Want to know what isolated petitgrain smells like? Or massoia bark? Visitors are invited to smell as many of the scents as they'd like, clearing their noses between whiffs using a piece of wool that Aftel supplies. You can also choose three scents to take home via dipped scent strips.
Aftel said it took her three years to create the museum, and her effort is apparent in the details, from the note cards that explain a scent's origins and history to interactive and sensory-stimulating exhibits that go far beyond sniffing.
The museum is unlike any other. After all, scent has the power to affect our mood, help us recall memories, and create new ones. The experience is made even more intimate by the fact that Aftel only admits six visitors at a time. Her obsession is contagious.
"I would think if you were artistic or creative, it would be stimulating to you whether you wanted to make perfume or not," she said.
The Aftel Archive of Curious Scents is open on Saturdays, 10 a.m.-6 p.m., $20 for a one-hour visit. 1518-1/2 Walnut St., Berkeley, 510-841-2111, Aftelier.com/Archive.