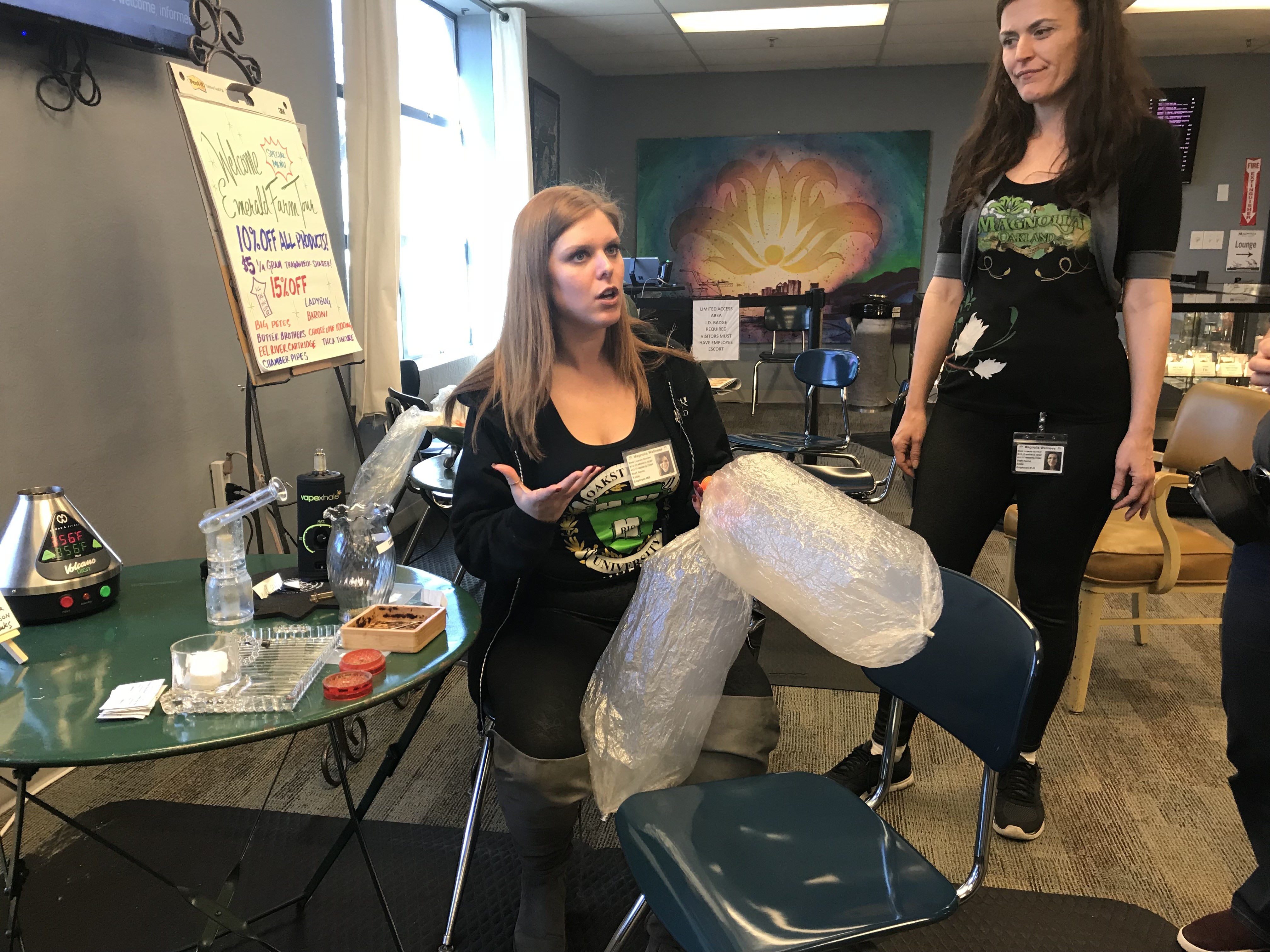 To get a sense of the booming legal cannabis industry in California — and also some of its challenges — take a look at what's happening at a pot shop in West Oakland.
Magnolia Oakland (formerly Magnolia Wellness) opened at the corner of Adeline and 3rd streets in 2013, after its original location in Sacramento County closed due to a crackdown there on dispensaries. Now, with recreational cannabis legal in California, the Oakland cannabis shop is undergoing an ambitious expansion, with plans to open a restaurant, dab bar, vape lounge, and production facility in a sprawling next-door space formerly occupied by Nellie's Soulfood. If all goes according to plan, they'll be up and running by, appropriately, April 20.
The expansion is tied to two factors: "We need more space to gather as a community and more places to consume cannabis," explained Debby Goldsberry, Magnolia's executive director. "And we need a better price on medicine, so we have to start making our medicine here and vertically integrating."
Since recreational legalization on Jan. 1, many cannabis manufacturers have been forced out of business due to the high costs of regulation. "We're having a very hard time getting a dependable supply of some very easy-to-make products," Goldsberry said.
The reason has to do with new taxes. "If you have to go from cultivator to a manufacturer to a distributor to a retailer, at every level a new tax is being added to the cost," Goldsberry said. "So, we figured if we could vertically integrate and cut some of those costs, we'd be saving money, let alone not having to pay markup to the distributor and manufacturer to make the product."
Because of the new 10 mg-per-dose restriction on edibles, medical cannabis patients aren't able to get the highly dosed products they need. At the same time, they're facing more expensive products because of the associated costs of compliance.
Being a distributor, manufacturer, and retailer all in one doesn't just help consolidate costs, it also puts retailers in direct contact with farmers, allowing greater negotiation on price and quality, Goldsberry explained. So, it's safe to say you can expect to see more consolidation in the industry.
But it's also about creating an experiential pot shop. "The whole experience we want people to have is maybe come down after work or on your way to work or you're coming home for the weekend, come hang out with us, bring your laptop and do work and go to the dab bar and relax after a long day," said Katie Rabinowitz, Magnolia's general manager. "But we really want this to be a third place for people to go — kind of like a Starbucks, but more fun."
The dab bar and vaporizing lounge will give consumers the opportunity to familiarize themselves with Magnolia's products. As for the restaurant, Rabinowitz said they plan to host pop-ups by rotating chefs every few months or so, in order to exhibit various cuisines. While the dishes themselves won't be infused with cannabis, the condiments — ketchup, salad dressing, et cetera — will be medicated in 10 mg doses. (Food and condiments will be available to-go as well.) In the mornings, Magnolia will offer a cafe, with coffee and (non-medicated) baked goods made on-site.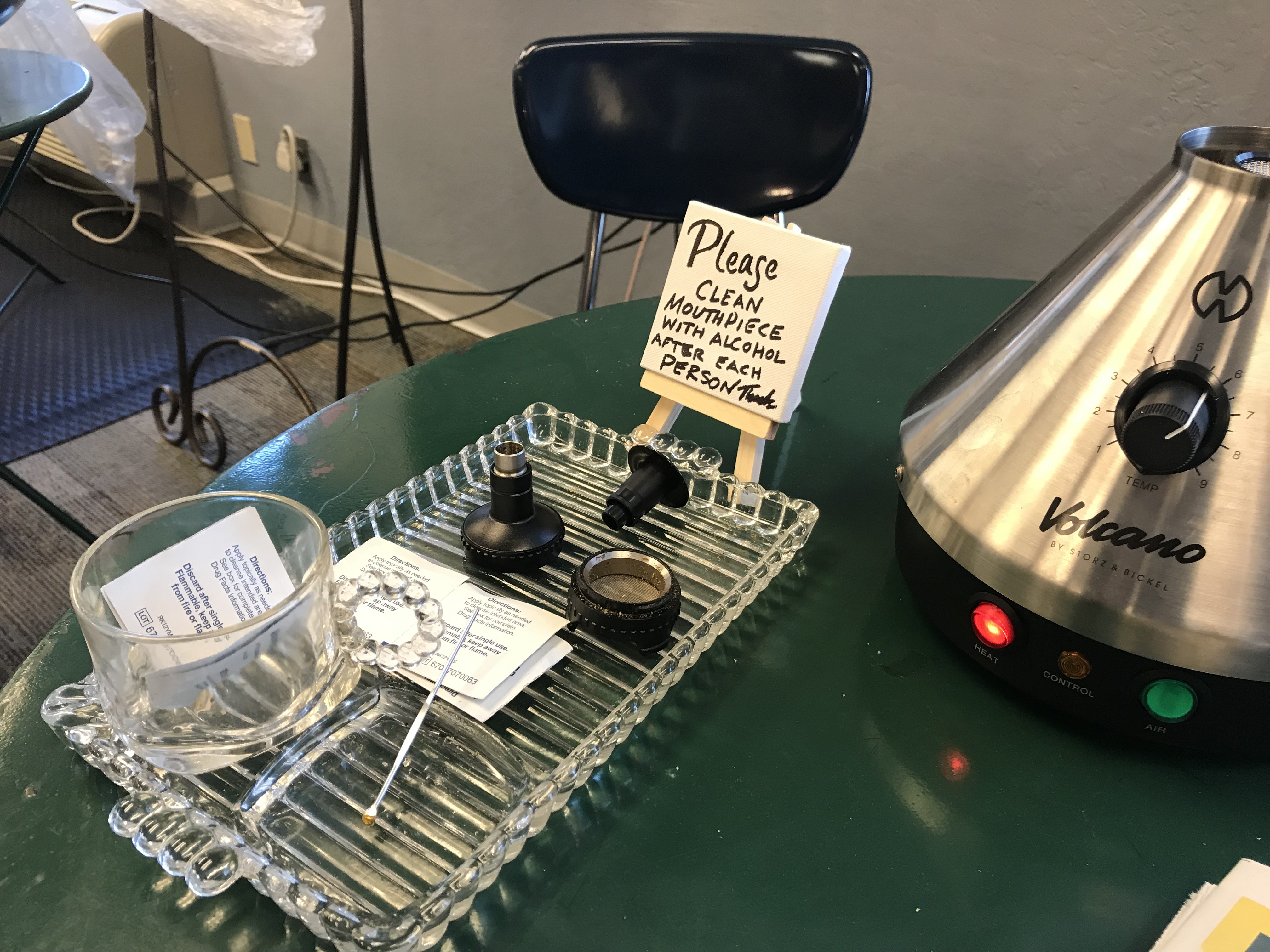 In addition to the baked goods, they'll also manufacture medicated gummies and topicals.
While Rabinowitz said the goal is to have Magnolia be "an awesome tourist destination," she also wants it to be welcoming to the Oakland community. She envisions having bingo nights and is thinking of starting a cannabis book club. She noted that Magnolia already hosts regular meetings for seniors and the local cannabis community and hired former employees of Nellie's.
On a recent Thursday afternoon, that sense of community was apparent. In addition to a steady stream of customers lining up for products, there were regulars hanging out on couches and taking advantage of a class on dabbing. (Magnolia was the first to get a permit for on-site consumption in Oakland.) Rabinowitz interacted with many customers on a first name basis.
She wants Magnolia to be a place where people can just hang out and "feel a part of something." "It's more than just a dispensary," she said. "It's a place you can really call home."