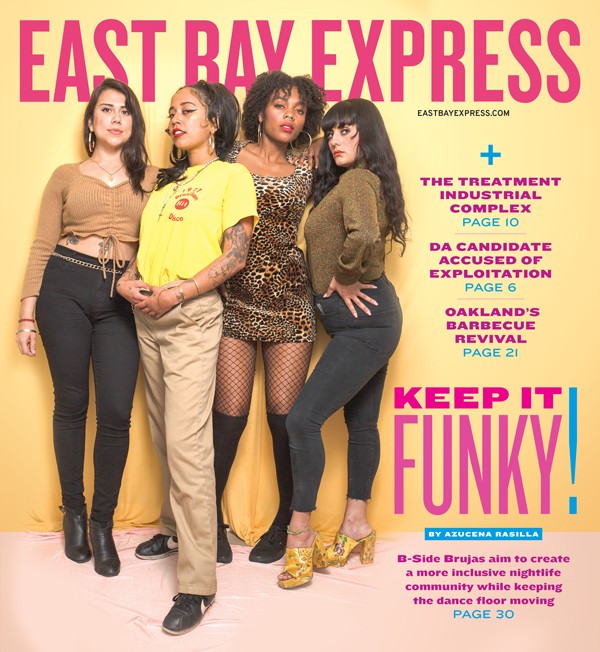 "DA Candidate Accused of Exploitation," News, 2/21
Biased Attack
Pamela Price is a woman of great integrity who has always been motivated by her passion for justice and for doing the very best she can for her clients. She is the last person who should be portrayed as being motivated by greed, which your article does repeatedly. As you say, the story of Price and Jasmine Abuslin is complicated, but you reduced it to a biased attack on Price without doing justice to the reasons behind the way she handled the case.
M. Rivka Polatnick
No Angels
I'm hoping the State Bar of California is looking into the retention agreement that Price and Charles Bonner came up with. What a stew of exploiters and exploitees! There appear to be no angels in this mix.
Sherry Smith
"The Warriors' Empty Gesture," Seven Days, 2/21
Slap in the Face
The Warriors' Town jerseys aren't a hollow gesture. They're a slap in the face from the gloating, SOB owners.
Mike Elwin
How Was This Overlooked?
I can't understand why the lease term regarding the annual payment on the bond debt is not air-tight. The lawyers for the Coliseum Authority have had decades of contract-drafting experience with sports organizations. It's unbelievable they would have overlooked including the strongest possible language requiring the Warriors to be on the hook for the payments until the debt is completely paid off. There should be no wiggle-room, and therefore nothing negotiable.
Sherry Smith
A Bleeding Hole
The Warriors will leave a bleeding hole in the city that may never heal if they don't pay that debt. Disgusting. So much for the good will and camaraderie.
Julie Nuter via Facebook
No Leverage
Excellent commentary. In my opinion, though, Oakland and Alameda County officials totally abandoned their best leverage point by giving the Warriors a sweetheart lease deal for the 2018-2019 season and options for two more years if construction is delayed on the team's new arena in San Francisco.
Scott Law
See Ya
Thanks, Golden State Warriors, for all the championships. I see your new girlfriend is younger and prettier.
Eric Sisneros
"A Barbecue Revival," Food Review, 2/21
#Boom
Smokin Woods BBQ is delicious, never have I forgotten to add BBQ sauce to meat. One word. Four Letters … #Boom
Travis Prater
"Bagel Hiatus," What the Fork, 2/19
Hope They Can Stay
Oh, no! I've lived in the Jack London Square area for a couple of decades. I haven't liked some of the changes that have occurred as a result of gentrification here, but one unequivocally positive change was the addition of Authentic Bagel Company. I hope they find a way to stay. There aren't any other bagels anywhere in the Bay Area that are as good.
Laura Boytz
Best Bagel in Oakland
Hands down, the best bagel in Oakland. For those that love a real bagel, this is the spot. Now that I live in Oakland, I have made it a point to visit anytime I'm in the JLS area. I'll be heartbroken if it goes away.
John Edward Nackley II