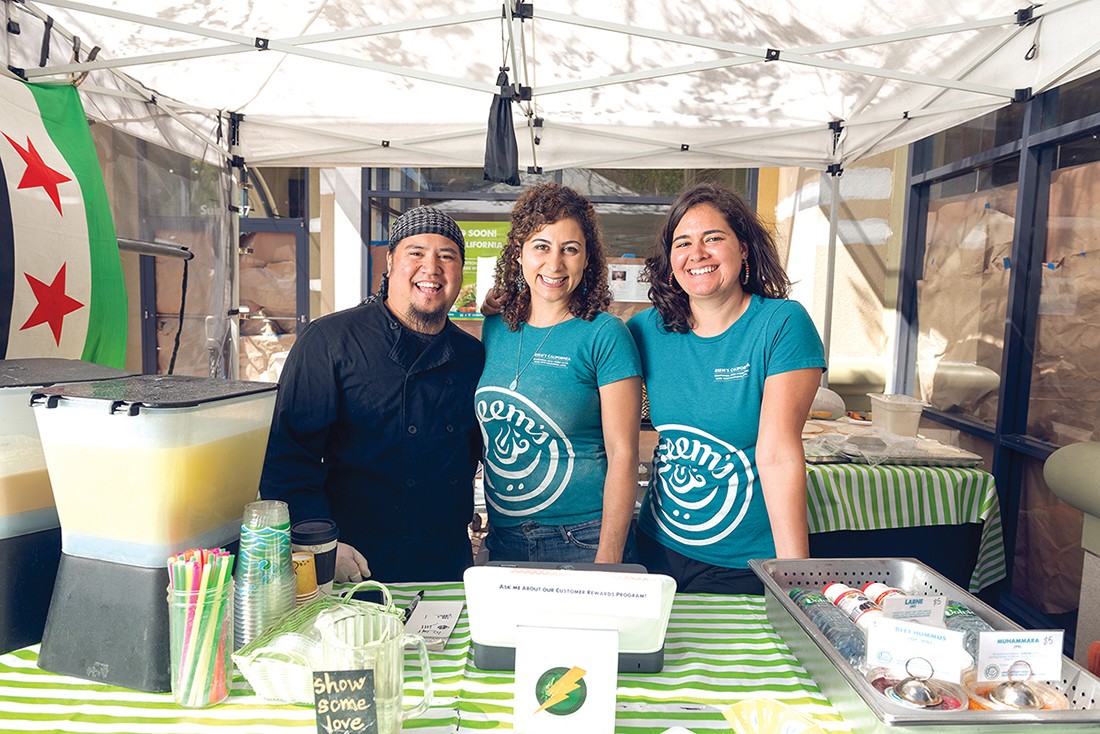 On a recent Thursday afternoon, Reem Assil stood in front of the
San Francisco Federal Building, emceeing a protest against the Trump administration's Muslim travel ban. As soon as the protest ended, she ran to her bakery to knead some dough.
For Assil, bread is not just sustenance. Bread is politics. And, right now, bread is more important than ever.
Several years ago, Assil left her longtime career as a community organizer to start a food business specializing in Arab flatbread. Her stand, Reem's, sells bread at a several different farmers' markets in Oakland and San Francisco. And come May, Assil will open a brick-and-mortar bakery in Oakland's Fruitvale neighborhood.
Of course, just because she's a baker now doesn't mean she's left her days of political activism behind — not when she's opening an Arab bakery in the heart of one of Oakland's most important immigrant-centric neighborhoods, and doing so while Donald Trump is president. In fact, Assil sees food as a link that binds people together across cultures — a quality that makes it the perfect political organizing tool. And because the country is awash in anti-immigrant sentiment, with a divisive presidential administration that's trying to ban Muslims from entering the country and building a wall on the US-Mexico border, Assil believes food's community-building qualities are now needed more than ever.
"I had sort of an idea that [Reem's] would not just be a street corner bakery," said Assil. "It would be a hub for the revolution."
Assil, who is of Palestinian and Syrian descent, says she chose a business model that is intentionally reminiscent of street corner bakeries in Syria and Lebanon, where bakeries are like extensions of people's kitchens, and families gather inside daily to buy fresh bread. She hopes to build a home away from home for immigrants.
She also hopes it will become a place where those unfamiliar with Arab culture can find something they recognize, too. After all, Arab bakeries aren't the only ones to play this role: The free breakfast program for school-aged children that emerged from the Black Panther Party's headquarters in Oakland in 1968 is another example of bread-as-politics that inspires Assil.
"Food is very part and parcel to people-building movements," she said.
Assil likes the Fruitvale location for her bakery because of the neighborhood's large immigrant population. She hopes its presence will foster connections across communities, and demonstrate the integral place of bread in different cultures.
[pullquote-1] The base of Assil's flatbread recipe is a spice mix called
za'atar
— a blend of wild thyme, sesame seeds, and olive oil. Each round is topped with seasonal, locally grown vegetables. It all makes for a unique combination of the traditional Arab flavors Assil grew up with, and the "California love" to which her bakery's official slogan alludes.
It's "unapologetically Arab," Assil said. But she's translating the cuisine for the broader public so that they can taste their own cultures in it, too.
Assil's political activism stretches back years before Trump's rise to power. She says she was deeply disturbed by the backlash against Arab and Muslim communities on her college campus after 9/11. After college, she spent nearly seven years as a community organizer in the Bay Area, helping airport workers win a union, and rallying residents to support affordable housing projects in Oakland and Emeryville.
As fulfilling as this work was, Assil says she felt there was a piece missing to her life. She felt there was a disconnect between people's daily lives and the political movements that organizers like her were trying to initiate. There was, quite simply, a gap between the bread and the politics: "How am I supposed to get this person to come to this rally tomorrow when they can't even get childcare because they can't find a job to put food on their table?"
Assil had her epiphany when she went on a soul-searching trip to Syria and Lebanon with her father in 2010. It all came together when she walked into a street corner bakery in Beirut: "I was like, 'Aha! I have this love for food, I have this love for my culture, and I have a love for community organizing and social justice. Let me bring all these things together with food.'"
When Assil was a child growing up in suburban Boston, she didn't understand why her parents thought it was so important to haul her along on a half-hour drive to shop at an Arab bakery. Now she gets it: "They were looking for that feeling of home."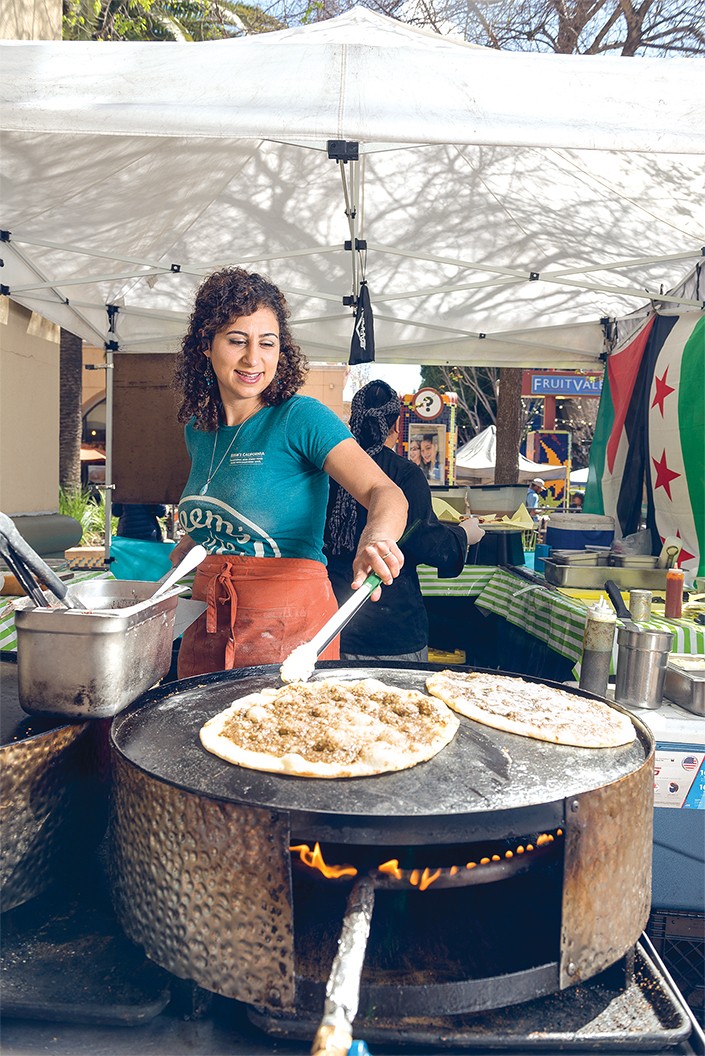 Clusters of ethnic grocers, bakeries, butcher shops, and restaurants dot the East Bay. As Assil points out, historically these familiar food vendors helped immigrants feel connected and enabled them to thrive as both part of the larger society, but also as a distinct people unto themselves.
Assil gets excited when she talks about the commonalities of bread across cultures. The cylindrical griddles Assil uses to cook her flatbread, called
man'oushe
, are similar to the
comales
used to griddle tortillas. And both kinds of griddles are a lot like tandoors, the ovens used in South Asian cuisine.
Direct Arab influences on Mexican cuisine are also fascinating to Assil. She notes that there was an influx of Arabs into Mexico in the mid-1900s because of World World II and the breakup of the Middle East. They infused parts of their culture — food, music, art, and politics — into Mexican society, and were shaped by Mexico in return. Assil is planning a trip to Mexico City in August to examine its Lebanese cuisine.
"Food travels," Assil said. "Our cuisines have a lot of similarities. We are able to find those connections and celebrate them."
Assil says she's inspired to see new refugee coffee shops and "sanctuary restaurants" among the trends in the East Bay's restaurant industry. Sanctuary restaurants, for example, are thinking through ways of protecting the undocumented workers who make the food industry possible.
Assil doesn't see the Trump administration's bigotry as new. Rather, it's a culmination of years of repressive policies and ideology directed at Latinos, Arabs, Muslims, and others. She remembers people fighting a Muslim registry back in the early 2000s.
"I try not to see Trump administration in a vacuum," Assil said.
At the San Francisco rally against the Muslim travel ban, about 350 people gathered under the banner of "freedom to come, freedom to stay, and freedom to return." As a business owner, Assil's focus is on creating and strengthening spaces for communities under fire.
"Right now we are trying to fight for our communities to move freely, and find sanctuary," she said. And to that end, she hopes her bakery will be not just a place for people to eat bread, but a place for people to feel free.