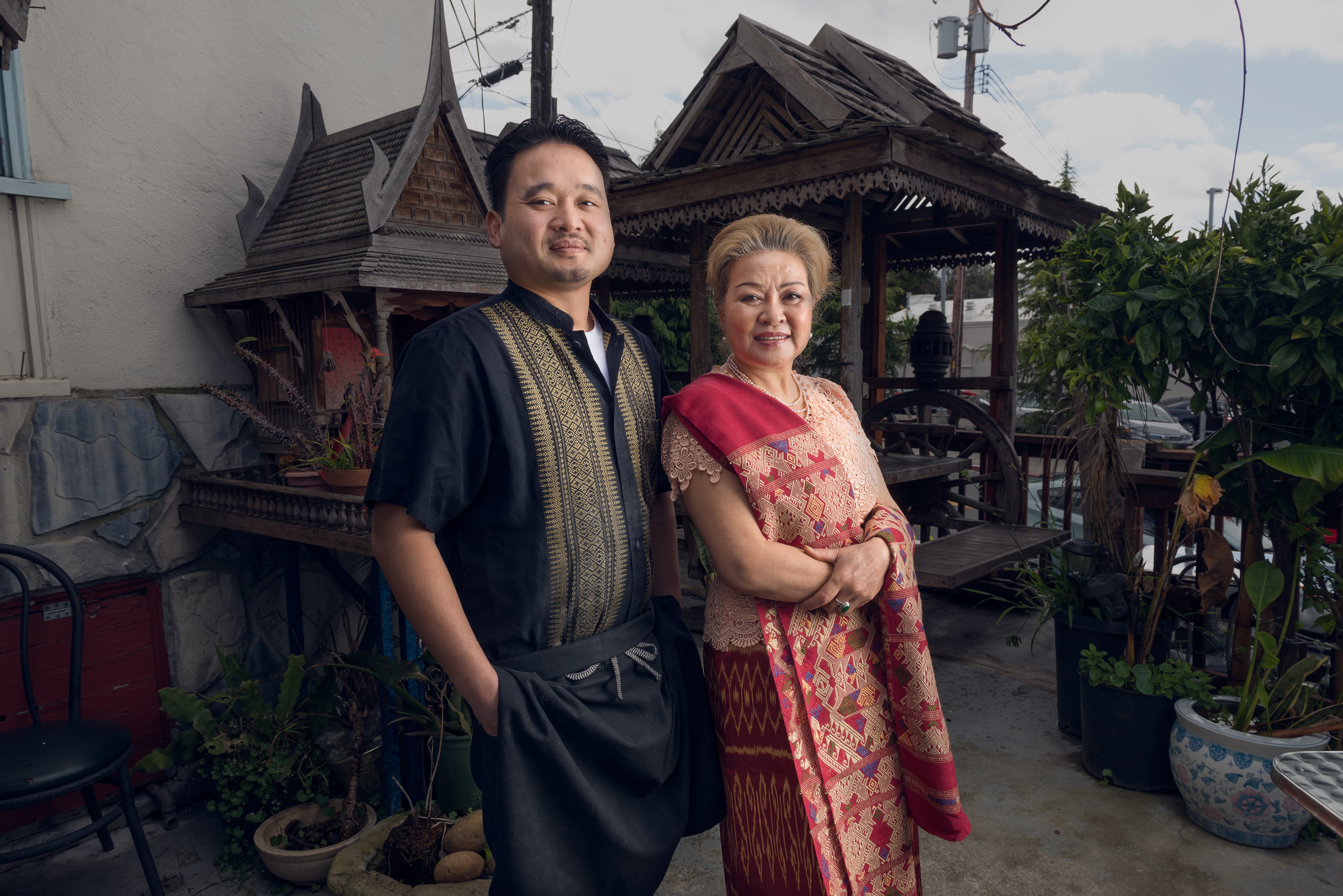 It used to be that when you told out-of-town visitors that Oakland
was known for its Lao restaurants, you'd get nothing but blank stares. After all, the Bay Area remains one of only a handful of places in the United States where you'll find even
one
Lao eatery.
These days, Lao cuisine has come into its own. National publications are devoting thousands of words to Lao food traditions. And, more than ever, Bay Area diners are embracing the cuisine's characteristic pungent and spicy flavors. But it wasn't always that way. Even ten years ago, Lao cuisine was almost as much of an unknown quantity in the Bay Area as it was in the rest of the country. So what changed?
Oakland happens to be home to James Syhabout, who is one of the most famous Lao chefs in the country, even though his best-known restaurant — Michelin two-starred Commis — isn't Lao at all. But one of Syhabout's other restaurants, Hawker Fare, has been one of the Bay Area's most popular Lao eateries — even if most diners didn't think of it as Lao until a couple years ago.
Hawker Fare's original Uptown Oakland location
closed last month
after the building was sold, prompting the chef to get out before the imminent rent hike. Syhabout came to Oakland as a refugee in 1981, when he was just a toddler. His story is as good a place as any to start an examination of Lao food's position in the East Bay dining scene.
Syhabout recalls that when he was growing up in Oakland in the Eighties and Nineties, many of his so-called "aunts" in the broader Lao community all worked as cooks at Thai restaurants, slinging pad Thai and red curry for the masses. None of those restaurants served Lao food, even if the owners and kitchen staff were all Lao, except as part of what Syhabout said was a kind of "secret menu" that only Lao customers knew about.
Manyda Thai Cuisine, the restaurant that Syhabout's mother, Da Syhabout, ran for 13 years in the same building that her son eventually turned into Hawker Fare, was a perfect example. It was a Thai restaurant run by a Lao family, and it didn't have any Lao dishes on the menu. Instead, when a group of Lao customers came in for dinner, Da might whip up a few dishes using ingredients she kept on hand in the pantry — a simple
larb
, for instance, or one of the various chili dips that Lao people like to eat with sticky rice. Or a Lao family might call to make a reservation and ask, "Auntie, could you fry a few sardines, grill some brisket, and make a shrimp-paste dip?"
Syhabout said that back in those days, it never occurred to his mother to open a Lao restaurant. After all, who would even want to eat at such a place?
Refugees, Not Immigrants

To understand why it took so long for Lao restaurants to reach mainstream acceptance, you have to look at the history of Lao people in the US. Vinya Sysamouth, executive director of the San Francisco-based nonprofit Center for Lao Studies, explained that refugees fleeing the Communist regime in Laos began arriving to the United States in the early Eighties. Some settled in San Francisco's Tenderloin district, but after the earthquake in 1989, most of the Bay Area's Laotian population scattered elsewhere — to Stockton, San Jose, Santa Rosa, and, here in the East Bay, to Oakland, Richmond, and San Pablo. Today, there are roughly 15,000–30,000 ethnic Lao living in the Bay Area.
For that first generation of Lao refugees, though, opening up any kind of business was a challenging prospect.
"We're
refugees
, not immigrants. That's a big difference," said Sysamouth, whose own family stayed at a refugee camp in Thailand for nearly two years before settling in Wisconsin. Lao refugees didn't have visas, or access to money and resources; many had to rely on welfare and food stamps for a number of years.
Eventually, some Lao refugees opened grocery stores that carried Southeast Asian staples like fish sauce and sticky rice. And by the late Nineties, a handful of Lao-owned restaurants had begun to crop up — like Manyda, which opened in 1997. But these were all Thai restaurants, Sysamouth said. For these early Lao-American entrepreneurs, the idea of trying to market their food as Lao just represented too much of a risk.
"You don't even know if people know where Laos is, let alone the food itself," Sysamouth said. "You want to sell something that's already successful."
Thai restaurants — even if most of them served Americanized versions of Thai food — were already very popular during the Nineties. It was natural for these Lao refugees to cook Thai food: Laos shares a border with Thailand, and there are, in fact, 22 million ethnic Lao living in Thailand versus just 7 million people in the entire country of Laos. And the cuisines of the two countries share many of the same ingredients and techniques.
The Lao refugees of that generation also had a hard time believing that Americans would take to Lao cuisine, which is characterized, in part, by its intensely pungent and spicy flavors. After all, the central ingredient in Lao food is a kind of fermented fish sauce called
padaek
. It's chunkier and more pungent than the better-known Thai and Vietnamese varieties of fish sauce. According to Sysamouth, the mindset was, "Nobody's going to eat that stinky food. … You have to sell something that's not so dirty."
Besides, Lao identity in general was somewhat fraught during that time period, especially for Lao people who had spent time in Thailand. During the Eighties and Nineties, many of the ethnic Lao in Bangkok, for example, were migrant workers who came from the poor northeastern Isaan region of Thailand, and they tended to be looked down upon as "uneducated country bumpkins" even within their own country, Sysamouth explained.
It wasn't until the next generation of Lao Americans came of age — people like him and Syhabout, who came to the US when they were kids — that prospective restaurateurs and other business owners had the confidence to put their Lao identity front and center.
As Sysamouth put it, "That's what we're starting to see — that movement to embrace the 'Lao-ness,' whatever that may be."
The Pioneers

By most accounts, the Bay Area's first Lao restaurant was
Dara Thai/Lao Cuisine
(1549 Shattuck Ave., Berkeley), which opened in North Berkeley's "Gourmet Ghetto" neighborhood in 1992. Saeng Xayavong, Dara's current manager and lead cook, was nine years old when his mother, Daovone Xayavong, opened the restaurant — specifically, he says, because she wanted to introduce Lao food and culture to American diners.
"Mom always wanted to show the Lao traditions," Xayavong said. "She didn't want to open another Thai restaurant like everybody else."
So, she imported old wagon-wheel tables from Laos for the restaurant's shaded front patio, which she decorated with traditional Laotian sculptures. The idea, Xayavong said, was to create an atmosphere that was exactly "how it would be if you were in Laos, sitting in someone's backyard drinking beer."
Of course, during the Nineties, few Americans had ever encountered Lao cuisine, which was part of the reason why there was a slash in the name of the restaurant — and why the "Thai" portion got top billing, despite the owner's own priorities. (Regarding these earliest Lao restaurants: "You had to have a hyphen or a dash or something," Sysamout said.)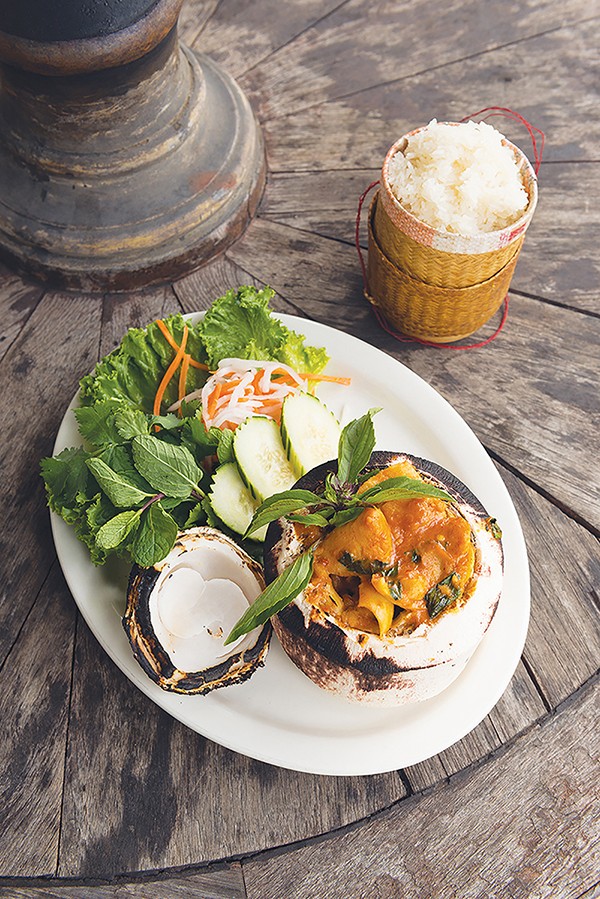 What's more, Xayavong said that very few of Dara's initial customers were Lao, or even Thai. It was no surprise, then, that many customers would gravitate toward the typical Thai dishes — pad Thai and things of that nature. Xayavong said his mother had to train her servers to gently steer customers toward the Lao specialties: the Lao-style papaya salad, the catfish
khao poon
(rice vermicelli soup), and, the restaurant's most unique dish, the
hal mok pla
— a fish curry that, in Dara's version, gets steamed inside a young coconut shell.
After Dara, other Lao-Thai restaurants began opening in the East Bay, including
Vientian Cafe
(3801 Allendale Ave., Oakland), which opened in 2002 and built up a loyal following for its Lao specialties, which include an exceptional version of
sai ooa
(fermented pork sausage). But the real breakthrough came when
Champa Garden
(2102 8th Ave., Oakland) opened in 2006 in the middle of an East Oakland residential neighborhood. Co-founder Phuoc Nguyen is Vietnamese, but he opened the restaurant together with his wife (who is half-Mien and half-Lu) and his father-in-law, San Saechao, an ethnic Lu from Laos who was the original chef.
In the early days, Nguyen marketed the restaurant as "Thai-Lao" and only slowly, and very cautiously, added Lao dishes to the menu — especially after customers had an adverse reaction to a bone-in version of
mok pa
, or catfish steamed in banana leaf. ("People were choking on the bones!" he recalled. "Or they said, 'It's too spicy.'") At first, they mostly just served
nam khao
— the crispy rice-ball salad that has become the restaurant's trademark dish — and a couple Lao noodle soups. Later, they started serving fermented sausage and, maybe a year later, added paedek (the aforementioned fish paste) and the more pungent Lao version of papaya salad.
At first, it was mostly people within the Lao community who frequented Champa Garden, Nguyen recalls. But he said that sometime around 2008, a national magazine ran a feature about how Laos was the number one tourist destination in the world, and the restaurant got an influx of new customers. Then, in 2011, the Michelin guide listed Champa Garden as a recommended restaurant.
"That's when we got placed on the world map," Nguyen said. "Now we have recognition."
Now, Champa Garden has a second restaurant in San Francisco, and if you go to the original Oakland location, the lines are so long, even on a weeknight, that you count yourself lucky if the wait is less than half an hour. Now, Nguyen said, he might even consider bringing back the mok pa.
Padaek Pride

In many ways, Syhabout's personal journey is a microcosm of the emergence and evolution of Lao restaurants in the Bay Area. At his flagship fine-dining restaurant, Commis, there wasn't anything identifiably Lao — or even Asian — about the food. And when he first opened Hawker Fare in 2011, he touted the restaurant as serving Thai rice bowls and street food.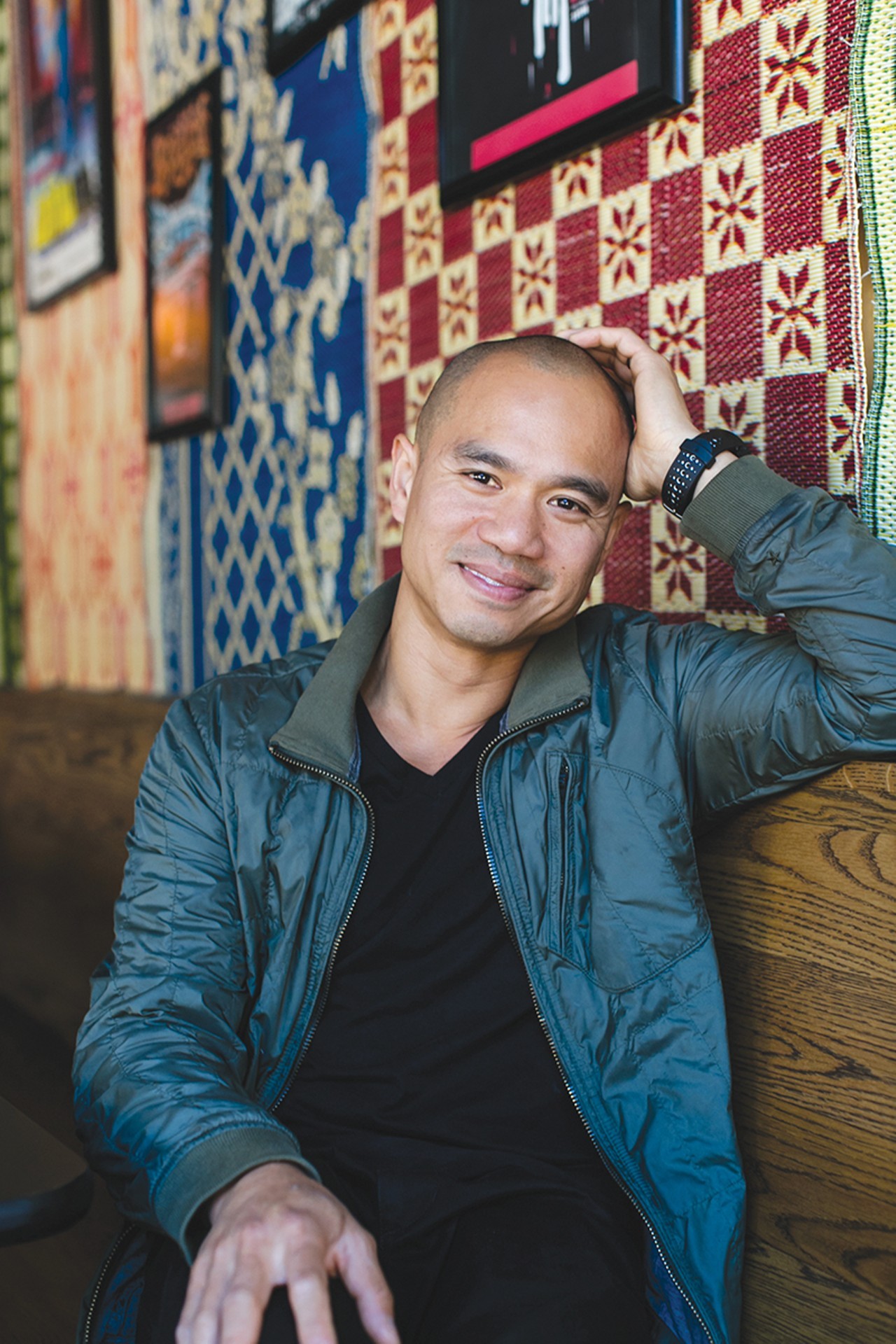 In part, it was a marketing decision: The Yelp category for Lao restaurants didn't even exist at the time, Syhabout explained. And part of it, the chef admits, was his own insecurity about how Lao food would be received. As he put it, "There's nothing worse as a chef than getting your food sent back even if the chef knows the food is correct — 'I don't like this, it stinks.'"
But after the restaurant had been open for a couple of years, Syhabout felt a desire to connect with his roots — an impulse that culminated in a long research trip he took to Thailand that included the Lao-dominated Isaan region that his family comes from. He wound up mostly scrapping the rice bowls at Hawker Fare, and over time the menu shifted toward traditional family-style Lao dishes meant to be eaten with sticky rice, which diners were encouraged to hold in their hands, Lao-style, using it to scoop up the chili dips and the assorted grilled meats and vegetables. After a while, he rebranded both the Oakland and San Francisco locations of the restaurant as "Thai Isaan," and then, later yet, as "Lao Isaan."
[pullquote-1] The last weekend that the Oakland location was open, Syhabout served a "Farewell Funk" menu to a packed house of faithful longtime customers. He served a grilled water-beetle chili dip, a raw-shrimp larb, and a soup spiked with beef bile. He didn't hold anything back.
And even though the dinner marked an endpoint for a restaurant that the chef had poured his heart into for the last six years, it didn't feel like an ending for Lao food in the Bay Area. It felt like things were just starting to get good.