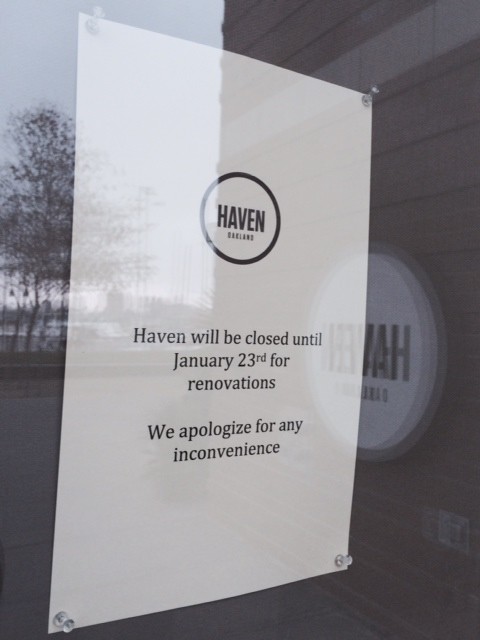 More changes are afoot for Daniel Patterson's Bay Area restaurant empire:
Haven
(44 Webster St.), Patterson's handsome, upscale restaurant in Oakland's Jack London Square, has closed temporarily and will eventually relaunch with a new, yet-to-be-announced concept in place.
[jump] In the past week, rumors have circulated that Haven was shutting down, though the restaurant made no announcement. But ever since the restaurant wrapped up its New Year's Eve celebration, prospective diners who called were met with a full voicemail inbox, and OpenTable shows no tables available for the next month. A sign posted in the window says that Haven will be closed — "for renovations" — until January 23.
A spokesperson for Patterson's restaurant group confirmed that a change at Haven was on the way, but said the details of the new concept are still being finalized.
The 3,000-square-foot restaurant has undergone several concept tweaks since it opened at the end of 2011, from its initial focus on high-end tasting menus to its more recent incarnation under chef Charlie Parker, who has featured
elevated, modern takes on American comfort food
: burgers, roast chicken, weekend brunch pancakes, and the like. Parker didn't return a phone call requesting comment, and it's unclear whether he'll be at the helm of whatever the newest version of Haven turns out to be.
Meanwhile, Patterson, who also owns Plum Bar in Uptown Oakland and a pair of restaurants in San Francisco, has been busy gearing up for the launch of
Loco'l
, the highly-anticipated healthy fast-food chain that the chef is opening in collaboration with the Los Angeles-based restaurant and food truck mogul Roy Choi. Patterson and Choi have kicked off a
$150,000 crowdfunding campaign
to help pay for the buildout of the first Loco'l outlet in San Francisco's Tenderloin neighborhood.
Edit:
Patterson confirms, via Twitter, that
Parker will still be the chef
at Haven.