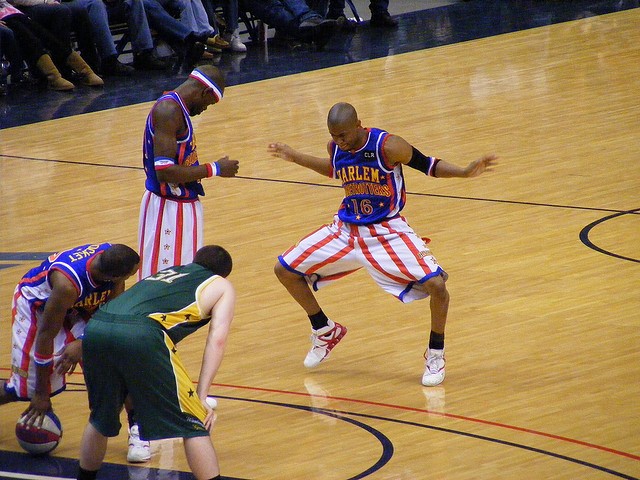 Here's your warm fuzzy of the day, courtesy of
ABC7
and the Harlem Globetrotters. The famous basketball showmen are performing in Oakland and San Jose, and made a side trip to Edna Brewer Middle School in Oakland to play wheelchair basketball with kids with disabilities.  
See Also:
Accused of Stealing Teen's Design, MLB and Oakland A's Stop Selling 'Stoaked' T-Shirts
McClymonds High Football Team May Miss Playoffs Because of Controversial Student-Transfer Case
[jump] The Globetrotters were invited by the
Center for Independent Living
in Berkeley, which provides services, support, and advocacy to those who have disabilities.
"Your disability doesn't define you, whether you are a paraplegic or an amputee or somebody that has a similar condition like that. That shouldn't be what defines you. It's what you do with your life that makes you who you are," said Trooper Johnson in the video, who was paralyzed at seventeen, but has since participated in four Paralympic Games.
"We love opportunities like this and it's not just about the game of basketball — it's about the game of life," Globetrotter "Buckets" Blakes told ABC. Watch Blakes and "Slick" Willie Shaw spread empathy and the love of basketball below:
[embed-1]

Follow @annapulley on Twitter. She'll tweet you right.