Longstanding complaints over congestion, crowding, and general inefficiency on one of the East Bay's most heavily used bus routes — the 51A and 51B Line — will be aired at two public meetings being held jointly by AC Transit and the City of Oakland Public Works Department this week.
[jump]
Community members are invited to attend a meeting tonight from 6 to 8 p.m. at Oakland City Hall or on October 10 at Rockridge Public Library to provide feedback for a project to improve service along the Line 51 bus corridor. AC Transit has received a $10 million grant "to design and implement infrastructure modifications along the route that would increase reliability and on-time performance, decrease travel time, and improve safety for AC Transit riders and pedestrians," according to the meeting memo. The same materials and improvements will be presented at both meetings.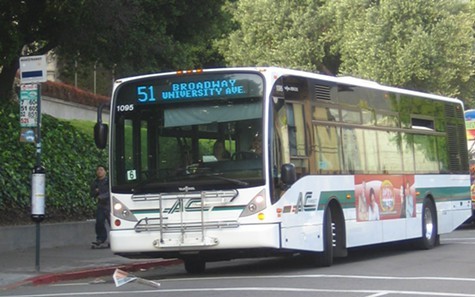 The 51 line is one of AC Transit's most popular lines, serving an estimated 19,000 passengers each day between two separate but complementary routes, which together stretch from Berkeley's Amtrak station through Oakland and into Alameda. This week's meetings provide an opportunity for Oakland residents who use the line to provide input. Community meetings were previously held in Alameda and Berkeley over the summer.
Suggested improvements range from bus stop relocation and widened transit lanes to the creation of additional "bus bulbs," which prevent the need to pull back into traffic after stopping to pick up passengers. A detailed map and plans for the proposed improvements can be found online.
Although the 51 line has seen few changes in the many decades it has been running, the line was split in 2010 to improve service reliability as part of a separate but similar process involving a series of public meetings. The 51A and 51B routes — which begin in Alameda and Berkeley, respectively — now follow the same route as the original line, connecting at Rockridge BART.
Community members who are unable to attend this working session may submit written comments by Friday, October 25, 2013 to Tammy Kyllo, Administrative Coordinator, AC Transit, 1600 Franklin Street, Oakland, CA 94612 or by email at [email protected].