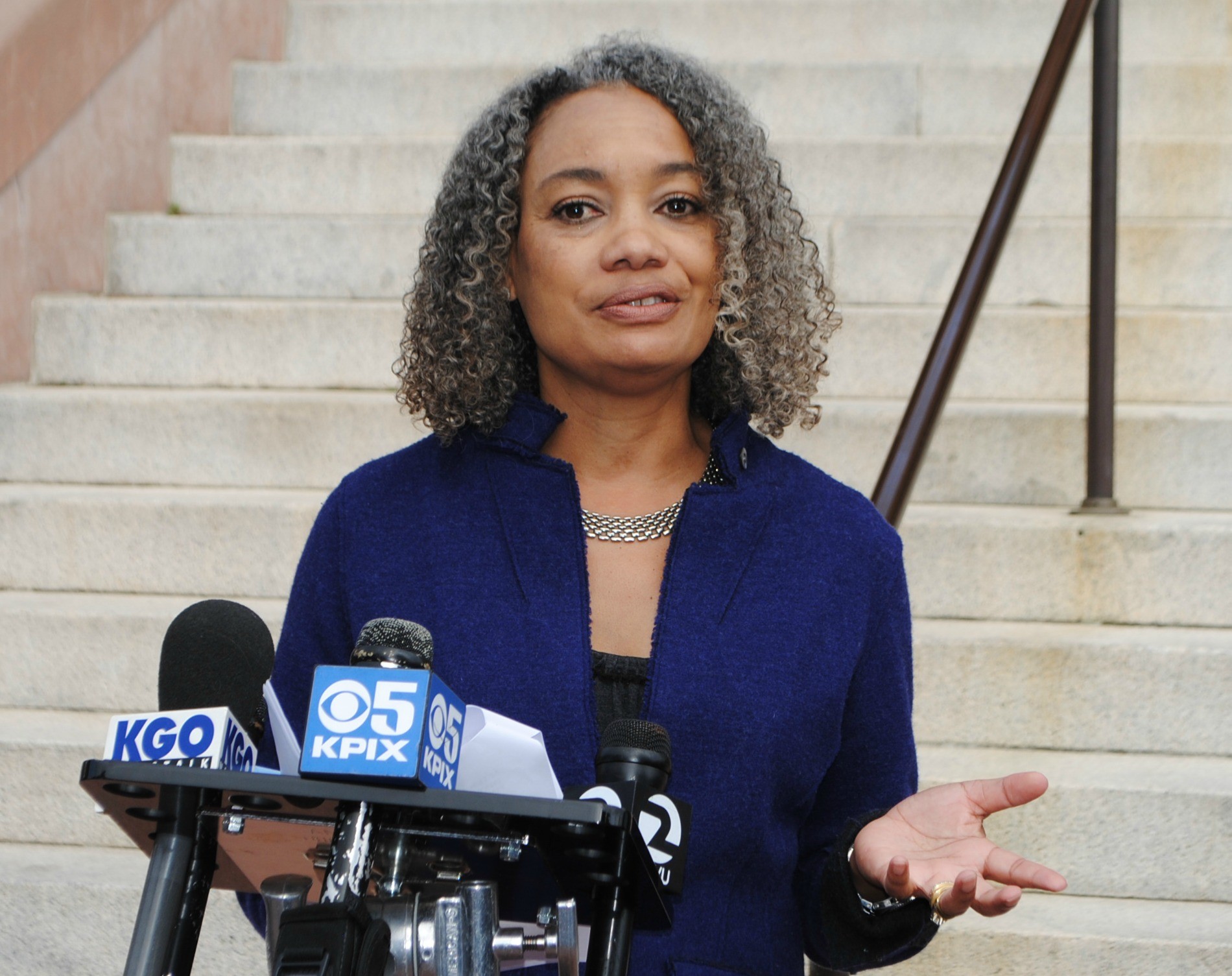 Alameda Mayor Marie Gilmore conceded today that
she lost the mayor's race
to school board member Trish Spencer. With only few thousand provisional ballots yet to be counted in Alameda County, Spencer holds what appears to be an insurmountable 129-vote lead over Gilmore. 
During a press conference near the steps leading to Alameda City Hall, Gilmore congratulated Spencer and the two new members of the city council for their victories. She also said she would not seek a ballot recount. Gimore, however, said she had not yet spoken with the mayor-elect to offer her congratulations. "I haven't had the opportunity. I've spent a lot of time thinking about this and what is going to be in the best interests of the city. That's why I didn't ask for recount — to end the process and move on." In an interview, earlier this week, Spencer said she wasn't expecting a call from Gilmore.
[jump]
Alamedans have waited eight anxious days for a result to last week's election. The outcome is likely the most improbable result of any race in the East Bay. Very few political observers saw this upset coming, although concern over the city's speed toward development, including Alameda Point, has been simmering for years. The issue may have also cost Councilmember Stewart Chen his seat last week. Former Councilmember Frank Matarrese, whose stance toward development closely mirrored Spencer's, finished first in the council race. Jim Oddie, who is also the district director for Assemblymember Rob Bonta, won the other available seat.
During today's somber press conference, Gilmore thanked supporters and volunteers, members of the police and fire department who were in attendance, and City Manager John Russo and Councilmembers Lena Tam and Marilyn Ezzy Ashcraft. "Even though we came up short, I continue to be gratified by all the love and support shown by all of us. I have truly appreciated my opportunity to serve this community that I really love and I will continue to work with all of you to move Alameda forward as our new council tackles important issues like moving forward with Alameda Point and the issue of rising rents for many in our community."
Gilmore, the city's first African-American mayor, told reporters her messaging could have been better during the campaign. But in an interview, she appeared flummoxed by the election result, which ended her time in the mayor's office after just one term. "I can't explain it, but it was an odd election — not just in Alameda, but throughout the county," Gilmore said. "It was just a very weird election." Low turnout may have also skewed the results, she added.
When asked if she had underestimated her opponent (Spencer spent less than $10,000 during the campaign and hired no political consultants), Gilmore said she did not, but her supporters may have. "An early warning sign," Gilmore said, was a prevalence of supporters who questioned why she was campaigning at their doorstep. "What are you doing here? You have it in the bag," some voters told Gilmore. "I told them, 'You can't say that,' but that seemed to be the feeling out there, but I never bought into it."