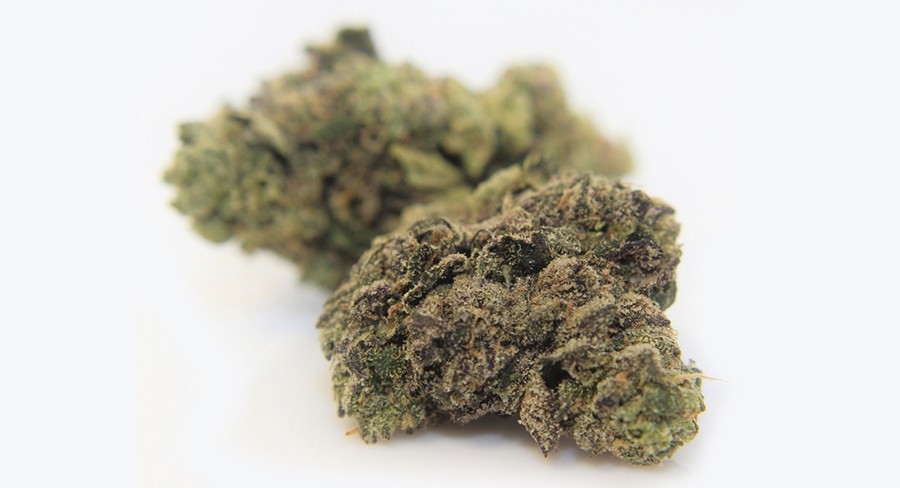 There's a lot going with this strain, which is available at
Holistic Healing Collective in Richmond
. At first glance, it's just a cross of Sherbet and Gelato, complete with a name like a celebrity couple. But each of those strains has two parents — Sherbet is a cross of Girl Scout Cookies and Pink Panties, while Gelato is a cross of Sunset Sherbet and Thin Mint Girl Scout Cookies. So, there's a lot of potent genetics at play for this $50 eighth.
The crystal-drenched buds were shades of dark green and blushes of purple, but broken down it showed shades of bright, emerald green. After every puff, all I could think about was how pretty it tasted: a fresh, floral taste with a faint sugary sweetness— almost like candy — which didn't fade as it was smoked.
The high was intensely and pleasantly stoney (at 21.92 percent THC), and even after just a few puffs I caught myself in deep thought. The only thing I didn't like was that I could feel my face begin to get heavy and my eyes start to turn red (you know that feeling) shortly after smoking, and was glad that I wasn't out in public or any place where I wouldn't want to seem … absentminded.
Overall, this strain was a true delight from start to finish. It's definitely a stonier hybrid, so this is the type of flower I'd recommend on a day when you don't have any obligations. Either way, just plan on getting irrevocably high really fast and staying that way for awhile.
Find out more at HolisticHealingCollective.org.

We want to review your cannabis or product. Email us at [email protected].