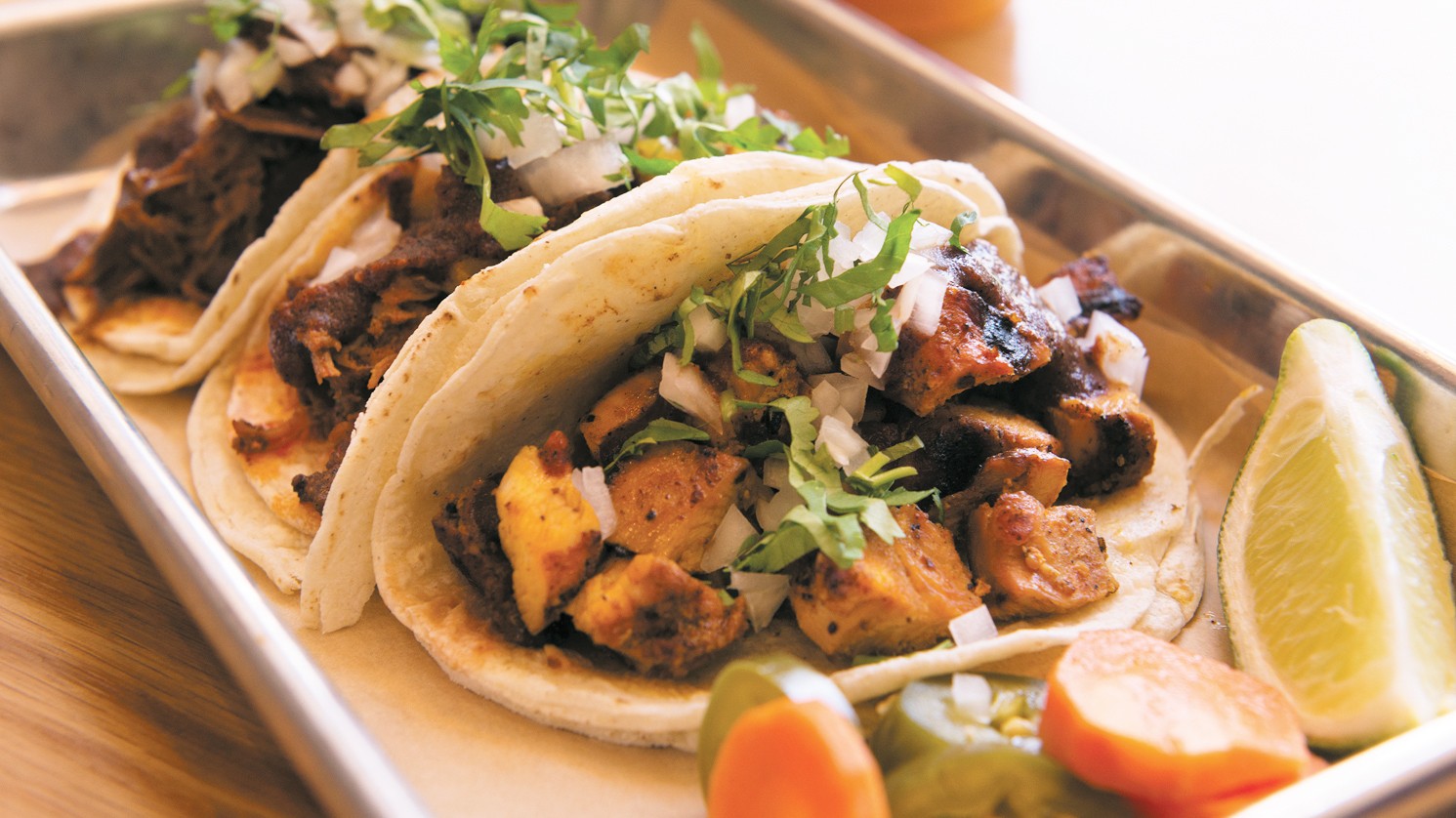 Since it debuted in 2012, Comal has been perennially packed — a restaurant both critically acclaimed and publicly adored. The Berkeley restaurant was among the first in the Bay Area to serve Mexican fare with the same zeal for local ingredients as other farm-to-table restaurants.
What's most unfortunate about Comal is how tough it is to get a table and how it's not open for lunch. That's partially why owners Andrew Hoffman and John Paluska, along with executive chef Matt Gandin, launched Comal Next Door, an all-day sidekick that sits literally next door to the original restaurant. Open since April, it's a breezy, easygoing spot with speedy service, takeout-friendly dishes, and reasonable price points.
When I first heard about Comal Next Door, I expected a fancy, flourish-filled take on a taqueria. But the result is actually stripped-down, humble, and often traditional in flavors. In other words, Comal's version of a taqueria is a surprisingly familiar one.
In that case, why would you pick Comal Next Door over the many amazing taquerias scattered around Oakland? The fact is that downtown Berkeley's Mexican food scene leaves a lot to be desired. If you're hankering for a quick burrito before catching a movie at a nearby theater, Comal Next Door is your best bet.
And if you're already a fan of Comal, the fast-casual version does incorporate a lot of components — meats, salsas, etc. — previously perfected at Comal into its taqueria fare. If commitment to local sourcing matters to you, you'll love that Comal Next Door works with the same farms and purveyors as Comal.
On the menu, you'll find burritos — which can be made into "bowls" for an extra $1 — as well as tortas, tacos, and a few sides. It's not a Chipotle-style, mix-and-match sort of deal, though. Each burrito is a fully composed thought, and while you can ask for some modifications, you're not going to build your dream combinations from scratch.
The burritos generally provided the most satisfying experiences, achieving an excellent balance and distribution between red rice, pinquito beans, and meat. While they were never dry, I often longed for more salsa — or at least the option of more salsa. There's no salsa bar — and no unlimited chips, of course — at Comal Next Door. Most orders do come with some pickled jalapeños and carrots, though, and a vivid orange hot sauce made from habanero and yellow bell peppers sits on each table. It's fine but not particularly spicy, and given the relative mildness across the board, some optional heat would be nice. (The roasted green chiles you can add onto your burritos don't contribute much fire, either.)
The star of the meats is the al pastor, a deep reddish brown mass of marinated pork caramelized on the edges and generously paired with chopped pineapple. Even though the chefs don't prepare it traditionally on a spit, the results speak powerfully. I also thoroughly enjoyed the soft, rich carnitas as well as the flavor-packed achiote grilled chicken thighs, which was one item developed specifically for Comal Next Door.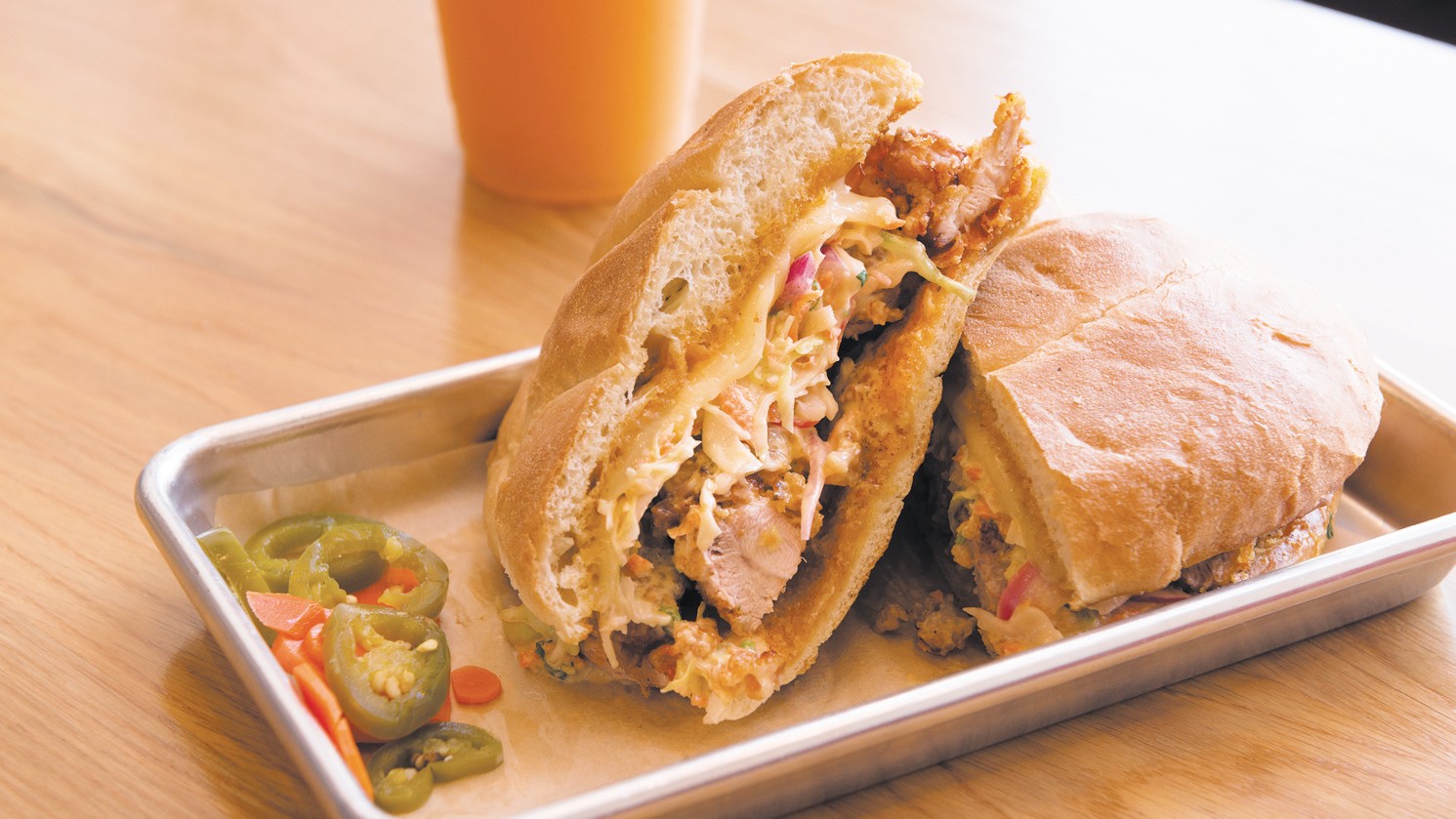 Another Comal Next Door-only treat is the non-traditional fried chicken torta, a beast of a sandwich that rivals Bakesale Betty's famed version. Brined in buttermilk, the chicken tastes like the American South — and maintains a formidable crust — and gets topped with a zingy cabbage slaw, pickled jalapeños, a vivid chipotle mayo, and melted jack cheese. The tolero roll performed beautifully: toasted but soft and proportional.  
With the albondigas torta, the same bread arrived slightly over-toasted, drying out an otherwise delicious experience. The tender beef-and-pork meatballs worked well with more of those pickled jalapeños, cheese, and chipotle aioli, as well as pickled onions and poblano chile.  
Perhaps my favorite dish overall was the one that reminded me most of the pleasures of Comal: a side of green beans. Slathered in a dressing made of ground toasted pumpkin seeds, garlic, toasted chile arbol, and lime, the green beans offered a complex combination of bright citrus, nuttiness, and the pure joy of truly excellent olive oil. Other delightful extras include dessert, frozen margaritas, and agua frescas, which are made at the same high level you'd expect from Comal. That lone dessert fits regional trends for fast-casual restaurants: vanilla soft serve with toppings. Here, you can choose between spiced, crunchy pepita granola; a syrupy Mexican chocolate sauce; and sugar-coated, fried tortilla strips — you should probably go with all three.
The main vegetarian options were fine, but given the transcendence of the side of green beans, there seems to be room for improvement. I liked the mix of corn, zucchini, and poblano, but hoped for a little more oomph from the peppers. (You can order them in tacos or burritos.) The chile relleno burrito, meanwhile, released an unpleasant amount of oil, and the whole fried pepper proved challenging to eat without accidentally slurping it all up in one uncomfortably large bite. I imagine it'd work better as a burrito bowl, where the rice, beans, and fillings are plunked into a bowl without their tortilla and some chopped romaine and cheese are thrown on top. But I wasn't wild about those bowls, either — undressed, raw lettuce failed to appeal to me, and there wasn't enough salsa to act like a dressing.
But the biggest disappointment was the beef barbacoa, in part because it's usually one of my favorite Mexican meats. The earthy shreds subtly smacked of funk but offered surprisingly little else. They felt particularly lacking in taco form given the high price tag — $3.50 for one — and the tortillas, which while soft and pliable, aren't made in house.
If you raise your eyebrows at the prices, consider the location and realize that most of the menu represents a good deal. You might find giant, $8 burritos at a food truck in West Oakland, but $10 for a spot where you can sit down in downtown Berkeley seems perfectly reasonable. Plus, as with Comal, the tip is included in the menu price, and Comal Next Door manages to offer better service than a lot of today's fast-casual restaurants, quickly bringing food to your table and bussing as well. Like Comal, it seems destined to be perennially busy as well.
Comal Next Door
2024 Shattuck Ave., Berkeley
510-422-6625
ComalNextDoor.com
Hours: Sun.–Thu. 11:30 a.m.–9 p.m., Fri.–Sat. 11:30 a.m.–10 p.m
Cash, all major credit cards
Sample Menu
Al pastor burrito … $11
Carnitas
taco … $3.25
Fried chicken
torta
… $12
Green beans … $5